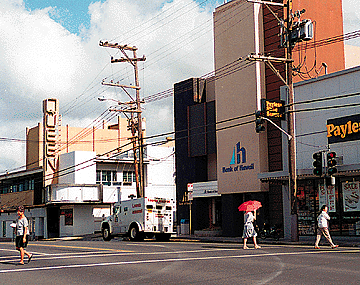 A neon sign that years ago lured moviegoers to the Queen Theater has become just an unlit reminder of what used to be.
---
KAIMUKI ON THE RISE
Despite the years, the change in businesses and some new building, this little town clings to its local character
By June Watanabe
Graphics By Kevin Hand
Photos By Ken Sakamoto
Star-Bulletin
---

IT'S 9 a.m. on a recent Saturday in Kaimuki Park. A foursome of older men, one wearing zoris, is engaged in an intense, if not fast-paced, game of tennis.
Around the corner, girls and women slowly arrive for an outdoor hula class. By 11 a.m., two dozen of them gracefully go through their paces.

By then, Robert Takane and Shigeyuki Yoshitake have completed their latest tour of "the top of the hill."

In the 1920s, Takane's father paid about six cents a square foot, probably even less, for a lot on 17th Avenue. The retired city finance department worker, now 73, grew up in the area, moved away after getting married, then returned to the family homestead in 1963.

Despite the years, Kaimuki hasn't really changed, Takane said. It's that relative sameness that provides a wellspring of stories for the "nostalgic walking tour" that Takane and Yoshitake, also 73, periodically lead along upper Waialae Avenue. In a two-hour trek from Kaimuki Park, along Waialae to Koko Head Avenue and ending at Puu O Kaimuki Mini Park, the two men point out old-time businesses and landmarks, using anecdotes, memories and legends to give historic perspective to what stands there today.

The name Kaimuki, for example, is believed to refer to "the (ka) oven (imu) for cooking ti root (ki), Takane said. The legendary menehune supposedly built many of their ki ovens in Kaimuki. Thus, the correct pronunciation of the area should be Ka-imu-ki.

Kaimuki was home to the College of Hawaii Observatory; the Honolulu Military Academy for Boys; three of Honolulu's mayors - John Wilson, Charles Crane and Neal Blaisdell - and detective Chang Apana, the inspiration for Charlie Chan.

At one time, where Liliuokalani School now sits, there was a small zoo, home to a number of exotic creatures, not all of them authentic. In one infamous incident, the resident "zebra" was revealed as a sodden donkey when a rainstorm washed away its black-and-white markings.

The zoo is long gone, as are many former landmarks. But Yoshitake, a retired state Labor Department worker, points to Kaimuki Dry Goods, now into its eighth decade, and Harry's Music Store, into its sixth, as testament to the character of a neighborhood and of the endurance of family businesses.
---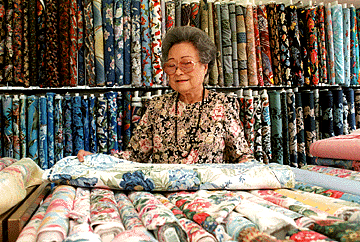 Edith Takeya was 14 years old when her parents, Takao and Masako Okawa opened Kaimuki Dry Goods in 1926. Though the business has moved from its original location, it "hasn't gone backward," Takeya is proud to point out.
---
Kaimuki Dry Goods - 144 10th Ave.
"I was 14 when the store opened," Edith Takeya recalls. That was in 1926. The store turns 70 in June. Both the store and its semiretired proprietor (Takeya's daughter, DeeDee Miyashiro, is now in charge) are still going strong.

"We've survived all the changes," Takeya said, explaining how the business started by her parents, Takao and Masako Okawa, has managed to continue in a world of ever-changing fashion and lifestyles.

"My father was working for Theo H. Davies and they had a dry goods store," Takeya said. "He decided my mother should do something, so she took a correspondence course in sewing from the New York Institute." They opened Kaimuki Dry Goods in the spot where the Top of the Hill Inn (the old Kaimuki Inn) now sits between 11th and 12th Avenues.

In the early days, "we were like a general store because there were no stores in Kaimuki," Takeya recalled. The family sold candies, toys and ornaments, adapting its merchandise to each season and holiday.

But when Kress came in, "we gave up candies" and went more into stocking ready-made clothing. When Sears and J.C. Penney came, "there was a change again," Takeya said, to focus more on fabrics and notions.

In the late 1960s, Takeya was asked to help with the first senior fashion show at the University of Hawaii. "I said OK," even though her store was the smallest of the family-run dry goods businesses in town - Kuni's, Musashiya's and Hino's. But that was a key decision: "Business started booming," she said.

Eventually, her sister, Dorothy Sumida, who ran all the departments except fabrics, which was Takeya's kuleana, retired. In 1972, Takeya took over the business; in 1978, after losing its lease, the store moved into a 5,000-square-foot space in a brand new building.

"Though we moved, we never went backwards," Takeya said.

Customers come from all over the island, even from the neighbor islands and Japan. "We really have a lot of stuff. ... Our motto is 'You'll find it at Kaimuki Dry Goods.' So, if they can't find it elsewhere, they'll come here," she said.

Business today is good, she said, although not as steady as the old days. "Selling today is different," Takeya said, with people more into crafts. The store now carries a lot of expensive embroidered velvet and lace, which can cost as much as $200 a yard, as well as denim and palaka.

"Polyester, like this," she said, fingering her blouse, "is going out. But it'll come back," she predicted. As someone who's seen fashions come and go over 70 years, she's probably right.

Today, at 83, "I still come in part time. It's in your blood."
---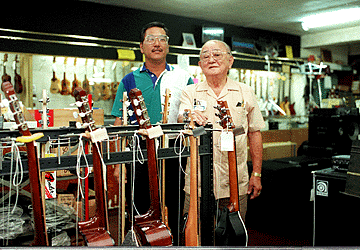 Harry Yoshioka, right, founded Harry's Music on Waialae Avenue 50 years ago. The store has stayed in the family. His nephew Clayton Yoshioka is now president of the business.
---
Harry's Music Store - 3457 Waialae Ave.
It's also in Harry Yoshioka's blood. At 86 and after three strokes, he's turned the business he started 50 years ago over to the younger folk. But, "I'm the first one to come in everyday. I clean the store. That's why you see my store is so clean."

Yoshioka no longer serves customers, nor does he handle the paperwork that now takes a computer and three employees to do. "I only come to watch now," he said.

Initially, Harry's son, Emmett, took over operations. But

Emmett's first love is composing and playing music and he's now musical director for Diamond Head Theater. His cousins, brothers Clayton and Alan Yoshioka, and Glenn Yoshioka, oversee the sprawling store - 10,000 square feet filled with every conceivable item related to music: instruments, sheet music, old record albums, CDs, cassettes, books, instructors, instrument makers.

There are books on Japanese music, books on the methods of timpani tuning. Rows of guitars line one wall. Huge conga drums sit in the middle.

"Not many music stores carry so many different things," Alan Yoshioka understated. For example, Harold Chang, who used to play for Arthur Lyman and Martin Denny, oversees the percussion department and "seeks out exotic percussion instruments."

How many items? Yoshioka shakes his head. "If you open just one drawer in the guitar section, there are so many different things: steel guitar bars, picks, tuners."

Harry's Music started across Waialae Avenue from where it now stands, moving to its present location in the early 1950s. From the street, it looks deceptively small, but it once housed a post office, drug store and pool hall, the elder Yoshioka recalled.

Today, the gaudy green, two-story, 55-year-old-plus building sits in sharp contrast to its new highrise neighbor, the Central Pacific Building. Renovation is in the future, Alan Yoshioka said. But for now, the building and store, with its chipped paint, crumbling walls and large puka in the ceiling - where an elevator was supposed to have gone - exudes character.

"When people walk in this door, they don't come as a person who just happened to pass by," Alan Yoshioka said. "They come from Ewa Beach, Kaneohe or Kailua," looking for specific items.

Once where there were as many as 35 employees, today there are 18. Business is tough for a store that sells musical stuff, but not necessarily the stuff of life.

What keeps the store going are music programs in schools and instructors who still teach piano, flute, guitar. Plus, "the method books," Alan Yoshioka said. "One of the most popular books is ukulele. There's been a big upswing in interest in ukuleles."
---

Across Waialae Avenue from Kaimuki Park, Yoshitake points to another venerable business, the former Tanoue's saimin stand.

More than 60 years ago, Nobu Tanoue and other entrepreneurs started selling noodles in broth from carts.

"The broth was made by boiling dried kelp and shrimp," Yoshitake said. "The noodles were made with flour and water, no eggs." The only garnishes were green onions and fishcake, "no Spam." Cut by hand, the noodles were wide and more like udon than the familiar saimin noodles of today.

"And, that's how saimin came about," Yoshitake said.
---
Kaimuki Saimin and Delicatessen - 3538 Waialae Ave.
Dr. Roy Tanoue can't remember exactly when, but figures it was in the early 1930s, when he was still in high school, that his mother, Nobu, first started selling saimin. He graduated from McKinley High in 1932, eventually obtaining a medical degree from the University of Chicago.

"She started with a small wagon on the corner of 10th and Waialae. Mr. Bailey had a bakery and he was nice enough to let her operate her cart there. Then business got a little better so she bought the lot where this office building (built in 1960) now stands," Tanoue said, sitting in a second-floor office where he still hangs his shingle as part-time general surgeon. "She started with eight booths."

Tanoue's father, Tokunosuke, helped out. "He was originally in the tofu business in Kaimuki, but my mother realized that that was not enough to support the family."

Eventually, Tanoue's only sibling, his sister Shizuko Ohta, took over the business and "kept it up until three years ago. It's her grandchild (and husband) that continues it."

Today, the restaurant has 11 red-vinyl booths, a string of red paper lanterns and huge windows that open on two sides, letting in cooling breezes. Huge platters of sushi, teri-beef, shoyu chicken and chow fun sit in display cases.

But it's just a matter of time before the restaurant - renamed Kaimuki Saimin when the younger folks took it over seven years ago - closes for good. It's just too hard a business to continue, said the young owner, declining to give his name.

"I feel kind of sad because that's a legacy left by my mother," Tanoue said. "If they give it up, there are no close relatives to take it over."

It's also a matter of time before Tanoue, 82, closes his practice.

But he'll always take pride in the fact that "we had good saimin here. People always commented on how good it was."
---

Just above Kaimuki Park, on the makai side of Waialae between 11th and 12th avenues, is the block known as restaurant row. Here, chowhounds can partake of Vietnamese, Mongolian, Korean, Italian, American/local, and, most recently, a European-style konditerei.

Across the street sits one of the town's enduring, but now decaying, landmarks - the Queen Theater. Built in 1936, it was known for its westerns and B-movies. "Do you notice the tower?" Yoshitake asks. "Whenever you see a tower like that you know that the theater used to be a stage theater, where the props were pulled up and down."

Also across the street is the Bank of Hawaii, the first financial institution to set up a branch in Kaimuki 54 years ago. Behind the bank was the Honolulu Ice company, where residents would buy blocks of ice for 10 or 20 cents for their iceboxes, Takane said.

Up another block, in front of Gecko Books at 3617 Waialae, embedded in the sidewalk are the words "C.S. Crane: Mayor of Honolulu. A Dream Come True. Tuck Yee Yap (who built the building). 9/1/38."

It's not on the tour, but in a nearby backstreet sits another longtime business, the last taxi stand in Kaimuki.
---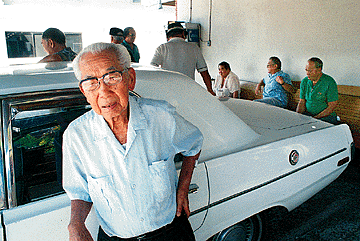 Kaimuki AA Taxi stand owner Alfred Tam, is 88 and now the only driver.
---
Kaimuki AA Taxi - 1145 12th Ave.
The taxi stand sits where it has for more than four decades: Three stalls on 12th Avenue, beneath a metal corrugated roof, with a weathered sign and long bench where the men come to sit with one knee jacked up, smoke with no guilt and pass the time.

Alfred Tam, the owner, is 88 and now the only driver. He's been driving a cab for almost 60 years; this year may be the last.

"The insurance is too high," he explains softly. "I used to have five cabs. We were busy all the time. Now, just myself. I cannot get drivers to qualify for insurance."

He's able to keep going, he said, because he owns the property - he built the adjoining building, named after himself, in 1953 - and gets some income from it.

But his wife is ill and "my license and insurance expire in June. I may retire then because it don't make sense (to keep going). I drive only part-time, when I have time. Mostly Kaimuki customers. I drive any place, a lot to the airport. But not too many (people) call now because I'm not here. They call early in the morning, I cannot drive. At night, I cannot drive. It's not profitable because I don't put in enough time."

His son, Benjamin, explained that insurance has skyrocketed from $500 to $4,000 a year; even the taxi license, which once cost $40, is now $200 a year. Meanwhile, the younger Tam said, taxi fares have not been raised in years.

Alfred Tam has driven a cab in Kaimuki since 1937, even while he worked full-time for the Board of Water Supply. He quit BOWS in 1943 to become a full-time cabbie. He bought the 6,000-square-foot parcel at 1145 12th Ave. for $6,500 in the early 1950s.

In the old days, fares were 25 cents a mile and few people had cars. Now, it's $3.75 for the first mile and $2 a mile after that. At one time, Tam remembers, there were about five taxi stands in Kaimuki. He thinks his last competitor folded 20 years ago.
---

When trolleys were a popular form of transportation, clanging their way up Waialae Avenue, Koko Head Avenue was the end of the line. Nearby, where the Rattan Art Gallery sat for 59 years (until 1993) and where the Salvation Army now runs a thrift store, was the L. Kwai Yow store, the first store in Kaimuki.

Another block down, the modern Weinberg Building sits where the Kaimuki Theater, built in the 1920s and razed in 1982, lured generations of neighborhood kids, Takane recalled. The Kaimuki, like the Queen Theater, eventually faded from glory and became vehicles for porno films in the late 1970s. The community rallied against the X-rated movies and prevailed, but the Kaimuki was torn down in the early 1980s.

The tour continues up Koko Head and ends atop Puu O Kaimuki Mini Park, above the historic Kaimuki Fire Station, where there is an expansive view of Kaimuki and areas beyond.

Yoshitake and Takane have seen Kaimuki through many decades. The town has aged, gotten many a wrinkle and a facelift now and then. But still, in their eyes, Kaimuki has kept its character remarkably intact: A neighborhood of longtime residents and small shops that, for the most part, minds its own business.
---
(The Kaimuki tour is part of Kapiolani Community College's Interpret Hawaii series of 14 walking tours. Call 734-9245 for information.)
---
The Related Story:

See a related story with more photos in
[Kaimuki Rebirth]
Monday, April 23, 1996
© Honolulu Star-Bulletin
---
---