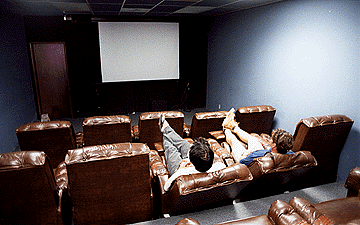 Vinyl, stuffed recliners offer a soft spot to watch classic films at the Movie Museum. Photo by Ken Sakamoto, Star-Bulletin
---
The Movie Museum has replaced a legendary pair
By June Watanabe
Star-Bulletin
---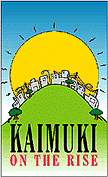 ONCE, two movie theaters - the Queen and Kaimuki - dominated the neighborhood. The former sits decaying, used for storage, while the latter, demolished in 1982, has been replaced by an office building known mostly for a restaurant, 3660 On The Rise.

In their place is the Movie Museum, fittingly an homage to the kinds of flicks that once were regular fare on the old screens.

Here, cinema lovers can recline comfortably on brown vinyl, stuffed recliners to watch classic films or borrow one of a collection of 3,000 videotapes.

The museum was opened in 1989 by movie buff Rick Kraemer. It was purchased in 1991 by Dwight Damon, a member of one of Hawaii's kamaaina families, but more important, someone who also shared Kraemer's consuming love of film.

Even as a child, Damon, 38, said he understood intuitively how movies were made. After school - Iolani '76, Sarah Lawrence and University of Hawaii - he went into filmmaking, doing everything except the camera work. That exposed him to "the pain of making movies." He was a habitue of the Movie Museum and "when Rick decided to sell, I picked it up."

The tiny theater with its 9-by-10-foot screen (measured diagonally) and 18 seats is open only noon to 8 p.m. Thursdays through Sundays, one to three showings a day. In April, the featured films included "The Whole Town is Talking," "The 39 Steps," "The Barber's Wife," "Gospel According to St. Matthew" and "Going in Style." Tickets are $4 for members (membership is $26), $5 otherwise. Or, you can rent the theater for parties on Tuesdays and Wednesdays for $125.

On the other side of the wall is a room packed with videotapes that are rented for one week at a time - $3 for members, $4 others.

"I run any kind of movie," not necessarily old ones, Damon said. "A film can be an instant classic like 'Sense and Sensibility.' A depressing drunken movie - 'Leaving Las Vegas' - is in there with 'The Lost Weekend.' So they're part of the museum as soon as they're released on videotape."

And a bad movie doesn't mean a junk movie. Cult director Ed Wood "had no talent but lots of inspiration because he loved movies. They're not formulaic." For Damon, bad films are still classic cinema as long as "there is some integrity."

"It does very well for what it is," Damon said of the enterprise. "It's able to pay for itself."
---
The Related Story:
Wednesday, April 25, 1996
© Honolulu Star-Bulletin
---
---