Smoke 'em if you got 'em
By June Watanabe
Star-Bulletin
---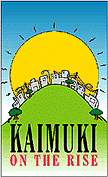 It's just another sign of the times. The 12th Avenue Dress Shop closed last year and a store dominated by a walk-in humidor and filled with more than 100 kinds of stogies is about to take over.

Michael Jorstad and Jeff Bagby hope to have The Cigar Room in May.

"A lot of places will target the yuppies. I just want to get guys who want to find a place to smoke, target guys like me," said Jorstad, 31, a self-described "closet smoker" until the smoke cleared.

"The last few years, it's just booming. And it's all due to Cigar Aficionado magazine," a thick, slick quarterly paean to the glories of cigars. "The magazine turned around the industry," Jorstad said.

The two have invested $25,000, including inventory, into fixing up the 435-square-foot shop, which is dominated by a 185-square-foot humidor. There are tables and chairs so customers can puff away on their Dunhills, H. Upmanns or Macanudos in bliss, away from disapproving eyes and noses.

Cigars will sell from 90 cents to $22 each, most averaging $4 to $5. "It will be a lot lower (in price) because we're direct distributors," Jorstad said.

"Smoking a cigar is like drinking a good bottle of wine," he said. "People want quality and something to savor."
---
The Related Story:
Wednesday, April 25, 1996
© Honolulu Star-Bulletin
---
---