A mix of new and old business lines Kaimuki's Waialae Avenue. Those surviving Hawaii's recent lean economic times attribute their success to...
FINDING THEIR NICHE
Story by June Watanabe
Photos by Ken Sakamoto
Star-Bulletin
---
Uni Shiramizu, left, owner of Young Scale Co., and Kerry Hines show
a few of the scales that fill the Waialae Avenue shop.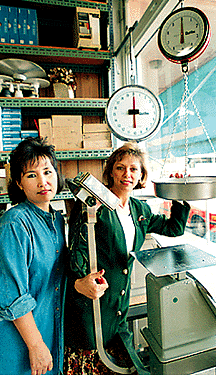 THE SMALL SHOP, crammed full of every imaginable sort of gadget and machine to weigh the stuff of life, could really use a much bigger space.

"This has been a scale store for so long, people don't know our name, but know what we sell," said Kerry Hines, of Young Scale Co. "That's why we probably will never move."

Kaimuki is dotted with shops like this, small businesses that manage to stay alive because they offer goods or services that people can't get elsewhere, or because they're served with a personal touch.

Once a thriving shopping hub, Kaimuki's Waialae Avenue has never really bounced back from the building of the H-1 Freeway. Starting in the 1960s, the freeway offered motorists passing through Kaimuki a faster, more convenient route between downtown and East Honolulu.

Business is "OK for us," said Jenny Toguchi, whose Bea's Pies & Deli has been on 12th Avenue for 23 years. But she thinks newer shops may find it harder to make it because the freeway still deflects so much traffic from the shopping district.

Here are a few businesses that have found a niche in Kaimuki, surviving the freeway, the shopping malls and the economy:

- Young Scale Co., 3392 Waialae Ave.

Weighing the odds, it made sense for Young's Scale Co. to make the move from Kalihi to Kaimuki in 1977. It took over the space that had housed another scale company - Chang's - for a couple of decades, so people already were used to going there for what they needed, said Hines, who joined the company that same year.

In 1991, Jack Young sold the business to Yuni Shiramizu, who kept the name and company motto: "Mini grains to many tons," referring to the scope of the 680-square-foot shop.

The showroom is stocked floor to ceiling with hundreds of scales, from jeweler's scales that weigh grams to automatic meat weighing, packing and labeling machines. There are pocket letter scales that go for $4.95 and truck scales (not in the showroom) that cost $60,000. In between, there are scales for weighing fruits and vegetables and even to measure body fat.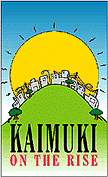 "I find (the business) very interesting because most of the time, the scale is an important part of business, but the customer doesn't know what kind of scale to buy," Shiramizu said. By matching the scale to the customer, she figures she can help the retailer save money in the long run.
- Kaimuki Shell Service, 3375 Waialae Ave.
When Alan Nakamura's father, Torao, opened his service station 25 years ago, there were six other stations in the neighborhood. Many are gone.
"But times are pretty tough; everybody is affected," Nakamura, 42, said. "If I didn't do repairs, I probably wouldn't be here, too."
Even with a widespread "reputation for repairs," survival is a matter of "a little bit of luck, God and hard work," Nakamura said. "Give a fair price and be honest, but luck is important, too, because a lot of places have closed because they lost their leases or their rents got too high."
After graduating from Kaimuki High School, Nakamura majored in marketing at the University of Hawaii. "I told my dad no way I was going to work here," Nakamura said. "It was too hard." But reality hit when he applied for a job at the old Ben Franklin Store in Kaimuki and found half his marketing class in line. When he graduated in 1976, he opted to work for his dad, who died 10 years ago.
- Eighth Avenue Barber Shop, 1204 8th Avenue
It was a Tuesday afternoon and the barber shop was crowded, mainly with older men comfortable with the atmosphere and graciousness of I. and Grace Nakamura.
Inside the aging 300-square-foot shop, two barber's chairs - with hand cranks and razor strops dangling from the sides - sit center stage.
Noboru Yoshiwa, 84, has to drive only a few minutes from Palolo Valley to get a trim every three weeks. But this day, one customer came from Hawaii Kai, another, from Salt Lake. The reason: "I get a good haircut," the Salt Lake man said. There's also the price: $9, not much more than the $1.25 the Nakamuras used to charge.
Grace Nakamura, 61, and her husband, 67, too shy to give his first name, were reluctant to be interviewed because of their lack of English-speaking skills. Grace was born in Japan and I. was raised there. But with Yoshiwa as interpreter, they talked about how a street-widening project made them move from McCully to 8th Avenue 22 years ago.
Barbering is a tiring job, especially when you have to stand so much, 8 a.m. to 5 p.m., six days a week, I. Nakamura said. "But ev erything is going up in price so we have to work long hours to make money."
Their one child works for the state and when they retire, so will the shop.
- Ikkyu Sushi, 3458 Waialae Ave.
The enticing scent of fish, chicken and other delicacies permeates the air around Ikkyu Sushi & Catering, the business Joanne and Teruhisa "Taka" Takatsugi moved to Kaimuki two years ago.
They had specialized only in catering Japanese food in the 10 years they were downtown. But their Waialae Avenue operation attracted so many hungry customers, it made sense to open for lunch as well. There's just one "token" table to sit at, so most people take out their bentos and sushi.
The Takatsugis, both 42, are an intriguing couple. How did a Hawaiian girl, a 1972 Kamehameha Schools grad and the daughter of the late golf pro Ted Makalena, happen to marry a Japan-born chef?
"We met in Japan when I was dancing hula," Joanne said. "Our first six months, we were using the English-Japanese and Japanese-English dictionaries and doing a lot of pointing." They moved to Hawaii in 1976, have been married for 22 years and have three children.
"I like Kaimuki," Joanne said. "It's kind of funky. Business is down from five years ago, when everybody was doing well. But we're doing well enough."
After all, Ikkyu means "Forever No. 1."
- comme ci comme ca, 3464 Waialae Ave.
When Sweetie Moffatt decided to open her consignment shop on Halloween, 1994, it was like coming home.
"I grew up in Kaimuki, on 10th and Keanu. I went to St. Patrick's and Star of the Sea."
Moffatt would grow up to be a well-known hula dancer, the wife of promoter Tom Moffatt and "travel all over the world, five times."
It's that traveling that helps her stock her shop. "I have tons of things that I no longer need. I love antique contemporary things, but you can live with only so much. And I have girlfriends in Paris, Italy, Japan and New York. The bulk of my clothes comes from them."
Her teeny shop is like a big closet, crammed with hats, dresses, shoes, jewelry, knickknacks
and some children's clothes.
"Business is good, although I could always use more business," Moffatt said. It helps that people in the '90s are into recycling and realize that it's OK to buy so-called second-hand. "It is a deal to shop on consignment; it's totally different from Goodwill or Salvation Army."
- Heavy Metal Barbell Co., 3472/ 3478 Waialae Ave.
"Anything to do with weightlifting, we pretty much have," says Hilton Medeiros. No big body, just fact.
His store is crammed full of big machines and nutritional products. There are huge tins of powder, such as "Up Your Mass," to actually make people GAIN weight. No Jenny Craig wannabes here.

Medeiros and his brother, Cleveland, have so much in stock that their Kaimuki shop occupies two spaces, in adjacent buildings.

The brothers manage the shops, which are owned by their father, Edward Medeiros, who runs the Aloha Flea Market. They decided to ride the health fitness craze by opening in Kaimuki, where they live, in 1987. A year later, they opened in Pearlridge Center.

"We're doing good, although not as good as three years ago," Hilton, 33, a St. Louis School graduate, said. "But we're here to stay as long as we're selling ... So far, we feel lucky in this place. Kaimuki is pretty steady."

- Bea's Pies & Deli, 1117 12th Avenue

Here's a tip: Traci Toguchi, Miss Hawaii 1995, swears that she can eat the lilikoi chiffon pie at Bea's Pies and NEVER gain weight.

Traci might be a bit biased because she's the daughter of Stan and Jenny Toguchi, the bakery's owners. But there are those who swear by the bakery's pumpkin/ custard pies and other goodies, with little care of calories.

The bakery has been on 12th Avenue about 23 years, initially known as the Sushiya, when the Toguchis were more into bentos than banana cream. The business was started by Jenny's parents,

Joseph and Bea Uchima, who ran the Fountain coffee shop in Kapiolani Bowl. The Uchimas then operated the cafeteria for FAA workers in Diamond Head Crater for 10 years before moving to 12th Avenue in 1972.

"We have a steady clientele - from all over - that helps keep us going," Toguchi said. Although they sell 75 to 100 pies on an average day, it's a seasonal business, peaking on holidays, notably Thanksgiving. A regular work day starts 3:30 or 4 a.m., Tuesday through Saturday, but around Thanksgiving, "We work around the clock, with no sleep," Toguchi said.
---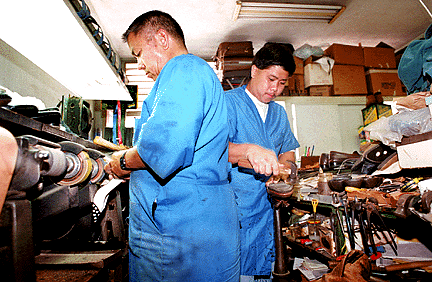 Gordon Tam, left, and his son, Garrett, work in the close quorters of Tam's Shoe Repair. The elder Tam took over the shop from his father, Joseph. Garrett plans to do the same thing.

- Tam's Shoe Repair, 1145 12th Ave.

For four decades, Gordon Tam has followed in his father's footsteps. Actually, in his father's customers' steps.

"People get attached to their shoes," Tam, 53, explained, holding a blue high-heeled sandal that looked like it had walked one too many a mile. But for $15, "By the time I get finished, this will be like new," Tam said matter-of-factly.

With that, he summed up how a business started more than 60 years ago by his late father, Joseph W.S. Tam, continues to thrive. At one time, there were at least five shoe repair shops in Kaimuki. "Now, there's only me," he said. But planning to continue the tradition is son, Garrett, 23.

Joseph Tam arrived from Canton at age 18 and began fixing military boots at Wheeler Field. He later set up shop in McInerny's downtown, then, in the 1940s, to Kokohead Avenue. He moved to the present site in the early 1950s.

"I've been doing this since I was 10," Gordon Tam said. "Customers used to ask my father, `When you get old, who's going to take over?' He said, `My son is going to take over,' although he never talked with me about that," the stoic Tam shrugs. "I just took it as that."

However, after graduating from Kaimuki High School, he learned how to fix airplanes. Today, he

repairs shoes when he's not working as the maintenance manager of Aloha Airlines.

- Okumura Dry Cleaners/The Calico Cat, 1223 Kokohead Ave.

Carol Kuniyoshi was willing to take over the family business in Kaimuki - one that dates back at least 80 years to her grandparents' time - but her father said no.

After 44 years running Okumura Dry Cleaners with just himself, his wife and a brother, Fred "Masa" Okumura knew how hard it was.

"The dry-cleaning business is good, but plenty work," Okumura, 77, said recently. When he retired in 1980, he also opted not to sell the business that was known to almost every Kaimuki resident.

Kuniyoshi, one of three daughters, opened The Calico Cat instead in 1982. It's a small fabrics and notions store in the family-owned, two-story office building that once housed the dry-cleaning business.

"I grew up here," Kuniyoshi, 47, said. Before the building was built in the '60s, it was the family home. Her shop, where she greets most customers by name, sits where the dining room used to be.

Okumura was born just a few blocks away on Waialae Avenue, where the Family Lounge bar is.

Near that spot, his parents, Yoichiro and Kinu Okumura, started Cleanwell Cleaners (he doesn't remember exactly when), which is still in business.

When he was about 5 or 6, his father sold the business and bought the 1223 Kokohead Ave. lot, initially figuring to become a grocer. When that didn't work, he went back to dry cleaning. The Okumuras also purchased property across the street, where Kuniyoshi and her family, her parents, an uncle and aunt all live.

Masa Okumura had wanted to become a doctor, but because of the Depression, went to work for his parents after graduating from McKinley High in 1936.

"In those days, no machines," he said. "It was all by hand." He remembers having to use irons

heated with charcoals, then huge, ship-like gas irons "with fire inside."

When Okumura started, he charged 35 cents for pants. When he retired, he charged 50 cents. Plus, he delivered free of charge. You could understand why customers begged him not to retire.

He was able to make a living because of volume, he said. As it was, he had to refuse new customers for the last three years he was in business because he had no room to store the clothes.

"My work, I hardly had any complaints, because everything have to go through me (pass inspection)," Okumura said.
---
The Related Story:
Tuesday, April 24, 1996
© Honolulu Star-Bulletin




---
---