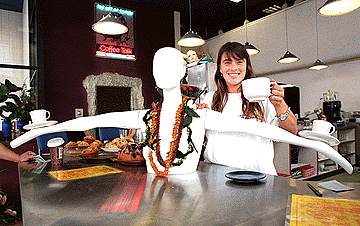 Owner Liz Schwartz has created a unique atmosphere at Coffee Talk.
---
Photos by Ken Sakamoto, Star-Bulletin
'Bean Me Up'
Coffee shops have bloomed throughout Kaimuki, making it a wonderful place to be when you need a java jolt
or cup of cappuccino
By June Watanabe
Star-Bulletin
---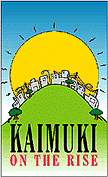 THREE years ago there was one. Now there are five.

Kaimuki quickly is becoming known as the Hill of Beans - coffee, that is.

In just four months, three new coffee houses have opened. We're not talking about the old-style coffee shops, where coffee is the side order to pancakes or club sandwiches. The houses revolve around gourmet coffees and teas, with more relaxed surroundings that encourage reading and chit chat over croissants.

The coffee ground breaker was Coffee Talk, which opened in July 1992 but suddenly closed last year. The former partners are embroiled in litigation and it's a touchy matter. But two of the partners are back, each with her own operation.

Those involved say there's business enough for all, although it'll be interesting to see what the scene is like in a year. For now, here's the lay of the Kaimuki coffee houses:
---
The Cafe -- 1152 Kokohead Ave.
Yuri Edwards closed Coffee Talk in January 1995 and opened The Cafe in the same spot last April. The three original partners all lived in Kaimuki and felt a coffee house "was something the neighborhood wanted - something different," Edwards said. The Cafe, 1,000 square feet of what used to be a Nintendo store, has cozy feeling, with lots of plants.

Customers range from mothers with small children to older folks having tea in the afternoon to busy professionals popping in for a respite, Edwards said. While she wishes all her competitors well, "I'm not going to do what they're doing."

Besides her coffee, she said, her customers are lured by her pies, cakes, biscotti, sandwiches and soups. "Everything I make is fresh and is made on the premises; nothing artificial."

She was testing dinners on Thursday nights.

Business is steady, with new faces every day, she said. But it's "a tough business; I don't think some people realize how tough."
---
Coffee Talk -- Waialae and 12th avenues
Around the corner from where Liz Schwartz once ran Coffee Talk with Yuri Edwards and Jeff Cross, she recently opened her own coffee house, using the original name, in what used to be the old Central Pacific Bank.

This time, the only partners are family - husband Alan Masuda and mother-in-law, Marion Masuda.

Coffee Talk - with 2,500 square feet on the ground floor and 1,100 square feet upstairs for an office - is the biggest of the five coffee houses. The high ceilings, mannequins striking poses and old vault gives a unique atmosphere to her cafe, she said. Besides coffee, she's offering "home-made" pastries and a cigar counter featuring stogies from The Cigar Room opening down the street.

Schwartz expects to draw the same kind of people as before, "from Kaimuki, Kahala, Wilhelmina Rise; the student crowd; the older people who have lived in the neighborhood for years."

As for the competition, "Just like every restaurant, a coffee house has its own personality," she said. Having so many "will be a big draw for Kaimuki."
---
Cafe Laufer -- 3565 Waialae Ave.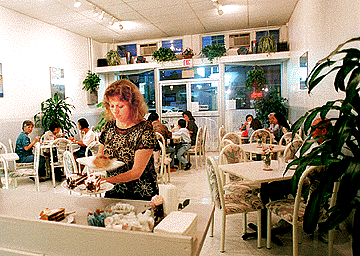 The European-style Cafe Laufer.

"We're not a coffee house, we're a konditorei," Marlies von Laufer says, in the accent of her native Germany, of the cafe she and Cyrus Goo opened last December in a 1,400-square-foot former pet store.

The difference, she said, is that it's European-style, featuring coffee and mainly fine pastries, served on fine china. "We're 95 percent bakery," she said.

The two partners met while both worked in the hotel industry. Goo, a 1974 St. Louis graduate, does all the baking, having spent 20 years in the kitchen. Pastries, such as Black Forest cakes and Linzer Tortes, are made from scratch daily.

Not wanting to compete directly with some of their neighbors, Goo and von Laufer decided against pies, for example, "because Bea's bakery does wonderful pies." In turn, some of the restaurants will refer customers over for dessert.

Customers range from kids from Kaimuki Cue next door to retirees. "It's local people all day long, then German, Austrian and Swiss people in the afternoon, plus Japanese nationals" familiar with European pastries, von Laufer said.
---
Coffee Time Cafe -- 3506 Waialae Ave.
Glenn Harada was working as a mechanical engineer for Hughes Aircraft in California when he decided to return home and run his own business.

He opened Coffee Time Cafe in January after "a lot of research," including looking at different food franchises. He settled on coffee "because it was a good time for it, it was on the rise and also was a fun thing to do."

His spacious 1,200-square-foot restaurant, next door to the booming Boston's North End Pizza Bakery in a renovated old building that once housed Larry's Auto Parts, is sleek and modern.

"What we were going for was something with a clean, comfortable feel to it," said Harada, 33, a 1980 Roosevelt High grad. The business, besides specialty coffees and food, "has to do more with atmosphere. And service is very important."

Besides desserts, there are tortilla rolls (including a tofu with hoisin roll), bagels and soups.

"Different cafes have different crowds," Harada said. "Because of our atmosphere and people, we have a more diverse crowd, from the early 20s to upper 60s."
---
Rain or Shine Coffee Co. -- 3397 Waialae Ave.
In what used to be a flower shop, Kaimuki's second coffee house opened two years ago. The name, new partner Leslie Ono said, refers to the fact that the cafe initially was open 'round the clock.

Now, it's open a mere 21 hours a day, closing between 3 and 6 a.m. when even caffeine can't keep or get enough people up.

Rain or Shine is a much more informal, less stylized coffee house than the others, seeming to appeal more to younger crowd. It holds chess tournaments, has board games and features jazz on Thursday nights.

Ono, who owns the place with David Siu, got into coffee because "it's the kind of business that's a little bit more relaxed; kind of laid back. You meet a lot of people. And even though a lot of coffee houses have been opening, it's good because it gives the community different choices."
---
The Related Story:
Wednesday, April 25, 1996
© Honolulu Star-Bulletin
---
---