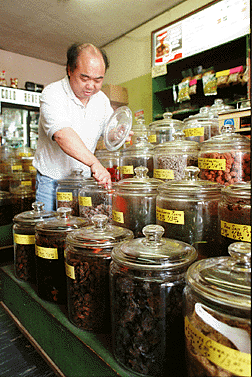 Kon Young, owner of the Crack Seed Store on
Koko Head Avenue, Kaimuki.
---
Lately, the historic commercial neighborhood has been surviving, not thriving. Town leaders hope a facelift and a new customer base will lead Kaimuki to . . .
REBIRTH
Stories by June Watanabe
Photos by Ken Sakamoto, Art by Kevin Hand
Star-Bulletin

---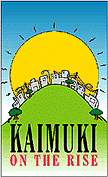 Kaimuki, "The Oldest Little Business Town" on the island, will mark its centennial in two years, showing its age but no where in need of a Dr. Kevorkian.

What it needs, and what many town leaders are hoping for, is cosmetic surgery to give it a much-needed facelift - injecting youthfulness into dilapidated storefronts and buildings, while retaining the character of a place that has nurtured mom-and-pop businesses for decades.

There are more than 300 retailers and professionals in the area, most along the mile-long Waialae Avenue artery from Kapahulu to Koko Head avenues, but many in the side streets that branch off makai, at the top of the hill between 11th and Koko Head.

Most businesses can't really be said to be thriving, especially in this economy, and a couple of observers noted how the retail anchors at the Koko Head end of Waialae are now Goodwill and Salvation Army.

Still, the town has been able to sustain many of its pioneer businesses - now 50, 60 and even 70 years old - while continuing to attract youthful entrepreneurs, a number of coffee houses and a cigar shop among them.

The sign in Coffee Talk seems to speak for the neighborhood.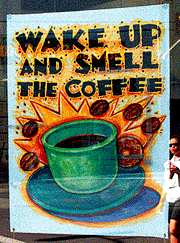 "I think Kaimuki is definitely on the rise," said Glenn Harada, 33, who opened Coffee Time Cafe on the corner of 10th and Waialae avenues in January. "People are coming back to Kaimuki. Ten years ago, it was faltering. Then three, four, five years ago, it began being uplifted," he said.

"Even with the new buildings, it still maintains the old neighborhood look," observed Alan Yoshioka, vice president of Harry's Music Store, a mainstay on Waialae Avenue for 50 years. A prime example: The circa 1940s building that houses the store is smack-dab next to the modern four-story Central Pacific Bank building.

Harry's Music -- a Kaimuki institution.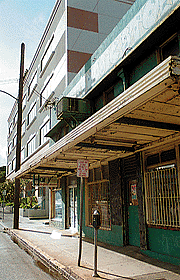 What is helping to spur rejuvenation of Kaimuki is a move back to shopping in neighborhood stores, said Sandra Au Fong, vice president of Market City Shopping Center and former president of the Kaimuki Business and Professional Association.
A survey conducted for Market City showed that many "conservative yuppies" are moving into Kaimuki, many of them to live with their parents. They represent a vibrant customer base for new businesses. In turn, "new businesses will help create more of a sense of pride" in what the town looks like, Fong predicted.
The KBPA, 50 years old this year, hopes "to attract more people to Kaimuki to see what's available in the business district - to promote the idea that Kaimuki is a good place to do business," said Randall Ikawa, a certified public accountant and its current president.
Cyrus Goo and Marlies von Laufer were lured by that kind of talk. Before opening Cafe Laufer in December, "We heard Kaimuki was trying to revitalize," Goo said. When their accountant moved from downtown to the neighborhood, "We said, 'OK, this is the place to go.' There is a niche for everyone."
From a business standpoint, "It's a perfect neighborhood," said Dwight Damon, who bought the Movie Museum on Harding Avenue in 1991. "It's accessible to the freeway, has a large (municipal) parking lot and the landmarks are recognizable." Even though businesses may come and go, Damon said, "Kaimuki keeps its identity."
8th Ave. Barber Shop owner I. Nakamura cutting John Congkee's hair. Congkee has been getting his cut there ever since the shop opened. His three sons also get their haircuts there.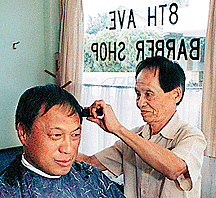 It's that identity that many people are hoping to retain, ideally through Main Street U.S.A., a federally funded program administered by the state that seeks to economically revitalize a commercial district by preserving its historic character.

The Kaimuki project suffered "growing pains" because of political and personality conflicts between different community groups and is now stalled because of budget cuts. But the group's volunteer board of directors "is still moving ahead," said president Marvin Lee, of Ionica, an interior architecture firm.

Main Street has four objectives: Revitalizing an area's economy; working with owners on architectural and historic preservation; restoring a pedestrian orientation; and promoting Kaimuki as a destination, "sort of like Haleiwa," Lee said.

"We would like to retain the original mom-and-pop atmosphere" as opposed to outlet shops, he said. Architecturally, "We are trying to enhance the myriad of eclectic styles that exist in Kaimuki, trying to work with building owners to at least do cosmetic maintenance programs."

One plan is to convince bankers to offer a low-interest loan pool for renovations.

From the viewpoint of a preservation expert, "Kaimuki, particularly Waialae Avenue, and Chinatown are the last, intact historic commercial neighborhoods in Honolulu," said William Chapman, director of the Historic Preservation Program in the University of Hawaii's Department of American Studies. "Everything else has gotten relegated to the strips, like Kamehameha Highway in Pearl City."

And all that happened, Chapman said, to accommodate the cars. "That's what we've been doing, accommodating the cars in Hawaii over the last 30 years."

What Kaimuki business leaders want is to begin accommodating pedestrians, especially along upper Waialae Avenue, considered the "Old Town District."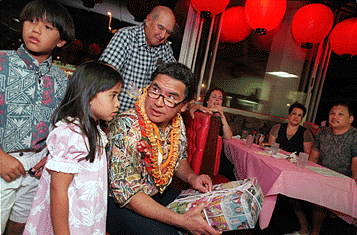 Bob Wai celebrates his 52nd birthday at Waialae Avenue's Kaimuki Saimin & Delicatessen. Wai says he loves saimin; he used to frequent the business as a child growing up on 9th Avenue.
---

"Food is a big draw," said Darrick Ching, manager of the Kaimuki branch of the Bank of Hawaii and president-elect of the KBPA. A UH preservation class survey concluded there were more restaurants in Kaimuki per square foot than in Waikiki.

Kaimuki night life. Photo by Kathryn Bender, Star-Bulletin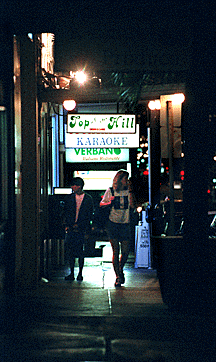 Whatever effort is made to rejuvenate the area, it's important to have "some provision for pedestrian activity," said Kaimuki Neighborhood Board chairman Henry Iwasa. "We encourage small specialty shops," while working to "keep out unsavory businesses, like porno movies and strip bars."

Although Main Street would be strictly voluntary, it "seems to be a scare word," acknowledged Chapman. Preserving the character of Kaimuki would call for "some sort of special district (designation), like Chinatown," he said.

"But I don't know if the community would support it or not. It's an educational problem of trying to get people to recognize that they can make a profit but in ways to enhance the environment. If they hang together as a community, everybody can benefit."
---
The Related Story:

See a related story with more photos
and a map in [On The Rise]
Monday, April 23, 1996
© Honolulu Star-Bulletin
---
---