Hot celebs find serenity on cool Kailua Beach
The Kailua Beach neighborhood where Barack Obama is staying for his vacation has seen its share of celebrities over the years.
Neighbors have seen Cameron Diaz and Justin Timberlake, Harrison Ford, Michelle Pfeiffer and William Shatner enjoying the sandy beach and picturesque views that stretch from the Mokapu Peninsula to Flat Island.
"The 'Lost' people walk here all the time," said neighbor Anne Marie Duca.
For the most part, people don't stop and gawk.
And while Obama's arrival yesterday, accompanied by a police motorcade and a helicopter buzzing overhead, did draw a few television cameras and spectators, life at Kailua Beach remained the same.
People walked their dogs. A kite-surfer glided across the water in front of the beachfront home where the Obamas are vacationing. Surfers like Dustin Gomes took advantage of a wind swell and barely took notice of the police and Secret Service agents standing guard.
"It's great having him in my own neighborhood," Gomes said.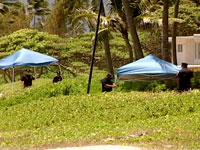 Barack Obama and his family have plans on staying at a secret location on the Windward coast, giving Obama and his family a chance to relax.
A few houses down on the beach, Deidre Sargeant and other neighbors sipped red wine as the sun began to set.
They normally hang out at the beach, Sargeant said, but they confessed to hoping to catch a glimpse of Obama.
"He is the most significant figure in the whole world," Sargeant said.
"How cute are those Secret Service guys? That's what I want to know," one neighbor wondered out loud.
"They're cute," Sargeant said.
As for the other celebrities they've spotted, "who cares about them? We'd rather see Barack," another neighbor added.
Sargeant said she hopes Obama isn't bothered during his vacation.
But it was only a few months ago when another celebrity drew hundreds of people to the beach.
A monk seal, officially called RK 15 but better known as Chester, spent several weeks on Kailua Beach in January.
The National Marine Fisheries Service had to put up yellow tape to keep people a respectful distance from him.
"As of right now, Chester had more visitors than Obama," said neighbor Dan Pence.
To which his neighbors added, they hope it stays that way.