Obama comes home
About 3,000 attend a rally where the presidential hopeful lauds the aloha spirit as a model for America
STORY SUMMARY | READ THE FULL STORY
Sen. Barack Obama returned to his childhood home yesterday, basking in the Hawaii sunshine and the adoration of 3,000 supporters.
Obama's plane touched down at about 2:30 p.m. at Honolulu Airport. After a brief meeting with local reporters, he was taken by motorcade to nearby Keehi Lagoon Beach Park for a rally, where he proclaimed himself on vacation.
"I'm going to see my tutu, my grandma, and I'm going to watch my girls play on the beach and maybe once in a while, I'll go into the water. But mostly I'm just going to sit there and watch them," he told the crowd.
The 1979 Punahou School graduate praised Hawaii's example of the aloha spirit. "The ability of people from everywhere, whether they're black or white, whether they're Japanese-American or Korean-American or Filipino-American or whatever they are, they are just Americans, that all of us can work together and all of us can join together to create a better country. It's that spirit that I'm absolutely convinced is what America is looking for right now."
After his 17-minute speech, Obama went to his 85-year-old grandmother's Beretania Street apartment for a visit.
Obama, wife Michelle and their two daughters are staying at a private residence on Kailua Beach. Other than a private fundraiser Tuesday and working on his speech for the Democratic National Convention later this month, the presumptive presidential nominee said he plans to relax and visit with family.
---
FULL STORY »
With stiff tradewinds easing the heat at Keehi Lagoon Beach Park, Sen. Barack Obama proclaimed himself back home and ready for a vacation.
"I try to explain to them the aloha spirit. I try to explain this basic idea that we all have obligations to each other, that we are not alone, that if we see someone in need, we should help."
Sen. Barack Obama, D-Ill.
Presumptive Democratic nominee for president
Many in the crowd of 3,000 held cameras and cell phones aloft during his 17-minute speech yesterday afternoon, snapping photos as he told them about Hawaii's effect on him and how it shaped his values.
The speech broke no new ground, but cemented his relationship with the Hawaii Democratic Party, which had awarded him a 75 percent vote win in the February caucuses.
"We are not here to politick. We are here to say, 'Thank you,'" Obama told a cheering crowd that had been waiting for several hours on the unshaded field.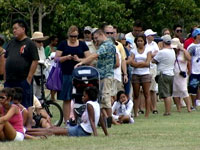 Thousands of Obama supporters gathered at Keehi Lagoon in hopes to have a glimpse of the Presidential Candidate.
Obama, who started the speech by introducing his wife, Michelle, said he is often asked what he learned from being born and raised in Hawaii.
"I try to explain to them the aloha spirit," Obama said. "I try to explain this basic idea that we all have obligations to each other, that we are not alone, that if we see someone in need, we should help.
"When you come from Hawaii, you start understanding that what is on the surface, what people look like -- that doesn't determine who they are," Obama said.
He told the crowd he had come to Hawaii to visit his tutu and relax, adding that he plans to get a plate lunch. "I might go to Zippy's. I might go to Rainbow Drive-in. I haven't decided yet."
He said he plans to spend a lot of time watching his daughters play on the beach.
Security at the rally was tight, with each member of the audience hand-screened for metal objects. More than 100 law enforcement officers turned out, including the Honolulu Police Department's specialized services division. A Coast Guard boat armed with machine guns patrolled the water next to the lagoon.
A couple of armed Secret Service agents situated themselves atop a commercial building a distance away from the stage. The National Guard's HazMat team also canvassed the area for weapons of mass destruction.
In an unusual note for a visitor to Hawaii, neither Obama nor his wife wore a lei, although a national campaign spokesman said they had received them at the airport and were grateful for them.
Obama talked about spending billions of dollars in Iraq, and cheers broke out when he added, "If we're spending that kind of money in Iraq, we can spend some of that money in here in Hawaii" and the rest of the country.
He commended the military, noting that Hawaii is home to several bases, and its troops serve with "distinction and bravery."
"They also deserve a civilian leadership that understands the most important thing we can do to make ourselves safe is to fight the right wars," he said.
Obama also drew applause when he talked about a new energy policy that would focus on wind, solar and other alternatives to foreign oil.
"I know that the folks here in Hawaii are especially hard hit because everything has to come into Hawaii and gas prices have gone up the roof, fuel prices have gone through the roof, and it's time that you got some real relief, and that means actually starting to have an energy policy in this country that makes sense," Obama said.
Obama supporters liked what they heard.
"It was awesome," said Marlena Salmu. "I think he has been working really hard and he needs a break."
Even Republicans agreed that Obama should relax while in the islands.
State Rep. Gene Ward, co-chairman of the local McCain for President campaign, said he hoped that Obama would visit the Zippy's restaurant in Hawaii Kai like former President Bill Clinton did and then spend some downtime.
"I was encouraged he had the free rally, and we wish him well," Ward said.
Lamont Thomas, a Hickam Air Force Base analyst, carried his son to listen to Obama and was happy with the speech.
"He talked about everyone becoming one, and for Hawaii I'm glad he talked about energy, because we can do a lot with wind and wave energy," Thomas said. "I thought it was a great speech."
Obama, who started his speech with an enthusiastic "aloha" and "howzit," ended it with a little reminder of his plans for the week: "I'll see you on the beach!"