Obama is here to relax, not work
Departing from the throes of a tight presidential race, Sen. Barack Obama arrived in Hawaii yesterday for a vacation that he says will focus less on work and more on family.
"There's never a good time for a vacation," Obama said at a meeting with local media at Honolulu Airport shortly after arriving.
The presumptive Democratic presidential nominee was dressed in a dark polo shirt and tan slacks -- without a lei -- and arrived with his wife, Michelle, daughters Malia, 10, and Sasha, 7, and several other family members.
"The fact of the matter is that we (Democrats) had a much longer primary season than the Republicans did," Obama said of his need for some downtime. His presumptive opponent, Sen. John McCain, "had about three or four months where he was not competing. I had three days."
"At some point it's important for me to see my grandma, and it's important for me to spend a little bit of time with those two girls and a wife who likes to see me once in a while, too."
Obama, who was born in Hawaii, was last here in December 2006.
He traditionally visits the islands during the winter to see his maternal grandmother, Madelyn Dunham, but was unable to last year because of his busy campaign schedule.
His blue-and-white private charter, a 757 dubbed "O-Force One" and emblazoned with his campaign slogan, "Change We Can Believe In," pulled up to a private hangar at the airport around 2:30 p.m., about a half-hour behind schedule.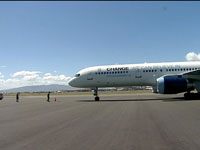 Senator Barack Obama along with his wife and kids arrived in Hawaii for vacation.
Obama's comments were followed by a public rally at Keehi Lagoon. The Keehi rally was the only public event on Obama's schedule. He has a private fundraiser scheduled Tuesday at the Kahala Hotel and Resort.
Before leaving Friday, Obama plans to spend time with his grandmother and indulge in some local favorites.
"We're going to get a plate lunch somewhere, guaranteed," he said. "We will get shave ice, guaranteed. I will go bodysurfing at an undisclosed location, guaranteed."
Obama brushed aside questions about his looming selection of a running mate, saying the only work he planned to do was on his acceptance speech for the upcoming Democratic National Convention.
"I spent some time writing my convention speech four years ago. I want to spend some time on this speech as well," he said.
On the news of the day, Obama largely declined comment when asked about former Democratic presidential rival John Edwards' admission to a 2006 extramarital affair, saying that it was a "personal matter" that Edwards and his family would have to deal with.
"This is a difficult and painful time to them," he said. "And I think they need to work through that process of healing. My sense is that that's going to be their top priority."
Edwards, the Democrats' candidate for vice president in 2004, dropped out of the race in January and, after months of being courted by Obama and rival Hillary Rodham Clinton, endorsed Obama in May.