Eh, Barry: Howzit, brah
Tourists change their play plans and local people take off from work to give native son Sen. Barack Obama a big "Aloha!" on his historic run for the U.S. presidency
Seated on the grass at Keehi Lagoon, cradling her 2-month-old puppies, Coralynn Mua'e summed up her feelings for Barack Obama: "He's the next Kennedy, man. He's the people's president."
Mua'e, a deli manager at Pali Safeway, waited in the hot sun with thousands of others in a jovial crowd whose far-flung roots demonstrated the global appeal of the Democratic presidential candidate.
The sprawling park near the airport, a regular destination for local canoe paddlers and ball players, isn't on the usual tourist itinerary, but plenty of them showed up yesterday.
Andreas Schmidt-Ott, fresh off the plane from Amsterdam, Netherlands, heard yesterday morning that Obama would be holding a public rally in a few hours, so he drove over with his 14-year-old son.
"In the Netherlands, 80 percent of the population would vote for Obama," said the chemical engineering professor. "We are part of the 80 percent. He's extremely popular. I think that's also true for the rest of Europe."
His son Fabian hasn't heard of Duke Kahanamoku or Don Ho, but he knows Hawaii's latest celebrity. "I've only seen him on TV," he said. "I wanted to come."
Monty DiPietro, here on a business trip from Tokyo, said he had just one day off and decided to spend it at the rally. "It's the last thing I expected to do on my day off," he said. "I should be at the beach in front of the hotel in Waikiki, but I just couldn't resist."
The short notice for the rally and the fact that it was held in the middle of a workday limited the size of the crowd to about 3,000 people. Many had heard about the event just that morning or the night before, but they figured out a way to get there.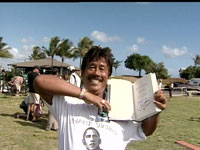 Some Obama supporters were lucky enough to have shaken hands with Senator Barack Obama.
Felicia Brazile, an administrative assistant who lives in Mililani, announced when she arrived at her engineering firm downtown that she needed to take the day off.
"I walked into the office this morning and told them, 'I got to go,'" said Brazile, who took the bus. "I came because it's history in the making."
Obama's speech brought her to tears. "I'm like Obama -- I'm hapa," she said. "My niece asked me, 'Did you ever think you'd see a black man as president?' and I told her, 'I never, never thought I'd see that in my lifetime.'"
"Over here they don't look at the color of your skin; they look at you," she said, wiping her eyes. "Like he said, the rest of the world should be like that. I will knock on doors, I will make phone calls, I will tell my friends on the mainland to do the same."
Rita Prather and Beverly Lloyd walked about 45 minutes to get to the rally because they couldn't find any parking close by. Prather surprised her friend when she picked her up at the hotel on Lloyd's last day of vacation and handed her a copy of the Star-Bulletin announcing the rally.
"I was screaming in the car," said Lloyd, who lives in Solon, Ohio. "I'm in beautiful Hawaii and I got to see Obama."
Marisa Proctor, who teaches at La Pietra-Hawaii School for Girls with Obama's half sister, Maya Soetoro-Ng, got a chance to speak briefly to Obama after the rally -- and mentioned her connection.
"We had a moment -- we shared a moment," said Proctor, still elated from her brief encounter. "I'm just, like, speechless."
Karen Newman of Hawaii Kai was the first person in line, arriving at the park in the dark at 4:14 a.m.
"It was pretty spooky," she said. "It was me, some shopping carts and some maintenance workers." But she said it was all worth it. "This is once in a lifetime."
By the time the gates opened after 12:30 p.m., the line stretched 1,000 feet, winding across the field, three people abreast. Some had waited since before dawn, but no one was complaining.
A Chicago family visiting the islands hadn't had a chance to see Obama up close yet in his adopted hometown. As they were leaving their hotel yesterday morning, they heard he was vacationing here, too.
"We were going hiking and crabbing at the beach, but we changed our plans to come hear the next president," said Kathleen Park, standing with her 10-year-old twins, Nicholas and Taylor. "He's brave," said Taylor. "Confident," added Nicholas.
Their father, Jim Kwok, an asset manager, agreed: "We need to have someone who talks about how America can be a citizen of the world, not the bully of the world."
But their uncle Bryant Park, who lives in Honolulu, was one of the few in the crowd not yet on the Obama bandwagon.
"I'm here to see if he has anything substantive to say," Park said, shaded by a broad-brimmed hat. "I understand that he is about change. I never really hear the real details. I do question his competence."
Billy and Luz Mills don't have any doubt that Obama is the right man for the job.
"I think it's once in a lifetime that someone of his caliber comes about," said Billy Mills, a probation officer. "He'll continue to do what JFK was not able to do. Barack indeed will represent all of the people, not just some of the people."
"He's got everything we need in our president," said Luz Mills. "He's a humanitarian, he is a genius and he will be the best president our country could ever get."
Harmony Domingo, a certified nurse's assistant, came by herself to the rally. Her family wanted to come, but her mother was sick and the others had to work.
"I just wanted to see what he was all about," she said. "I hope that he gets a chance to rest and build his strength here," she said. "He's got a long road ahead of him -- especially if he wins."
Star-Bulletin reporters Rosemarie Bernardo and Craig Gima contributed to this report.