10 WHO MADE A DIFFERENCE
- DEBORAH ZYSMAN -
ADVOCATE FOR A BAN ON
SMOKING IN HAWAII
Zysman gets heat for smoking ban
When Deborah Zysman's mother lost an aunt to lung cancer, she warned Zysman to stay away from cigarettes.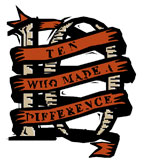 "My mom was always very anti-tobacco, I think because when I was little she lost her favorite auntie to lung cancer at a very young age, when she was 40," recalls Zysman. "When I was growing up, my mom just said, 'I will not go through that again.'"
The message apparently stuck.
A native of Buffalo, N.Y., Zysman, 31, went on to earn a master's degree in public health from the University of North Carolina at Chapel Hill. More recently she was instrumental in pushing for passage of the state's smoking ban as executive director of the Coalition for a Tobacco-Free Hawaii.
The law, which celebrated its first year last month, prohibits smoking in all public places, including restaurants, bowling alleys and malls. It also made it illegal to light up in partially enclosed areas, bars and less than 20 feet from doorways and windows.
But shortly after the law took effect in November 2006, bar owners who complained they were losing customers partly blamed Zysman for their losses. They lobbied lawmakers in the spring to repeal or at least change the law so that it would permit smoking in some establishments.
The campaign ultimately failed for the session, but not before it turned ugly.
One flier distributed by a coalition of smoking proponents labeled Zysman "Hawaii's Most Wanted." Zysman later got a restraining order against one of her principal critics.
"We expected some kind of push back," said, recalling her staff even considered adding more security to their office. "I think the personal attacks ... I didn't necessarily anticipate."
Choosing the 10
In a daily countdown, the Honolulu Star-Bulletin is profiling 10 people who have made a difference in Hawaii during the past year.

These are people who worked in any field --community service, education, politics, law, labor, medicine, science, business, sports, entertainment, the arts -- to make a difference. Some fought controversial battles in public.

All that matters is that each, to the one, had a devotion to their cause that made a profound impact on Hawaii.
The 10 for 2007
» Dec. 22: John Garibaldi, Superferry

» Dec. 23: Isaac Hall, attorney

» Dec. 24: Deborah Zysman, Coalition for a Tobacco-Free Hawaii

» Dec. 25: Jennifer Kishimori, CatFriends

» Dec. 26: Lea Ok Soon Hong, Trust for Public Lands

» Dec. 27: Jaimie Kahale, Life Foundation

» Dec. 28: Moses Kalei Nahonoapiilani Haia III, Native Hawaiian Legal Corp.

» Dec. 29: Mark Dunkerley, Hawaiian Airlines CEO

» Dec. 30: Darryl Vincent, United States Veterans Initiative

» Dec. 31: Colt Brennan, U.H. Quarterback