Cambodian girl gets help for culture shock
Sythan Leam of Cambodia arrived in Honolulu yesterday to undergo surgery to her leg
» SERIES PREQUEL | PART 1 | PART 2 | PART 3 | PART 4
» COMPANION VIDEO
A 14-year-old girl from Cambodia will spend some time getting used to new surroundings before going to the Shriners Hospital for Children for life-changing surgery.
Sythan Leam arrived at Honolulu Airport yesterday looking tired and a little frightened after her 6,300-mile journey to Hawaii from her rural village in Kampong Thom province in central Cambodia.
"It's not just culture shock; everything is new to her," said Anthony Deth, a local Cambodian community leader. "I feel she's scared and homesick right now."
Leam's village, where she has lived most of her life, has no electricity or running water. Cattle far outnumber cars on the dirt roads there.
Leam suffered a severe burn when she was 5 months old. Because there were no doctors in her village, the wound was not treated properly, and her left foot was fused to her left thigh. She has never walked normally.
COMPANION VIDEO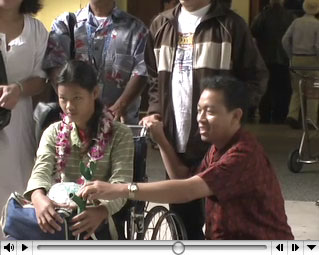 Yesterday Leam's leg was X-rayed at Shriners Hospital, and she was tested for tuberculosis, Deeth said.
Shriners will treat Leam for free, but transportation costs are not covered.
After her story appeared in the Star-Bulletin, the nonprofit group Medicorps raised about $10,000 to bring Leam to Honolulu.
She traveled by bus from her village in Kampong Thom province to the Thai border, where she said goodbye to her mother, Teartear, and continued by road to Bangkok.
Leam flew with Dr. Gunther Hintz, Medicorps president, from Bangkok to Tokyo and then on to Honolulu.
All of Leam's possessions -- basically a few changes of clothes -- fit into a small carry-on bag, Hintz said.
Through an interpreter, Leam said she was nervous but comfortable on her first flight.
She commented on the view of the ocean from 30,000 feet, saying she had never seen anything like it.
Leam was hungry after the flight, Hintz said, because she could eat only rice on the plane. "Everything else was too strange to her, even orange juice," he said.
Deth said Leam slept most of yesterday afternoon. She will be staying with Deth's brother at Central Union Church when she is not at the hospital. Deth planned to prepare home-style Cambodian food for her at his Puck's Alley restaurant last night.
"My goal is to make her feel comfortable, make her feel at home," Deth said. "I want her to know we're going to take care of her. ... Her being homesick is what I'm most concerned about."
This weekend, Deth will take her clothes shopping.
He said he will invite local Cambodian families to meet her so she can talk with them in Khmer and maybe show her some Cambodian movies and karaoke videos. He might also take Leam to a farm in Kahuku, a place more like home.
But he will also show her a little bit of Hawaii, including Leam's first trip to the beach.