Land mine victim making strides after isle surgeries
The Honolulu Shriners Hospital and volunteers helped save the boy's legs
» COMPANION VIDEO REPORT
» PART ONE | TWO | THREE OF THREE
SIEM REAP, Cambodia » The shy smile is the same, but Sok Oeuy, 19, has grown into a tall young man who walks with an easy, lanky gait since he left Hawaii about six years ago.
The Honolulu-based charity Medicorps brought Oeuy to Oahu in 2000 after his legs were severely damaged in a land mine explosion near his home in Angtong village in northwestern Cambodia.
When Oeuy was 13, he spent a year in Honolulu in 2000 at the Shriners Hospital for Children and in the homes of members of the local Cambodian community, people he now calls his second family.
Medicorps is hoping to bring another Cambodian teenager, 14-year-old Sythan Leam, to Honolulu in the next few weeks for surgeries to help her walk for the first time. Leam suffered severe burns as an infant, and when the wounds healed, her left thigh and calf were fused together.
Oeuy's experience could be a preview of what Leam can expect.
When he first arrived in Honolulu, Oeuy weighed just 36 pounds and stood less than 4 feet tall; he was malnourished, with hepatitis and liver ailments.
COMPANION VIDEO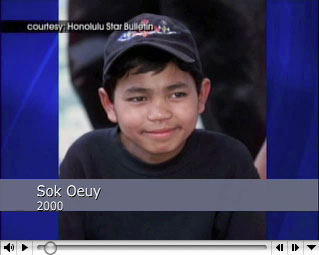 Oeuy shot up a foot during his year in Hawaii to 5 feet tall and more than doubled in weight to 75 pounds.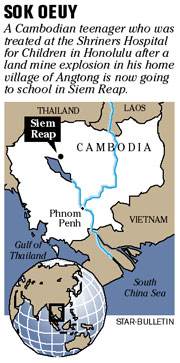 One of the first things you notice about Oeuy now is that he has grown even taller; he stands about 5 feet 9 inches and weighs about 140 pounds.
After three operations in Cambodia and 10 orthopedic and plastic surgeries in Hawaii, Oeuy walks easily and bicycles from his apartment just outside of town to school and work.
There is no indication that he almost lost his legs and his life more than six years ago.
Everything was strange and new to him, recalls Dr. Gunther Hintz, president and founder of Medicorps.
"I remember how Sok was extremely afraid to step out of the car," Hintz said. "He was only used to walking on natural soil or grass. He wasn't used to walking on asphalt or concrete. He didn't know what that would be like."
The transition back to rural Cambodia was also difficult, said Sedtha Long, the administrative director of the children's hospital in Siem Reap who has been taking care Oeuy since he first arrived at the hospital in 2000.
The exposure to modern life and normal teenage rebellion made it hard for him to adjust back to village life, Long said.
But there were also health problems. Oeuy's legs became infected and he nearly died, Long said. Since then, Oeuy has been living in Siem Reap, rather than his village with his family.
Oeuy is studying English, a language he started learning while at Shriners, and wants to become a graphic artist.
Money donated by Central Union Church members and the local Cambodian community is helping pay for his school and living expenses, Long said.
Asked about returning to Hawaii one day, Oeuy flashes his shy smile.
"Hawaii is so beautiful," he said.
When told about 14-year-old Sythan Leam, who will be making a similar journey soon, he offers this advice: "Don't miss your mother and father," Oeuy said. "Don't cry. Don't think about anything from Cambodia."
If he had not come to Honolulu for treatment, Oeuy's life as a disabled land mine victim would be completely different from what he has now. And Oeuy said he remains grateful to the doctors, nurses and community members who helped him.
"All the nurses helped me. I don't have my family," Oeuy said. "I would like to say to all the doctors, all the nurses living there ... I say thank you very much."

See also
Trip of a lifetime for Sythan Leam + Video
Part 1 of 3