Isle group upgrades Cambodian hospitals
Medicorps works to improve health care by sharpening the skills of local doctors
» PART ONE | TWO | THREE OF THREE
» COMPANION VIDEO
SIEM REAP, Cambodia » Quality medical care does not exist for most people in a small, poor country like Cambodia.
Equipment, medicines and hygiene at the government-run Siem Reap Provincial Hospital are far from U.S. standards, but it is the only hospital available for hundreds of miles for many Cambodians.
Using the Internet, the Hawaii-based charity Medicorps is working to improve the skills of local doctors and the care they are able to provide.
Instead of organizing medical missions to Cambodia, Dr. Gunther Hintz, Medicorps founder and president, works on building the skills of doctors already in the country.
"What is really needed is capacity within the health care system. That means to strengthen the hospital, to strengthen the pharmacy and strengthen the local physicians. That means to encourage the patient to go to the local physicians," Hintz said.
Medicorps provides computers and an Internet connection to the hospital, a large expense in Cambodia where basic Internet services similar to dial-up connections in the United States cost $100 a month. It can cost up to $1,000 a month for service close to high-speed Internet capability.
COMPANION VIDEO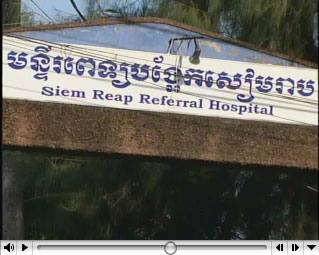 Doctors in Siem Reap can go on the Internet to consult with doctors in Hawaii and California who are part of the Medicorps network of health care providers.
"Without this assistance they really don't have anyone else to turn to," said Dr. Don Parsa, a plastic surgeon and professor at the University of Hawaii medical school.
Parsa said he has been asked to help with cases ranging from a man who swallowed a fish with a fishhook still attached, to large facial tumors, to a farmer who was attacked by a tiger.
"The patient was able to crawl to the nearest town, a journey of about three or four days," Parsa said.
Parsa said he gave doctors in Cambodia advice about procedures to help rebuild the man's face, and the man recovered.
Medicorps also provides computer and English classes for doctors, nurses and staff and goes out into villages to educate local communities on how to prevent diseases and provide basic care.
"Many times, we save lives this way," said Hintz, a retired plastic surgeon, "but it's not a perfect approach because we have to start at a very basic level."
Dr. Samon Thou, a physician at the government-run hospital in Siem Reap, said Medicorps has given him valuable advice about patients.
He pointed to one young woman with a tumor on her face. Thou said he could not do everything recommended by a Medicorps doctor because of a lack of equipment. But the doctor also recommended follow-up care that her family could help with.
"She can smile," Thou said. "Good smile, she feels better."
Dr. Bradley Wong, a Honolulu physician who consults with Thou, said it can be frustrating because the hospital does not have the equipment or specialists to help with all the cases he is asked to consult on.
But it is also rewarding, Wong said.
"You're doing it totally without any artifice. You're doing it because somebody needs to have advice," Wong said. "It's about the purest kind of help you can give."
Medicorps also helps children like Sok Oeuy, who was 13 when he came to Hawaii for treatment of a land mine injury, and Sythan Leam, 14, who is coming to Shriners Hospital for Children in Honolulu for surgery that might help her walk for the first time.
"They will serve as beacons for the other children in Cambodia and give them new hope for a better life," Hintz said.
---
Cambodian girl gets U.S. visa to make trip for leg surgery
The U.S. Embassy in Phnom Penh issued a visa yesterday to a 14-year-old Cambodian girl so she can come to Hawaii for medical treatment that could enable her to walk for the first time.
Sythan Leam, whose story was featured in Sunday's Star-Bulletin, should arrive in Honolulu this weekend, said Dr. Gunther Hintz, president and founder of the Hawaii charity Medicorps.
Hintz brought Leam's case to the attention of Shriners Hospital for Children in Honolulu. Doctors at Shriners have agreed to examine and treat Sythan, who suffered a severe burn as an infant in her rural village of Anlong Thor in central Cambodia. When the burn healed, her left leg was bent at the knee with her foot and thigh fused together by scar tissue.
In an e-mail from Cambodia, Hintz said unless there is a last-minute hitch, he and Leam will travel to Bangkok on Saturday and fly to Honolulu on Sunday.
It will be Leam's first airplane flight.
Leam will stay with local Cambodian families in Honolulu when she is not at Shriners.
Hintz said he has also arranged for Leam to live with a family and go to school in the city of Siem Reap in Cambodia after she returns from Hawaii. Leam's care and schooling will be overseen by Sedtha Long, a Medicorps board member who has also been looking after Sok Oeuy, a Cambodian boy who was treated at Shriners six years ago after his legs were nearly blown off in a land mine explosion.