News | Business
Features | Sports
Editorial | Info
Calendars | Home
Nation/World
Obituaries | Weather

---
STAR-BULLETIN
RETAIL LOCATIONS



---

To March 18, 1996
PAST WEEK:
| M | T | W | T | F | S | S |

---




Most recent columns




Phones, email, subscriptions






» Expatriates' Corner
» Pet Quarantine
» 2000 Election
» Legislature
» SAT Scores


| NEWS | FEATURES | SPORTS | BUSINESS | EDITORIAL | TRAVEL |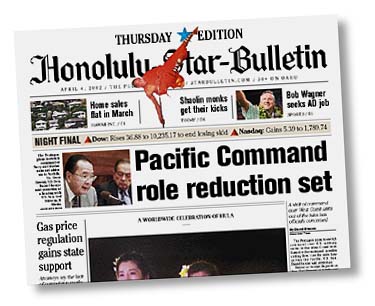 SUBSCRIBE | SUBSCRIPTION PROBLEMS | HEADLINES BY EMAIL



CLICK TO SUPPORT OUR SPONSORS
| | | | | |
| --- | --- | --- | --- | --- |
| | | | | |
---
Starbulletin.com publishes online editions Monday through Sunday.
New editions normally posted online between 2:00 and 5:00 p.m.
Starbulletin.com publishes articles written by our staff and
selected articles of particular interest to our readers.
Entire contents of this Web site © copyright 2002
Honolulu Star-Bulletin. All rights reserved.

---
SHOPPING GUIDE

Star Markets

Check this week's specials at
Star Market's Oahu locations
Newspaper Ads Online

See our display ads online!
Click on sections of the ads to zoom in for a better look!

---

Star Markets

Check this week's specials at
Star Market's Neighbor Island locations
Classified Ads Online

Our classifieds are online.
Be sure to check the big employment ads, too!

MOVIE LISTINGS
| | |
| --- | --- |
| Starbulletin.com featured on: | Starbulletin.com partner site: |


»Pacific Command role reduction set
»Salesman's killer ruled insane
»Gas price regulation gains support
»Budget battle brewing in Senate
»Dobelle defends donors' night out
»Tanker fire blamed on short circuit
»Man drowns in heavy Kauai surf
»Council wants limit on bonds
»Lady Luck shuts Honolulu Harbor
»Projects show research potential
»Big Isle dominates Science Fair
»Cuts hurt immigrant kids
»Senate may revamp HSTA health fund
»Jury still out in sailor's shooting
»Landowners hesitate over habitat plan
»Sierra Club takes aim at power plant
»Maui airport gets defibrillator
»John Leonard Hamilton Jr.


---


Morning edition news stories,
and late-breaking stories,
posted direct from the newsroom

---


»Warrior monks
»What's hot, what's not
»KITV off to Merrie Monarch





»Wagner interested in AD job
»HPU: Dung succeeds Sellitto
»Chance brings Le Ducq back to baseball
»Takayoshi catches on as hitting coach
»Volleyball: Warriors look to bust UCLA
»Kailua beats Moanalua





»Home sales flat, but prices up
»Insurers fined over personal data
»IRA contribution hike advances
»Kauai to oppose utility sale
»Native culture program wins HVCB award
»Isle firm tests Japan real-estate waters





»Tax credits look more like a subsidy
»Letters to the Editor