---
Sunday, September 9, 2001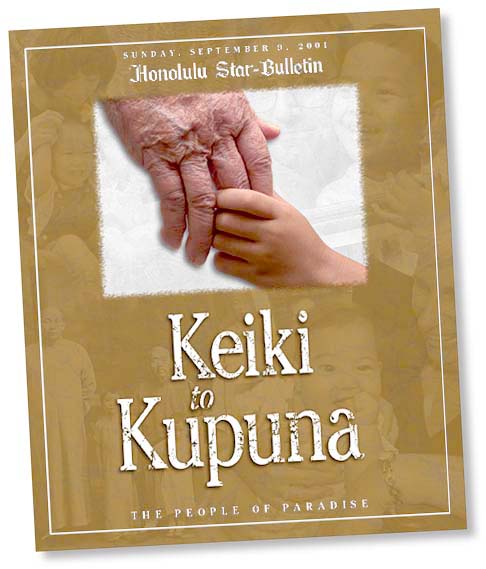 Keiki | Kupuna | Generations | Remembrances

---




Delving into
isles' diversity


Hawaii's many faces come into
focus with details of our tapestry

WELCOME TO OUR WORLD

---

Christine Donnelly / cdonnelly@starbulletin.com

Every decade, the U.S. census brings a chance to reassess Hawaii, to see how the state has changed and how it's stayed the same, how it is different from the mainland and how it's alike.

We know that Hawaii residents are incredibly diverse, with 21.4 percent of the total population of 1.2 million people claiming more than one race, compared with 2.4 percent for the nation as a whole. The average Hawaii resident is older than the average American (median age of 36.2 vs. 35.3), has a bigger family (average 3.42 vs. 3.14) and is far more likely to identify as at least partly Asian (58 percent of Hawaii population vs. 4.2 percent nationally).

But the numbers never tell the whole story.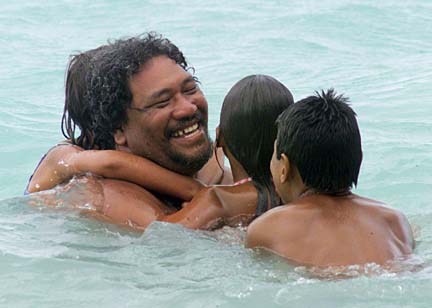 FL MORRIS / FMORRIS@STARBULLETIN.COM
Jacob Tanner swims with his three foster children at
Waimanalo Beach Park, just one example of Hawaii's
myriad family units. For more about them, see our
story in Keiki.
---
After all, knowing there are 239,655 people in the state who are at least part native Hawaiian tells one nothing about Wright Bowman Sr., the 93-year-old master Hawaiian craftsman who after the tragic death of his son made a woman apprentice the main keeper of his legacy. For more about him, see our story in Kupuna.

And knowing that 4.5 is the average family size in Waimanalo Beach simply fails to capture the feeling of Jacob Tanner's extended ohana, which includes three foster kids the single man is adopting to keep the siblings together.

It's certainly interesting that people 65 years and over make up 13.3 percent of Hawaii's total population, but it's more fun to hear the tale of 70-somethings Stephen Vasconcellos and Marge Powell, childhood sweethearts who reunited after 50 years because of a fortuitous trip to the neighborhood Longs.

So, in these pages we strive to tell you a little more about the people, places and issues behind the census statistics. About the family businesses handed down through the generations, about the hardships immigrants endured to get here, about the diversity of people living, working, thriving and sometimes struggling in Hawaii.

Especially heartfelt are submissions by some of our readers, who shared their family histories with pride, nostalgia, humor -- and a sense of gratitude to their ancestors for getting here.

On the Web, we've divided these stories into the following categories:

>> Keiki, stories about children and how they affect our lives;

>> Kupuna, stories about seniors and their legacies

>> Generations, about bridges between young and old; and

>> Remembrances, stories submitted by readers.

While no single section can describe the myriad of people, places and lifestyles in Hawaii, we hope we've captured the essence of the islands in "Keiki to Kupuna: The People of Paradise."

---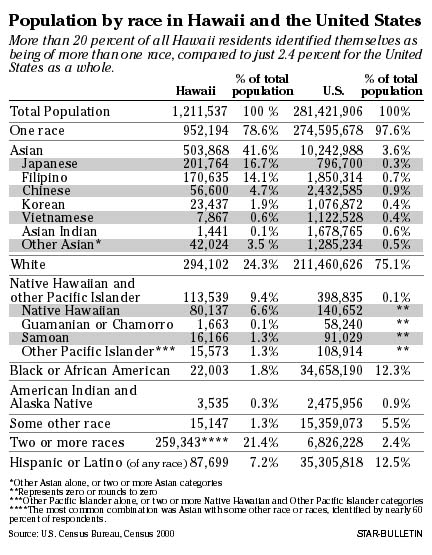 |





About the numbers

Throughout "Keiki to Kupuna: The People of Paradise" you will find tables and graphics based on statistics from the U.S. Census Bureau, primarily Census 2000's "Profiles of General Demographic Characteristics." Tables that give snapshots of specific regions use "census designated place" data, which includes detailed information on smaller geographic areas.

---

To learn more, go to
http://www.census.gov and
http://www.hawaii.gov/dbedt/



E-mail to City Desk
---
---
© 2001 Honolulu Star-Bulletin
https://archives.starbulletin.com