Corrections and
Clarifications
---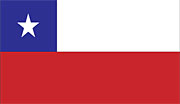 » The Chilean flag is shown here. An incorrect flag was displayed with a
Page A17
article Sunday about the Rim of the Pacific war exercises. The online edition has been corrected.
» Dave Thorne and Jon Murakami have been doing their Sunday comic strips for the Star-Bulletin since April 2007. A story summary on Page F1 Sunday incorrectly said their strips started last month. Their "Thorney's Zoo" and "Calabash," respectively, moved from the Sunday comics section to the Today section last month.



The Star-Bulletin strives to make its news report fair and accurate. If you have a question or comment about news coverage, call Editor Frank Bridgewater at (808) 529-4791 or email him at corrections@starbulletin.com.