DRAWN & QUARTERED
New cartoonists go for laughs
"The Other Coast" and "The Knight Life" join the Star-Bulletin's Sunday comics page
STORY SUMMARY »
|
READ THE FULL STORY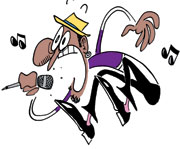 Starting today, two new comic strips make their debut in our Sunday tabloid: "The Knight Life" (pictured) and "The Other Coast."
This marks the second consecutive month that we've introduced readers to new strips. The creators of our three previous strips - "PreTeena (last month), "Single and Looking" and "Spot the Frog" - have decided to pursue other career options away from the daily grind.
---
FULL STORY »
Newspaper cartoonists Adrian Raeside and Keith Knight want to - as Knight puts it - "bring back the 'funny' to the funny pages."
Their comic strips "The Other Coast" and "The Knight Life" debut in our Sunday comics section today, and while the artists have distinct approaches to humor, their intentions are the same.
"Cartooning is a great medium that marries illustration and text," said Knight by phone from his Los Angeles home. "There's a lot of cartoonists, I feel, who drop the ball with one or the other and don't take advantage of the medium. It's a cartoon! People should look funny, and hopefully I'm able to do that."
Knight's loose and whimsical style contrasts with the controlled and skilled pen wielded by Raeside.
Both do more than just these strips. Before "The Knight Life" premiered in newspapers May 5, Knight was known for his long-running alternative weekly strip, "The K Chronicles" (named Best Comic Strip this year in the Glyph Comics Awards recognizing artists of color), as well as his editorial panel cartoon "(th)ink." Knight also is a regular contributor to Mad and ESPN the Magazine.
Raeside is editorial cartoonist for the Victoria Times Colonist in British Columbia, plus a published author and illustrator of a series of children's books published by Doubleday in Canada, featuring Dennis the Dragon.
The cartoon Raeside drew for the Star-Bulletin that accompanies this article shows he's familiar with our local tourist scene.
"I love the place," he said by phone from his home in the ski town of Whistler, B.C. "My paper ran a contest in the late '90s that sent 25 couples to Hawaii, and I went with them. I remember feeling inundated by all the tourists, and, of course, I came to recognize the ABC Store bags. Plus I admit developing a fondness for the Star-Bulletin while I was there and enjoying Corky Trinidad's work."
It was during his visit to the islands that he illustrated the last couple of Dennis the Dragon books. "The stories aim for 4- to 7-year-olds. The books have a gentle environmental theme and are based on characters my mother first created. ... I got my sense of humor and my writing sensibility from both my mother and my aunt."
Raeside has made a career out of drawing for three decades now. "I've been lucky to do what I always wanted to do when I started out, even though I've had my share of rejection slips, mostly from magazines."
"Cartoonists like me tend to think, 'I'm only as good as my last cartoon,' because we feel vulnerable because nothing runs forever..."
Adrian Raeside / Author of "The Other Coast"
He also keeps the editorial slant of his two cartooning jobs separate. "You have to be careful, because I'm seeing more comic strip artists trying to bring politics in their work, and it should be kept to the editorial page. That's my personal opinion, because I think all it tends to do is take what should be plain humor and hitting readers over the head with your own political bias."
But Raeside admits his comic strip is "environmentally skewed," with a cast of characters that include Vicky, a rabid environmentalist; Toulose, a writer who can't sell anything ("My alter ego?" muses Raeside); Vicky's vegan co-worker Simon; and former Enron accountant Ernie the Embezzler and his wife, Donna.
While "The Other Coast" - a reference to the west coast of Canada - isn't as ubiquitous in newspapers as, say, "Peanuts," he said he can't complain.
But because of the financially unsettling times facing newspapers, Raeside has a few book projects in the works, one about his grandfather Sir Charles Wright, the physicist and glaciologist on Robert Falcon Scott's ill-fated expedition to the South Pole in the early 1910s. (Raeside traveled with a group to Antarctica in December.)
"Cartoonists like me tend to think, 'I'm only as good as my last cartoon,' because we feel vulnerable because nothing runs forever. ... This book about my grandfather is the most ambitious thing I've ever done, and I enjoy writing books because they always last longer in the memory."
KEITH KNIGHT has realized two of his three big dreams: He has a daily strip that's been gathering steam (the Washington Post just picked it up), and he does regular work for Mad magazine. But No. 3 - his own holiday TV special - is still unrealized.
"The daily strip was something I always wanted to do," Knight said, "but for a long time it didn't happen because of the daily rigors of doing so much when I younger, like when I was playing and touring in my band, the Marginal Prophets. I thought, no way can I do this. But as I got older, I talked to a lot of people who were successful cartoonists that could handle the daily grind, and I realized it was possible."
A daily strip was the natural next step after meeting the weekly demands of "The K Chronicles" and "(th)ink." Passing up the challenge would have been foolish, Knight said. "It's like being a great minor-league baseball player who didn't try to go up to the bigs." (Both "The Knight Life" and "The Other Coast" are seven-day-a-week strips, but the Star-Bulletin will only be carrying their Sunday components.)
Knight made himself and his wife, Kerstin, characters in his strip, and made marriage one of its many topics. "In order to really sustain a daily strip, I needed multiple characters and to address multiple situations."
The "Knight Life" cast also includes folks like his Las Vegas retiree dad, Keith Sr., and his diametrically opposed friends Dexter and Clovis (the former's a semiretired gangsta rapper, the latter a yoga instructor/masseur/health nut).
"It's been exciting and a relief to finally see in print. I think this will work," he said with a laugh. "The feedback I've been getting from the syndicate's sales people is that they've never seen editors actually laugh before over a strip."
Knight and his wife moved from his beloved San Francisco to Los Angeles last year. "Even though San Francisco is such a beautiful place to live, I hit the ceiling comics-wise - and, besides, I've always been fascinated as to why so many San Franciscans hate L.A."
Since moving, he said, "I've developed the daily, I've put together a book that collects my 'K Chronicles' strips that'll be out next month, I got a graphic two-book development with a major publisher, and my wife and I are having a kid due any time now."
And there's always that holiday special to look forward to ...
CORRECTION
Tuesday, July 1, 2008
Dave Thorne and Jon Murakami have been doing their Sunday comic strips for the Star-Bulletin since April 2007. Originally, the summary of this story incorrectly said their strips started last month. Their "Thorney's Zoo" and "Calabash," respectively, moved from the Sunday comics section to the Today section last month.