'Like being reborn'
A girl's arduous path to be able to walk reveals strength and support
»
Shriners expanding charitable reach
STORY SUMMARY » | READ THE FULL STORY
First of two parts
Her first steps were painful and awkward but also, in many ways, miraculous. Sithan Leam, a 15-year-old girl from Cambodia, struggled through surgery and physical therapy to be able to walk for the first time on her own two feet.
Star-Bulletin reporter Craig Gima and photographers Jamm Aquino and Craig Kojima were given rare access to follow Sithan through her year in Honolulu and inside Shriners Hospital for Children to document her story.
Her story is similar to many of the more than 25,000 children who have been treated at Shriners since 1923.
Working at the hospital can be both heartwarming and heartbreaking as staff help the children go through often painful surgery and recovery.
"We gotta go through the pain and suffering (with the children)," said social worker Richard Wong. "We know over time they are going to get better, but when they are going through it, they couldn't care less about what it will be like in six months."
» Tomorrow: Sithan Leam returns to Cambodia for an emotional reunion with her mother, but plans for her education mean she will not be able to return to her village.
---
FULL STORY »
A 15-year-old girl from Cambodia starts the painful journey to begin walking
Fluids and painkillers dripped from plastic bags into her arm through an electronic monitor. Another machine measured her pulse and blood pressure in green lights.
Under a pink blanket, Sithan Leam stirred and wiggled the toes of her good leg.
"Does she want to see it?" asked social worker Richard Wong.
He pulled the blanket back.
Sithan looked at her left leg.
A purple bandage ended in a stump: Part of her foot was cut off, but doctors saved the heel. Skin from her foot was grafted to cover exposed nerves behind her knee.
The leg was fixed at a 90-degree angle -- as far as it would extend without putting tension on the nerves.
The surgery was successful, but Sithan's work had just begun. If she was to walk, her leg would have to be nearly straight.
Skin grafts would have to cover newly exposed tissue. There was also a danger of infection.
For the young patients at Shriners Hospital for Children, recovery is a journey of small, often painful steps.
Burns as a baby had left her calf and foot fused to her thigh. Star-Bulletin readers helped raise money to bring Sithan to Honolulu for surgery in February 2007.
Sithan could have gone home in three months -- if she agreed to amputation.
But the girl, who grew up with the nickname "A Khvin," or "cripple," insisted that doctors try to save her leg.
During a difficult six-hour operation, Shriners Chief of Staff Dr. Ellen Raney and plastic surgeon Dr. Clyde Ishii separated the scar tissue that connected her calf and foot to her thigh, cutting away damaged muscles while trying to save major nerves and blood vessels.
A few days later, Sithan was awake but groggy from pain medication when Rinou Kong, her guardian in Hawaii, and his wife, Sary Phean, visited.
Written on paper above her bed were the English and Khmer words for nausea, thirsty, hungry, hello and pain.
On her tray was meatloaf, corn, rice, apple juice and canned peaches. Sithan poured fish sauce over her rice.
She smelled the meatloaf -- something new to her -- and cut a piece with her spoon and ate it. Then she finished the corn and rice.
"It must be hard to get used to our food," said nurse Ina Ries.
Kong had brought Cambodian movies and karaoke DVDs for the homesick girl.
"If I could walk, I would walk home," she told him.
A LONG ROAD BACK
During her
monthlong stay in the hospital, Sithan started physical therapy.
At first, therapist Janice Yoshimoto worked on basic exercises and gaining Sithan's trust.
"There's a lot of hugging, and we hold their hands during painful moments," Yoshimoto said.
Sithan sometimes refused to take her pain medication.
"It made my head feel bad," Sithan said in an interview in Cambodia.
Said Wong, "Some kids would rather endure the pain than take the medicine. Sithan was one of them. Sometimes they don't like how they feel with the medicine."
For the Shriners staff, the work is both heartwarming and heartbreaking.
"We gotta go through the pain and suffering," Wong said. "We know over time they are going to get better, but when they are going through it, they couldn't care less about what it will be like in six months."
Outpatient nurse Bonnie Paulsen helped Sithan change her bandages and monitored the progress of her skin grafts.
"Do you want to go fast or slow?" Paulsen would ask about removing the bandages that sometimes stick to the exposed flesh. Sithan preferred to take the bandages off herself, at her own speed.
As the weeks passed and Sithan became more comfortable, pain became a game, something to joke about.
When Paulsen would hug her, Sithan would cringe and say, "Owie."
"That's not an owie," Paulsen would reply, and they'd both laugh.
ACQUIRED TASTES
Away from the hospital, Sithan stayed with Kong and Phean in an apartment at Central Union Church, across the street from Shriners.
It is not the first time the Kong family has taken in kids from Cambodia. Another Shriners patient from Cambodia -- Sok Ouey -- also stayed with them. For both youngsters, life in the United States was an adjustment.
On a trip to Jack-in-the-Box, Sithan didn't like her first taste of hamburgers, but enjoyed the french fries. At the hospital she started to like pizza.
By the time Sithan returned to Cambodia, she had gained 27 pounds.
For a few weeks in August, Sithan attended McKinley High School. But only a few students spoke Khmer, and Sithan was self-conscious about her crutch and bandaged leg, Kong said. Like many American teenagers, she spent much of her time at home watching television and trying to sleep late.
EXERCISE IN FRUSTRATION
As an outpatient, Sithan visited the hospital two to three times a week to change her bandages and for stretching and strengthening exercises.
Sometimes the exercises were fun. Other times, it was about work and repetition as Sithan learned to use muscles that had not been used before.
There were days, Yoshimoto said, when Sithan refused to do her exercises and pouted.
And although she was supposed to do exercises on her own at home, she sometimes neglected to, Kong said.
But within months, Sithan was able to bend her leg until it gradually straightened to about a 20-degree angle.
Raney, who had been planning to do surgery to straighten the leg and fuse her knee, decided the second operation was not necessary. Sithan agreed that it would be better to walk with a knee brace and a prosthetic rather than go through additional surgery.
In sessions with Yoshimoto, Sithan knelt and held hands as they swayed from left to right, simulating the shifting of weight during walking.
PAINFUL FIRST STEPS
In October, Sithan's prosthesis was ready, and her skin has healed enough that Yoshimoto was ready to help her take her first steps.
Most of the session was spent adjusting the brace and prosthetic and reassuring Sithan that walking would not always be painful.
"It's like putting on a dress for the first time," Yoshimoto said. "It's not always the right fit."
Sithan stood between two parallel bars to support herself. Then she lifted her hands a few inches above the bars, took a couple of steps and broke out in a smile of accomplishment and wonder.
Walking on two legs for the first time, she said later, was "like being reborn."
SITHAN LEAM: A LONG JOURNEY
1993
Only 5 months old,
Sithan Leam's left leg is burned
when an oil lamp falls on her bedding in her village of Anglong Thor in Cambodia. When the wound heals, her calf and foot are fused to her thigh by scar tissue.
2006
The Honolulu-based charity Medicorps begins raising money to bring Sithan to Honolulu. Medicorps founder Dr. Gunther Hintz arranges for her to be treated at the Shriners Hospital for Children. Star-Bulletin readers help contribute enough money to pay for her airline tickets, visa and passport.
2007
Feb. 12: The U.S. Embassy in Phnom Penh issues Sithan a visa to come to Hawaii.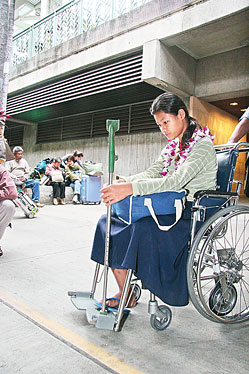 Feb. 21:
Sithan, above, arrives in Honolulu
from Cambodia in a wheelchair for surgery at Shriners Hospital.
March 25: A party is held at University Avenue Baptist Church in Manoa by Cambodian community members to welcome Sithan to Hawaii.
May 1: Doctors at Shriners Hospital
separate the scar tissue that connects Sithan's calf to her thigh
.
June 1: Sithan is released from Shriners and begins her outpatient physical therapy. Her leg is fixed at a 90-degree angle, but through therapy she is gradually able to extend it.
Oct. 8: Sithan is fitted with a knee brace and prosthetic foot and takes her first steps during physical therapy.
Dec. 16:
The local Cambodian community has a party
at Central Union Church to celebrate Sithan's successful surgery and her return home.
2008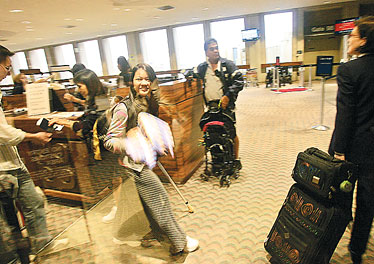 Jan. 16: Sithan leaves Honolulu to return to Cambodia. At Honolulu Airport, above, she gives guardian Renou Kong one last smile before boarding the plane.