TRANSPAC 2007
Winds of Change
Near-disasters hold lessons for crews as the race to Oahu grows bigger and faster
»
Exploiting complex, evolving entry rules
STORY SUMMARY »
A race conceived by King Kalakaua in 1886 begins today as the first 23 boats set sail from San Pedro, Calif., near Long Beach, to Diamond Head.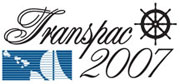 The Kalakaua Trophy will go to the boat with the best corrected or handicap time.
That's a wide-open race.
Thursday is the start for 27 boats, including Stags' Leap Winery, a Santa Cruz 50 owned by Gib Black of Honolulu; and On the Edge of Destiny, a 1D35 owned by skipper Sean Doyle's father, Dan, of Kailua.
On Sunday, the fastest 22 boats start, including Pegasus, an Open 50 owned by Philippe Kahn, a resident of Honolulu and Santa Cruz who finished first in 2001 and 2003.
STAR-BULLETIN
---
FULL STORY »
The sea signed a death warrant for Ted Sierks. On July 11, 1951, Sierks, a crewman aboard the yacht L'Apache, committed the cardinal sin of ocean sailing. He fell overboard.

Yesterday »
Technology invites the fastest times yet in the 101 years of the Honolulu race.
The sloop was about 1,400 miles from Los Angeles and 880 miles from Honolulu when the 40-year-old photographer from Catalina lost his balance and toppled into the sea.
Fortunately, his deck mates saw him go. Two life rings flew his way, and he managed to reach one.
Across the waves just after 8 a.m., other boats in the race heard L'Apache's chilling radio message: "Man overboard!"
Within 11 minutes the crew had taken down the spinnaker -- a large sail used for downwind runs -- and smaller staysail, started the engine and turned around to try to find Sierks in the swells.
No luck. Other boats, Navy ships and a B-17 bomber from Hickam Air Force Base joined the search.
A day and night passed. A head bobbing between 6-foot waves is all but impossible to spot.
In a historical documentary on the Transpac, veteran navigator Robert Flowerman remarked, "I always tell the young 'uns and the people that come with me when we go to sea, 'I'll do everything I can to get back to you, but when you fall overboard, consider yourself dead.'"
But after 30 hours, on its final search run, a Navy destroyer escort spotted Sierks and hauled him aboard, sunburned and dehydrated but otherwise fine.
THE SIERKS EPISODE looms large among the tales of the Transpac. Over the last century, the biennial race has logged some hair-raising history.
Gusts have snapped masts like matchsticks.
Gut-grinding nausea has consigned once-eager sailors to their bunks for days.
Many crews sleep feet forward so that if the boat collides with something in the water -- a log, say, or lost cargo container -- they won't break their necks on impact. Boats have been lost or becalmed or have run up on a reef within sight of the Diamond Head finish line.
Even successful crossings have had dark drama: dysfunctional or despondent crews, drunkenness, and debilitating injuries far from any ER. But only one crewman has died, in 1967, and that was from a chronic ailment, not an accident.
People who have never sailed on the ocean might dismiss the Transpac as rich folks at play. Never mind that most boats have a rock-bottom budget.
With lives at stake, the passage to Honolulu demands not only sharp judgment, but also strength, dogged endurance, teamwork and -- in the face of heat-sapping winds, heaving seas, deafening noise and darkness -- a measure of courage simply not found on the golf course.
THE RACE was the brainstorm of King Kalakaua, Hawaii's first monarch to visit foreign capitals. In September 1886, Kalakaua instructed his chamberlain, Curtis Iaukea, to propose the race in writing to the commodore of the Pacific Yacht Club in San Francisco.
Kalakaua, who hoped to encourage yachts to visit the islands, offered a $1,000 trophy for first place, $500 for second place.
For reasons unclear, the race never materialized that year, and Kalakaua died in 1891 without realizing his dream.
But the notion arose again in 1905 when Harry Sinclair, commodore of the South Coast Yacht Club in California, arrived in Honolulu aboard his schooner Lurline. The idea caught on with Honolulu sailors, including T.W. Hobron of the Hawaii Yacht Club, and the first Honolulu Race, as it was then called, took place in the summer of 1906. Lurline defeated the other two contenders, La Paloma and Anemone, with an elapsed time of 12 days and just under 10 hours.
In 1908, President Teddy Roosevelt fired the starting gun from the start in San Francisco, which was still picking up the pieces from the great quake two years before.
The number of entries remained a modest three or four until World War I, when the race was suspended until 1923. That year's winner, from Santa Barbara, finished in 11 days and 14 hours.
In 1934 a grand, 60-foot schooner named Manuiwa had a crew that included surfing legend and Olympic swimmer Duke Kahanamoku and businessman Harold Dillingham. Also in the race was a 27-foot boat named Common Sense III, which lost its mast and almost sank.
Finishing times of 12, 13 and 14 days remained common until 1949, when the race resumed after World War II. Bob Allan, weather forecaster for the D-Day invasion, guided Morning Star past the Diamond Head buoy in 10 days and 10 hours -- a record until 1955, when the same boat broke it by almost a day.
The number of entries increased dramatically in the late 1960s, reaching a peak of 80 in 1979, then resurging in 2003 after a decline.
EARLY CONTENDER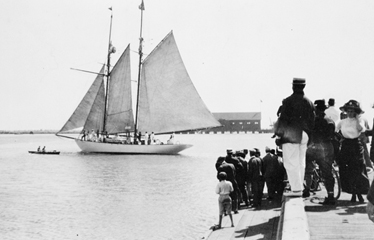 OVER THE YEARS a handicapping system was put in place so that the Transpac remained at heart a test of seamanship, not boat brawn.
While the Barn Door trophy goes to the first single-hulled boat to cross the finish line (catamarans and trimarans compete separately), the Kalakaua Trophy goes to the boat to finish first in corrected time under the handicap rules. Other awards go to the boats that finish first in their division.
Some boats have won all three -- a "clean sweep": Windward Passage in 1971, Chance in 1991, Silver Bullet in 1993.
Some boats have won acclaim for repeat victories, including Ticonderoga, Ragtime and three-time winner Merlin, which finished in under nine days in 1977.
The first to finish in under eight days was Pyewacket II, sailed by Roy P. Disney in 1997, when his dad, Roy E. Disney, was laid up with a broken leg. The elder Disney returned with Pyewacket III to win the race in record time in 1999, then again with Pyewacket IV in 2005 to finish in under seven days with Barn Door winner Morning Glory.
Some boats are famous simply for finishing at all.
Spinnaker flying, the 81-foot ketch Mir, owned and skippered by George O'Brien of Vancouver, Canada, was closing in on the finish line in 1969 when it was slammed by a 57 mph gust. Mir tipped wildly and lost its rigging.
The crew chopped away the broken pieces and canvas, and tried to put up a jury-rigged spinnaker, but the wires holding up the mast wouldn't take the pressure. So they rigged the sail to the mizzen mast instead. And finished the race backward.
Maybe there should be a Ted Sierks Trophy for most amazing ending.