TRANSPAC 2007
Boat designers learn to exploit complex, evolving entry rules
Odd as it sounds, the Transpac is a race with speed limits.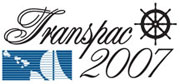 That's been a source of no little controversy.
The reason for the rules is to keep it competitive. While the Barn Door prize goes to the boat that finishes in the shortest time (catamarans and trimarans excluded), equally prestigious is the King Kalakaua Trophy, awarded to the winner on "corrected" or handicap time.
Boats must supply a dizzying array of specifications, including limits on length, width, keel weight and dimensions, mast height and sail area. From that comes their rating or time allowance and handicap in the form of hours they "owe" the other competitors.
Bill Lee has seen it from both sides.
As a designer and skipper, Lee guided Merlin to a record finish in 1977, ushering in a decade of dominance by ultralight "sleds."
As Transpac entries committee chairman this year, he emphasizes fairness.
Although his motto at Wizard Yachts is "Fast is fun," Lee argues that races without speed limits can become dominated by a single big boat, which is no fun for the rest.
He points to the Pacific Cup race from San Francisco to Kaneohe Bay.
"Pacific Cup has no rating limit, and Mari-Cha IV has nailed the record to the wall to the point where no one else even needs to try," Lee, of Santa Cruz, Calif., remarks by e-mail.
In 2004 the 140-foot schooner finished the course, a couple hundred miles shorter than Transpac's Los Angeles-Honolulu race distance, in five days and just under six hours.
"If you say 30 meters length overall -- no other rules -- how about a 200-foot mast? No, make that 250 feet! Much like good fences make good neighbors, good limits make good racing."
Prospective competitors are not privy to the formula, but they may submit up to 30 proposals, called "what if" certificates, and receive a rating.
By changing only one variable per certificate, a designer can figure out pretty much all he needs to know, says Jim Pugh, of Reichel/Pugh Yacht Design in San Diego.
Pugh was working with Hasso Plattner, owner of Morning Glory, which won the 2005 Transpac, on possible modifications to the boat.
"It became clear that the velocity prediction program was highly inaccurate," he says. "It was not difficult to beat."
With a new mast and sail on order, Plattner had every intention of defending his 2005 record.
Meanwhile, Roy E. Disney, who had lost a close race to Plattner, had his own modifications under way. Disney's designer, Juan Kouyoumdjian, also found a big hole in the system, allowing him to make the boat faster even as he lowered the ratings.
When he submitted his proposal for Disney's Pyewacket, including eight extra feet in length, the system went to code red.
The upshot: On March 28 the Transpacific Yacht Club board of directors decided to raise the length limit for the fastest boats. Instead of 87 feet, the length of the maxZ86 class which included Morning Glory and the '05 Pyewacket, the new limit became 98.5 feet, or 30 meters.
"We regret making such significant changes so close to the race, but under the circumstances we believe it was the best way to keep the race as fair as possible for everyone," said Transpac commodore Al Garnier.
That opened to door for Plattner and others to make modifications similar to Disney's. But Plattner said no. "The client decided he didn't want to butcher his boat," recalls Pugh.
When handicaps were announced Wednesday, no boat came close to Pyewacket. But the Kalakaua Trophy remains up for grabs.