TRANSPAC 2007
Sail of the Century
Technology invites the fastest times yet in the 101 years of the Honolulu race
STORY SUMMARY »
Two years ago, Roy E. Disney insisted that the 2005 Transpac race would be his last.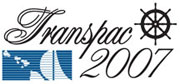 But that was before his boat Pyewacket lost by less than 2 1/2 hours to its sister ship, Morning Glory, in the 2,225-mile sprint from San Pedro, Calif., to Honolulu.
After donating the boat to Orange Coast College in California, Disney leased it back and proceeded to overhaul it for still more speed.
Now his latest Pyewacket -- named for the cat in the 1958 movie "Bell, Book and Candle" -- is the runaway favorite to cross the finish line in the shortest time.
The record to beat: six days, 16 hours, 4 minutes and 11 seconds
If the winds cooperate, Disney hopes for an unprecedented finish in six days or less.
Aerospace technology has helped make that a possibility, boat owners and designers say.

Tomorrow »
Near-disasters hold lessons for Transpac crews.
"The computer programs that have been developed through NASA and other space-age programs that have become available to naval architects and can run on your Macintosh, you know, have just made every boat faster," Disney said in an interview during a recent visit. "They have all come to understand fluid flows a lot better.
"But actually the big revolution going on right now, in the America's Cup in particular, is understanding the rigs better -- the mast, the sails -- and how they interact. And boats are just getting faster because the sails are faster."
The 44th biennial Transpac begins tomorrow as the first 23 boats get under way.
They include Cirrus, a sloop owned by William D. Myers of Honolulu.
A second group begins Thursday, and Pyewacket and the other fast boats start next Sunday.
STAR-BULLETIN
---
FULL STORY »
Six days. Roy Disney thinks it's possible. So do Jim Pugh and Alan Andrews, two of the world's best naval architects.
Six is the magic number as 74 boats prepare for the Transpac, the biennial race from California to Hawaii. The first contingent leaves tomorrow from San Pedro, near Long Beach, on the 2,225-mile course.
Last time around, in 2005, three boats finished in under seven days. And that was with light winds.
This time around, Disney, sailing a souped-up Pyewacket, aims to reclaim his record for fastest finish. If winds are strong and steady, he just might arrive in under six.
"I'd like to get the record back," Disney said bluntly in an interview at his isle retreat, a beachfront house within sight of the finish line, the Diamond Head buoy. "We were lucky enough to set two records back at the end of the '90s on a considerably smaller class of boats in those days. And then the opportunity came along to put a major improvement, speed improvements, on the boat we have. So we did."
How Disney and his designer, Juan Kouyoumdjian, a native of Argentina living in Spain, managed to navigate the complex Transpac competition rules is another story. For now, suffice it to say that Disney and his rivals have ridden a wave of aerospace technology, made accessible by computer, to shave not just hours, but days off the course.
"It's pretty spectacular, really, the possibilities that have opened up," said Pugh, of Reichel/Pugh Yacht Design in San Diego, in a telephone interview last week.
Two Reichel/Pugh boats battled for the Barn Door trophy, for shortest course time, in the 2005 Transpac, when Morning Glory beat Disney's fourth Pyewacket by two hours.
Both boats, known as maxZ86s, incorporated the latest in hull design, with a torpedo-shaped ballast bulb and twin fins replacing the traditional keel.
Three other top boats in this year's Transpac have that innovation: Rosebud, Pegasus 101 and Andrews' Magnitude 80. Morning Glory is not competing.
"Of course, the boats' speed is all very dependent on the weather along the way, including getting out of Southern California, and the strength and the direction of the trades," said Andrews, who will be aboard a new Andrews 50 called It's OK! "But with favorable winds a sub-six-day race is certainly possible."
Fast crossings rely not just on strong winds, but on skirting a weather pattern called the North Pacific High. In early contests, unwitting skippers taking the shortest route to Honolulu often stumbled into these doldrums, sometimes so calm that swimming gooney birds can't take off.
Today, satellites and shipboard computers have replaced sextants (although the 18th-century invention is still mandatory equipment), so navigators know exactly where their boat is in relation to the pressure pattern. Trouble is, the pattern shifts, so the navigator faces some critical decisions: Steering to the south to avoid it adds miles to the trip.
In the 1970s, the competition for Transpac's Barn Door inspired a new direction in yacht design, thanks to advances in lightweight hulls.
What first emerged were so-called ultralight displacement boats, nicknamed "sleds" for their speed on the downwind segment of the course. Rather than settling heavily into ocean troughs, these boats could punch through the swell ahead.
Among the stars was Merlin, on which Bill Lee broke the nine-day barrier in 1977 to set a record that stood for 20 years.
The mark finally succumbed to a Reichel/Pugh sled named Pyewacket in 1997, with a repeat performance in 1999.
KEEL DESIGN has also been revolutionized, most obviously with what is called canting ballast/twin foil technology. The bottom line: less tipping.
New keel designs help sails perform
A sailboat derives its stability from the keel, kind of an upside-down shark's fin that is traditionally thin, long and heavy. Weighted with tons of lead, the keel also counterbalances the tipping or heeling motion of the boat. The more the boat heels, the shallower and less efficient the keel becomes in preventing sideways slippage. And the less efficiently the sails catch the wind.

A new generation of boats, epitomized by the Reichel/Pugh maxZ86 design shown below, addresses this problem by separating the two jobs of the traditional keel. The lateral resistance job is handled by twin foils, one aft that also serves as a rudder, and one forward that can also be a rudder. The job of counterbalancing the tipping motion is handled by a ballast bulb, usually filled with lead, that can be moved side to side. The canted ballast bulb can provide a counterweight equivalent to 30 crewmembers lining the rail.
Less tipping means the sails reach higher to grab the wind, which is significantly stronger at the top of the mast than at sea level.
Both keel and sail design have benefited from aerospace software that can analyze how water or air flows over various surfaces. Computational fluid dynamics programs that once required a supercomputer can now run on PCs and Macs.
"Computers certainly made a big difference," said Pugh. "You can run iterations of designs much quicker, but a lot of the software programs are not perfect yet. You kind of have to incorporate what your gut tells you. That's why boats continue to evolve."
Sails themselves have undergone a huge transformation since the age of canvas.
Early sailmakers faced the dilemma of creating a graceful, curved surface using two-dimensional swaths of fabric -- a problem recognized by anyone who has tried to gift-wrap a basketball.
A company called North Sails, with a factory in Nevada, now dominates the competitive market with laminates created in a single mold curved in three dimensions. These are lighter and hold their shape better than cloth sails stitched together in sections.
The hot new sails use high-strength carbon fiber or a polyethylene material called Spectra, 10 times stronger than steel, in strands that are heat-molded between Mylar membranes. The strands can be oriented in different patterns to accommodate wind pressure.
The other trend is to put more sail area higher up. That has led to mainsails with flat heads, giving them a winglike look, much in evidence at last week's America's Cup off Spain.
"The big square-top mainsails are an America's Cup development, from the past several Cups, and the technology has become more and more common in race boats in general," said Disney. "Our main(sail) looks a lot like the America's Cup mains."
The rebuilt Pyewacket also will have flared deck extensions, a taller mast, a longer bow and a pair of angled foils replacing a single forward rudder. The foil or daggerboard that is closest to vertical as the boat tips remains in place, maximizing lateral resistance, while the other is retracted.
"Downwind you might not have them in the water at all," Disney said.
Pugh, conceding that he has been out of the loop on Pyewacket's redesign, nevertheless agrees that a six-day Transpac is in the cards.
"I think it is possible," he said, but added, "We do have a saying: 'To finish first, you must first finish.'"