Twin traffic tragedies unite North Shore towns in grief
Summer-Lynn Mau and Orem "Benson" Kauvaka had come to lay flowers at the spot where two friends had died in a traffic accident only hours earlier.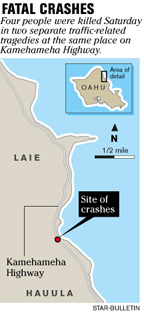 As they mourned with more than a dozen other people on Kamehameha Highway in Hauula late Saturday night, a truck traveling at a high rate of speed plowed into the group, striking at least three of them. Kauvaka, a 16-year-old, was pronounced dead at the scene. Mau, 19, died shortly after being taken to Kahuku Hospital.
Now, the tight-knit North Shore communities of Kahuku and Hauula are mourning the deaths of four young people -- and struggling to understand how so many of their own, with so much promise, could have died this way.
According to police, Mau and Kauvaka were among 18 people who came to the crash site to lay flowers on Saturday. They were mourning the deaths of 16-year-old Alithia Ah Nee and 15-year-old Pepe Naupoto, both of Hauula, who were involved in a car crash at about 4:24 a.m. that morning.
At about 10:45 p.m. a 21-year-old woman driving north on Kamehameha Highway in a blue 2005 four-door Chevy veered onto the shoulder near Kaupau Place and into the mourning group. The driver was taken to the Queen's Medical Center, where she was reported to be in serious but stable condition. She was not wearing a seat belt, and police said drugs and alcohol tests are pending.
An 18-year-old man at the crash site was treated and released from Queen's yesterday morning. Authorities said someone transported another bystander to Kahuku Hospital, where he was treated and released for minor injuries.
The deaths have overwhelmed the communities with grief.
At their Kahuku home, Kauvaka's mother, Saane, sat in her carport with family members as she talked about her son. He was a good boy who always joked around, she said. Kauvaka's twin sister, Akenisi, said he was her best friend. "He was always there when nobody was there," she said.
Kauvaka was a 10th-grader at Kahuku High and Intermediate School. His older sister, Kalisi, described him as the cook in the family. "He wanted to become a chef and an electrician," she said.
Kauvaka often helped his father, Tevita, with his carpentry and electrical work.
Since he was a freshman, he attended seminary regularly and was the first in his family to get ready for church every Sunday, his older sister said. The Kauvakas are members of the Church of Jesus Christ of Latter-day Saints, Kahuku Chapel.
Several homes away, Mau's family members sat in their carport as friends stopped by to offer their support. Her father, Ross, described his daughter as a beam of light. "She was always smiling," he said.
Mau was a 2005 graduate of Kahuku High and Intermediate School and worked at the Polynesian Cultural Center as an ambassador hostess.
Her younger brother, Mana, and younger sister, Brittany, were with her when she went to lay flowers at the crash site. Their mother, Shelly, said her son suffered a gash and bruise to his right leg. Her sister did not suffer any injuries.
Summer-Lynn and Brittany were inseparable, their mother said.
"She was just an innocent bystander, there at the wrong time," she said.
Along with support from family and friends, their faith is helping the Mau family cope with their daughter's death. The Maus attend the same church as the Kauvakas.
With her reddened eyes, Mau's older sister, Amber, sat across from her parents with a laptop computer placed on her knees, staring at photo images of her sister that flashed on the screen from Mau's MySpace.com Web site.
"She had the biggest heart ever," Amber Mau said as she kept her eyes glued to the screen, reading messages from friends sent to her sister's Web site.
Police plan to increase enforcement along Kamehameha Highway to deter speeding, Capt. Frank Fujii said.
But issuing more traffic tickets only serves as a "Band-Aid" solution to the speeding problem.
"We can't be everywhere," Fujii said. "When we go away, unless people have changed their ways, they're going to fall back (to speeding). ... It can be the safest road, but if people don't comply (with the law), you can make it a very dangerous road."
Greg Knudsen, Department of Education spokesman, said grief counselors will be available at Kahuku High and Intermediate School today when students return to class. "The school will do whatever it can to support the families (of the victims)," he said.
"Unfortunately, (Kahuku High School) is too familiar with this kind of situation over the years. There have been a number of youth fatalities on the highway in the Kahuku and Hauula area," he said.
---
Star-Bulletin reporter Craig Gima contributed to this report.