Hauula roadway is site of second fatal crash in 18 hours
A group mourning the vicims of the first crash are hit by a car, an initial report says
Police were investigating another fatal crash last night in the same area of Kamehameha Highway where two teenagers died and three others were injured in a one-car wreck in Hauula early yesterday morning.
The initial report at about 11 p.m. was that a car ran into a group of people paying their respects to the victims of the first early morning crash.
One person was reported dead at the scene and three other people were injured, some critically.
In the first crash yesterday morning police said a car driven by a 15 year old boy was headed northbound on the Kamehameha Highway, apparently at a high speed, when the driver failed to make a curve.
The car crossed over the southbound lane, struck the two utility poles and a hydrant, and went into a ditch.
Pronounced dead at the scene of the 4:20 a.m. crash on the Kamehameha Highway were Alithia Ah Nee, 16, and Pepe Naupoto,* 15, both of Hauula.
Police said it appeared that Naupoto was the driver of the gray 1990 Honda Acura.
Two other 15-year-old boys and a 14-year-old girl in the car are also residents of the Hauula area, police said.
Ah Nee is a former Kahuku High School student who had moved to Utah about six weeks ago to live with a family member and go to school there, her uncle Clarence Ah Nee said yesterday.
His niece had returned to Kahuku to visit her parents, Joe Vailima and Alithia Ah Nee, who has the same name as her daughter, Ah Nee said.
"The last time my sister talked to her was yesterday (Friday) evening when she was going to a pajama party," Ah Nee said. Alithia was going to fly back to Utah tomorrow, he said.
Ah Nee said Alithia's parents didn't want to talk to the media yesterday and that the family didn't know who was with Alithia in the car. Kahuku schoolmate Charlson Kahana described Ah Nee as "tan and beautiful, with long blonde hair."
Andy Ka-Ne, who had an accounting class with Ah Nee last year, said she was "a smart person, really into her accounting," but was quiet and kept to herself.
"The car was like smashed like this," Kahana said yesterday, gesturing with his hands just over 3 feet apart.
By midafternoon yesterday, one of two utility poles hit in the wreck had a growing collection of flowers around it, including red ginger and multi-colored daisies.
Lying at the base of that utility pole was a fire hydrant, which the car had severed from its base.
Nearby, another utility pole dangled from overhead lines, its splintered base not touching the ground below.
Water was shooting up from the fire hydrant when firefighters arrived on the scene at 4:25 a.m., said Capt. Frank Johnson, Honolulu Fire Department spokesman.
He said a construction area for the new Kokololio Bridge near the accident was used to divert cars around the crash site back onto the road.
The highway was closed in both directions after the accident and one lane was contra-flowed after several hours. Both lanes weren't open until 10:55 a.m. yesterday.
The 14-year-old girl and a 15-year-old boy were taken to the Queen's Medical Center and listed in serious and stable condition, respectively, police said.
The other boy was taken by a bystander to Kahuku Hospital and later transferred by EMS to Queen's, said Bryan Cheplic, spokesman for the Emergency Medical Services Department.
Police said that boy's condition yesterday was good.
Police said it isn't known if alcohol was a factor in the accident and that it didn't appear anyone was wearing a seat belt.
Ah Nee and Naupoto were thrown from the car.
Under Hawaii's graduated drivers licensing program, a 15-and-a-half-year-old may obtain an instructional permit, but may not drive without a 21-year-old licensed driver in the vehicle.
Even after age 16, underage drivers also are not allowed to drive between 11 p.m. and 5 a.m. without an adult licensed driver.
Police didn't say yesterday whether Naupoto had an instructional permit.
Yesterday's incident was the latest in a string of fatal crashes involving teenagers over the last several months.
John Evans, who has lived near the crash site for 28 years, said it seems like the fatal wrecks on the highway keep "going on and going on."
The deaths bring the total traffic fatalities on Oahu this year to 60, compared to 53 at this time last year.
DEADLY SUMMER FOR YOUNG PEOPLE
There have been a number of serious traffic accidents since May involving teenagers:
July 29: Caleb Mahi, 17, of South Kohala, died when his car crossed the center line on Route 190, ran off the left side of the road and overturned.
---

STAR-BULLETIN
July 24: Teenagers Leslie Kim, who would have been a junior this year at Kapolei High School, and Tanya House, recent Kapolei High graduate, died when their car went airborne and crashed into a canal at Kalaeloa, the old Barbers Point Naval Air station. Two other teenagers in the car were injured. Police said the car was speeding and alcohol was a factor in the crash.
---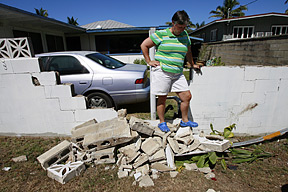 STAR-BULLETIN
June 23: A 16-year-old Hauula boy was critically injured when he apparently lost control of the car he was driving and crashed into a wall and parked cars on the Kamehameha Highway makai of Kualoa Ranch. A passenger, believed to be another 16-year-old Hauula boy, fled the scene. Police said speed was an apparent factor in the 11:30 p.m. accident.
---
June 7: Teri Waimarie Maxwell, 17, of New Zealand, died when a car in which she was riding went out of control and crashed into two utility poles in central Molokai. The 19-year-old driver, Baron H. Okimoto Jr., and another passenger, Dane S. Dudoit, 20, were hospitalized in critical condition.
---
May 13: Waialua High School football players Shane Bachiller and Lanakila Vierra died in a crash at about 3:47 a.m. along Kaukonohua Road, south of Farrington Highway. Three other teenagers in the car were injured.
---
Star-Bulletin reporter Helen Altonn contributed to this report.