LEGACY BETRAYED
---

EXCERPTS: CHAPTER 20
---
Saying they want "healing and closure," the new trustees retain the legal team that failed the ousted trustees and decline to help the attorney general's office pursue the case for reimbursement.
Closure came quickly -- too quickly for some
THE FORMER trustees were gone, permanently, but the story was not over. Surely there would be serious consequences for the many individuals who had participated in the abuse of Princess Pauahi's trust, or who had witnessed it and done nothing to stop it. Trust law requires new trustees to hold former trustees (and their lawyers) accountable for harm done to a trust. Also, the new trustees had promised IRS officials a thorough "housecleaning." The only question was, just how thorough would it be?
EXCERPTS FROM THE BOOK
"Broken Trust: Greed, Mismanagement & Political Manipulation at America's Largest Charitable Trust" by Judge Samuel King and law professor Randall Roth. University of Hawaii Press (uhpress.hawaii.edu).

Sunday: Trustees of Bishop Estate held power without accountability, a recipe for disaster.

Monday: The selection of Bishop Estate trustees by Supreme Court justices showed signs of manipulation.

Tuesday: Kamehameha Schools alumni, staff and students rose up against trustee Lokelani Lindsey.

Wednesday: Investigating Bishop Estate was like probing the CIA, said a court-appointed master.

Thursday: Attorney General Margery Bronster went head to head with Supreme Court justices over trustee selection.

Friday: Instead of housecleaning, the interim trustees of Bishop Estate "handed the keys to the old guard."

Want to comment on excerpts?
Letters received by tomorrow evening will be published in Sunday's Insight section. For instructions, see "How to write us" on the letters page.

starbulletin.com/specials/bishop.html
This link takes you to the original "Broken Trust" essay of Aug. 9, 1997, and other Star-Bulletin stories about Kamehameha Schools.
In a 1998 court filing (Attorney General Margery) Bronster had asked the probate judge to appoint a single full-time, highly qualified administrator to run the Bishop Estate organization until all the legal issues could be sorted out in court. Judge (Kevin) Chang declined to take that approach in May 1999 when he emptied the boardroom at the Internal Revenue Service's behest. He chose instead to upgrade the five special-purpose trustees to "interim trustee" status, and left it to them to figure out how to run Bishop Estate. ...
THE MANAGEMENT and accounting systems were virtually dysfunctional. It was essential that the interim trustees hire the right kind of people to deal effectively with the many educational, business and legal issues that had accumulated during the years of abuse, controversy and turmoil. Saying that this required "a good law firm," the interim trustees retained Watanabe, Ing and Kawashima, a politically akamai firm -- Douglas Ing was one of its senior partners. The interim trustees also retained Bruce Graham and Michael Hare and their firms -- lawyers who had served the former trustees for more than a decade. That was the legal team.
To run the organization the interim trustees chose Nathan Aipa, explaining that "he knew where things were." Because Aipa had been the trust's chief in-house lawyer since 1986, he probably did have a lot of inside information. Under the circumstances, however, that hardly seemed like a good reason to promote him to the top executive position in the organization. The former trustees had literally set a world record for trust abuse on Aipa's watch. He may have been actively involved. In the 5701s, the IRS likened him to "a sixth trustee." Now, rather than being forced to resign like the five actual trustees, the "sixth trustee" was at the helm of the multibillion-dollar Bishop Estate. That gave him control over the flow of information to and from this brand-new board of part-time trustees.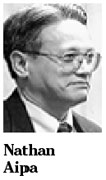 To fill Aipa's old position, the interim trustees chose Colleen Wong, who had been Aipa's right-hand person for the last ten years. There had been no housecleaning; instead, the old guard had been put in charge and handed the keys.
ALL THIS shocked Dorothy Sellers, Hugh Jones and Daniel Morris, deputy attorneys general who had worked for the past two years on cleaning up the mess at Bishop Estate. They immediately contacted the interim trustees and explained that the lawyers who served the former trustees had either provided flawed legal advice or stood by silently -- and illegally -- as the trustees ignored good advice. The deputies also explained that the former trustees were sure to defend any legal action against them by arguing that they had just followed their lawyers' advice. This meant that those lawyers -- the ones the interim trustees had just rehired and put in charge of the entire organization -- had a very strong personal incentive to prevent any finding of serious misconduct by the former trustees. They added that a lawyer such as Ing, who had recently represented a now-former trustee, should not be advising the interim trustees on their duty to pursue claims against former trustees, which included Ing's former client, Oswald Stender. The deputies explained that Ing had a classic conflict of interest, which might tempt him to try to protect his former client, even at the expense of the trust. The interim trustees listened and then essentially told the deputies to mind their own business.
IT WAS IRONIC, said the deputy attorneys general, that dealing with the interim trustees did not feel different from what they had experienced before: The former trustees had received legal guidance from Bruce Graham, Michael Hare, Nathan Aipa and Colleen Wong, and now, despite years of trust abuse, legal wrangling, emotional turmoil, and the complete change of trustees, the interim trustees were relying on these same four lawyers, plus Douglas Ing. ...
Legal tactics that the deputies described as "stonewalling" went on unabated. ...
Not long after taking control of Bishop Estate, the interim trustees announced their intention not to assist in efforts to surcharge the former trustees, a decision that appalled the deputy attorneys general. Lawyers for the interim trustees had advised their clients that any form of cooperation with the attorney general's office on this matter would jeopardize $75 million of insurance coverage: Insurance policies purchased by the former trustees essentially said that the companies did not have to pay any claim in which one policyholder sued, or assisted in a lawsuit against, another policyholder. This arguably included a present trustee suing, or assisting in a lawsuit against, a former trustee.
Such a contract provision, however, violated public policy, making it unenforceable. Trust law does not allow former trustees to tie the hands of their successor trustees like that. If asked, the court would have declared invalid that provision of the contract -- but the interim trustees did not ask any court to do that. Instead, they treated this convenient but illegal contract provision as clearly enforceable. Reminded of their fiduciary duty to hold their predecessors accountable for harm done to the trust, the interim trustees responded that they had no interest in "seeking retribution." They said it was time to "look forward, not backward."
IN MAY 2000 a new master, Robert Richards, reported on legal fees that the former trustees paid out of trust funds during their last eight months on the job. Richards concluded that the former trustees should be required to repay $5 million of the total amount to Kamehameha Schools, and that some of the law firms that had received trust funds should be required to return all or part of the money to Kamehameha Schools.
Richards, a no-nonsense litigator who had played professional football before going to law school, did not spare the feelings of his fellow lawyers. ... (For example,) Richards criticized Bruce Graham's firm, Ashford and Wriston, for not seeing that there were "hopeless conflicts related to trustee misconduct." Regarding the work done by Bill McCorriston's firm, McCorriston Miho Miller and Mukai, Richards reached what he called "certain inescapable conclusions:" "The most critical is that this was a defense of the trustees, not of the trust. There were monumental efforts made to keep trustee conduct from coming to light or, if it did come to light, to rationalize it." Richards was equally critical of Cades Schutte Fleming and Wright. ...
INSTEAD of following Richards' recommendations, the interim trustees listened to their own lawyers' advice, which was to hire two large mainland firms, Philadelphia-based Morgan Lewis and Bockius and Washington, D.C.-based Miller and Chevalier, plus law professors John Langbein from Yale and John Leubsdorf from Rutgers. For fees totaling $1 million, this team prepared a follow-up report that -- unlike the Richards report -- was somewhat sympathetic to the former trustees' lawyers, essentially concluding that most of them were skilled advocates who had just followed their clients' instructions. This follow-up report included practical advice:
"In considering whether to file a claim, the Trustees will want to consider both the cost of prosecuting such an action as well as the length of time such a proceeding might take. The Trustees will also want to consider the impact on Kamehameha Schools of negative publicity and controversy that would accompany prolonged litigation -- precisely the type of controversy that Kamehameha Schools has worked so hard over the last 18 months to put behind it."
Deputy Attorney General Sellers could hardly believe what was happening. She pointed out that Miller and Chevalier as well as Professor Langbein had themselves rendered significant legal services for the former trustees, so the study was "not independent." It was also "self-serving," according to Sellers, because the interim trustees were currently paying the Cades firm to do what the former trustees had previously paid that firm to do: "hinder the attorney general."
THE INTERIM trustees did not respond to Sellers' accusations. Instead, they announced that they would not be suing any of the former trustees' lawyers or seeking a refund of trust money paid to them for work that, according to the Richards report, did not benefit the trust.
Before copies of the $1 million follow-up report could be made and distributed, lawyers for the trust asked Judge Chang to place it under seal, which he did. Even lawyers from the attorney general's office, whose job it was to monitor all charitable trusts, were denied further access, for the sake of "closure."
LEGACY BETRAYED
WHAT WENT WRONG AND WHY
This week the Honolulu Star-Bulletin is excerpting chapters of a new book about the Kamehameha Schools/Bishop Estate scandal that erupted in 1997 and forced the removal of trustees and changes in the estate's management. "Broken Trust: Greed, Mismanagement & Political Manipulation at America's Largest Charitable Trust" was written by two people at the heart of the event, Judge Samuel King and law professor Randall Roth. The book was published by the University of Hawaii Press (uhpress.hawaii.edu).