LEGACY BETRAYED
---

EXCERPTS: CHAPTERS 9 & 10
---
Trustee Lokelani Lindsey clashes with Kamehameha Schools alumni, teachers and students.
Lokelani Lindsey and the Kamehameha Ohana
WHEN Marion Mae Lokelani Maples Lindsey joined the Bishop Estate board in 1993 at the age of 53, it marked the first time in the history of Bishop Estate that all five trustees were Hawaiian -- and that one of them was a woman. She had spent almost all of her adult life working in Hawaii's Department of Education, teaching physical education for 11 years, then serving as vice principal at three different schools in four years, principal at a fourth school in Honolulu for one year and district superintendent for 11 years on Maui. In 1990 she ran unsuccessfully for mayor of Maui County.
LEGACY BETRAYED
This week, the Honolulu Star-Bulletin is excerpting chapters of a new book about the Kamehameha Schools/Bishop Estate scandal that erupted in 1997 and forced the removal of trustees and changes in the estate's management. "Broken Trust: Greed, Mismanagement & Political Manipulation at America's Largest Charitable Trust" was written by two people at the heart of the event, Judge Samuel King and law professor Randall Roth. The book was published by the University of Hawaii Press (uhpress.hawaii.edu).
---
Sunday: Trustees of Bishop Estate held power without accountability, a recipe for disaster.
Yesterday: The selection of Bishop Estate trustees by Supreme Court justices showed signs of manipulation.
Today: Kamehameha Schools alumni, staff and students rose up against trustee Lokelani Lindsey.
Wednesday: Investigating Bishop Estate was like probing the CIA, said a court-appointed master.
Thursday: Attorney General Margery Bronster went head to head with Supreme Court justices over trustee selection.
Friday: Instead of housecleaning, the interim trustees of Bishop Estate "handed the keys to the old guard."
---
Want to comment on the excerpts?
Letters received by Thursday will be published in Sunday's Insight section. For instructions, see "How to write us" on the opposite page.
Tonight on KITV Island Television News at 6 ...
Paula Akana speaks with former Bishop Estate trustees Richard "Dickie" Wong and Henry Peters, who were forced to resign in 1999.
starbulletin.com/specials/bishop.html
This link takes you to the original "Broken Trust" essay of Aug. 9, 1997, and other Star-Bulletin stories about Kamehameha Schools.
Shortly after her appointment, Lindsey's fellow trustees named her lead trustee for education. The National Association of Independent Schools' principles of good practice for trustees stated: "An individual trustee does not become involved in specific management, personnel, or curricular issues." Lindsey saw things differently. She immediately set up an office for herself on campus in the administration building, opposite the office of the president, Michael Chun. From there she involved herself in personnel decisions, issued edicts on curriculum and virtually took over the school's budget, questioning individual line items all the way down to 250 ballpoint pens at 10 cents each.
A few months later the trustees gave Lindsey another lead trusteeship, putting her in charge of communications, not just on campus but also at Kawaiahao Plaza. Soon she was personally reviewing a wide range of written communications. At Kawaiahao Plaza, this included everything from advertising and news releases to social invitations and Christmas card design. At the campus, she perused newsletters, handbooks, administrative forms, bulletin-board signs, teachers' letters to parents and even the wording on tickets, magnets and T-shirts.
Lindsey routinely ordered Bishop Estate staffers to run errands for her -- not just small things (shopping, picking up her grandchildren and driving them places), but big ones too. When the renovation of her beach house needed variances from state and county rules, Lindsey ordered two high-level staffers to attend to the matter. There also were numerous trips to the mainland and Asia, always first class, often with companions added at the last moment, even if the travel budget was already depleted. Because she never filed a report on any of these trips, it was not clear what connection they had to her work as trustee. This violated both common sense and the trustee's fiduciary duty not to benefit personally from the trust's resources.
Lindsey did not get along with the popular president of Kamehameha Schools. She considered him a nice man with a good heart -- just no good at his work. Chun was not the only person who suffered under Lindsey's watchful eye and heavy hand. Teachers and employees all over Kamehameha were feeling the pressure. Lindsey's micromanagerial style reached everywhere, especially into areas of the school where she felt she had special expertise. One such area was the Hawaiian language program -- even though she herself did not know how to speak or read Hawaiian. The teachers saw the introduction of new words as necessary for the language to survive; Lindsey believed they were corrupting the language of her ancestors.
DURING Michael Chun's first few years as president, the Kamehameha faculty and staff had held numerous meetings and workshops to consider and debate the school's proper role and possible futures. The written product, "Educational Excellence for the Next Century: A Strategic Plan for the 1990s," was completed, a year before Lindsey joined the board, in a bottom-up style with little involvement from trustees or consultants. Essentially, Kamehameha administrators and teachers wanted the school to focus on producing leaders. Hawaiian children who didn't make the cut at Kamehameha could be served through the trust's extension programs.
Lindsey scrapped this plan and hired her own consultants to assess Kamehameha's educational programs, on and off campus. At a cost of several million dollars, these consultants produced reams of statistics and five separate scenarios for the board to consider. On April 17, 1995, the trustees voted unanimously in favor of the scenario entitled "Go Forward." It would be a major change in direction for the trust. At the center of the Go Forward vision were new schools on the islands of Maui and Hawaii and an expansion of the center-based preschool program. This vision had its costs, though: To pay for the new schools, virtually all the extension programs had to go, immediately.
For three decades programs such as traveling preschools, parent-infant education and alternative learning centers had been considered a key component of Kamehameha's mission, touching the lives of an ever-increasing number of Hawaiian children who did not attend Kamehameha Schools. Word of the trustees' decision rocked the organization to the core. For the first time in history, there were layoffs at Bishop Estate -- 171 jobs, 14 percent of the total work force. Programs were closed abruptly, some with as little as two weeks' notice. ...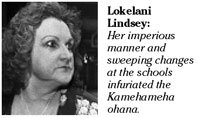 THE KAMEHAMEHA ohana -- students, teachers, parents and alumni -- gradually came to realize that Lokelani Lindsey had transformed their campus into a place of suspicion and fear, a place where no one could act on his or her conscience without fear of reprisal. They saw that the other trustees had done nothing to stop her. Nor had the justices, attorney general, master or probate judge. This prompted the ohana to consider drastic action. Although many of them had a lot to lose, there was too much at stake -- their children, their school, Pauahi's legacy -- simply to look away. At first one by one, and then together, they acted.
(Student Body President Kamani) Kuala'au and (Senior Class President) James Moniz drafted "A Message to the Justices of the Supreme Court of Hawaii from Students of The Kamehameha Schools." In it, they praised their education, and then focused on Chun:
"Sadly, our president, Dr. Michael J. Chun, the man responsible for bringing Kamehameha to this standard of excellence, may soon be asked for his resignation. As students who have witnessed the profound aloha that Dr. Chun has extended toward each member of the Kamehameha ohana and the community of Hawaii, we find it deplorable that anyone would question the integrity of his leadership. Though reasons may be cited for Dr. Chun's 'resignation,' there are other signs that Kamehameha is in a state of turmoil, and that this is not an isolated incident. Several of our best teachers are resigning or retiring at the end of this school year. Many more are dissatisfied with the current board of trustees' new leadership and management styles. The decline of the quality of the education at Kamehameha will soon show. We hold you, the Justices of Hawaii's Supreme Court, as the selectors of The Kamehameha Schools' Trustees, responsible to ensure the integrity of our Schools. We hold you responsible to put politics aside and ask, is this what Princess Pauahi would have wanted?"
The next morning Kuala'au read the letter to his homeroom and to two classes. Then he was called out of class and told to go to the principal's office. When he got there, the principal, Tony Ramos, told him that someone wanted to meet with the two of them right away. Ramos drove Kuala'au to Kawaiahao Plaza in downtown Honolulu, where they were ushered into Lindsey's koa-paneled office. The door was then closed. Lindsey began by telling Kuala'au that she had been getting phone calls about him and his letter. ...
Lindsey told Kuala'au that Pauahi's will was "under attack" and that his letter could add fuel to that and create other problems, too. She talked about rumors and the harm they could do, such as the rumor that she wanted Chun fired. She said rumors like that were hurtful to her. How would Kuala'au like it, she asked, if she called Princeton (which Kuala'au was to attend the next year) and described Kuala'au as a "rabble rouser"? She would never dream of doing this, she added -- she just wanted him to understand how she felt when people did things behind her back.
Then Lindsey said there were things that she could not tell Kuala'au about Chun, because of personnel law, the implication being that if Kuala'au knew these things, his opinion would change. She added: "Do you know that you are accused of planning the applause for Chun on Song Contest night?" (Chun had received sustained applause at the annual school event.) All this was too much for Kuala'au. He felt trapped. His stomach was in knots, and he began to cry. Suddenly Lindsey's tone changed. She told Kuala'au he should go back to school now, and added that she and Ramos would not be telling anyone about the meeting: If word of it got out, they would know who the source was.
As Kuala'au was leaving, Lindsey put her arms around his shoulders and said she loved him.
NONA BEAMER, in her mid-seventies and living on the island of Hawaii, heard about what was going on at Kamehameha. She and her family were closely linked to Kamehameha. Her father had been at the preparatory school when Gladys Brandt was the only girl there. Nona Beamer and all her brothers and sisters had gone to Kamehameha, as had her two sons. She had taught there and had started the hula program along with Brandt. Beamer still had many friends and relatives on the faculty and in the dorms. As she listened to them describe Lindsey's behavior, Beamer became upset, then distressed, and finally infuriated. The letter she wrote to the editor of the Honolulu Advertiser took her only a couple of minutes to compose:
"Kamehameha Schools trustee Lokelani Lindsey has shamed the Hawaiian people! Her high-handed tactics on campus with students, staff and faculty have completely demoralized the entire Kamehameha ohana! The deep concerns have spread through the community, the neighbor islands, and farther. Mrs. Lindsey's micromanagement methodology is an utterly diabolical plan of a self-serving egoist! We call for an impeachment and Supreme Court redress! "
IT HAD BEEN more than a quarter-century since the last marches against Bishop Estate. Those marches, held at the time of Kalama Valley and the appointment of Matsuo Takabuki, were 1960s-style political demonstrations, and people from Kamehameha were only a small part of them. What was being contemplated now would be a march by the Kamehameha ohana, the people for whom Bishop Estate was founded, against the trustees of Bishop Estate. The very idea was shocking, almost unthinkable. It was against tradition, against culture.
In 1884 Pauahi's casket, draped in red velvet, had been taken in a horse-drawn carriage from Kawaiahao Church up to the Royal Mausoleum at Mauna Ala. The march on May 15, 1997, took the same three-mile funeral route, but in reverse, from Mauna Ala to the doorstep of Bishop Estate's headquarters, Kawaiahao Plaza, which stood next to the church.
As conch shells sounded, the marchers crossed King Street to the statue of Kamehameha the Great that stood in front of the Supreme Court building. (Kamehameha alumnus Roy) Benham led a delegation that presented a document to Chief Justice (Ronald) Moon.
Moon said to Benham, "I really admire your folks' deportment, you know, the way you're doing this. It's really terrific. No signs, no rabble-rousing, just -- " Before he could finish, Benham said: "Yeah, well, we have some concerns and hopefully you can be supporting our efforts to address them." Moon said it was out of his hands, that it was the probate judge who decided trust matters. "But you're the one who selects the probate judge, aren't you?" asked Benham. Moon just nodded.
(AT KAWAIAHAO PLAZA, Trustee Dickie) Wong listened without expression as (Fred) Cachola (a former trust employee and father of a Kamehameha teacher) read from the documents he had been given. The one from Kamehameha teachers explained that they had been prohibited from attending the march and from even sending a small delegation. The crowd applauded loudly when Cachola read the last line of the teachers' statement: "Let our absence here today speak louder than words ever could."
Then Benham told Wong that the marchers had three major "concerns," a polite word for demands: return management of the school to the president, reinstate the talk-story sessions (with trustees) and lift the cloud of retribution and vindictiveness. Wong's only response was, "We'll look it over and get back to you."