News | Business
Features | Sports
Editorial | Info
Calendars | Home
Nation/World
Obituaries | Weather
PALM PILOT PAGE

---
STAR-BULLETIN
RETAIL LOCATIONS



---


To March 18, 1996
PAST WEEK:
| M | T | W | T | F | S | S |

---




Most recent columns




Phones, email, subscriptions






» Aloha Worldwide
» Pet Quarantine
» Join SETI team
» 2000 Election
» Legislature
» SAT Scores


| NEWS | FEATURES | SPORTS | BUSINESS | EDITORIAL | TRAVEL |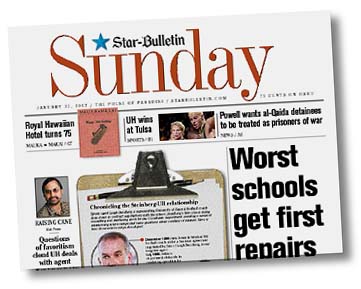 NEW! PLACE CLASSIFIEDS ONLINE VIA SECURE ORDER FORM.
SUBSCRIBE | SUBSCRIPTION PROBLEMS | HEADLINES BY EMAIL



CLICK TO SUPPORT OUR SPONSORS
| | | | | |
| --- | --- | --- | --- | --- |
| | | | | |
---
Starbulletin.com publishes online editions Monday through Sunday.
New editions normally posted online between 2:00 and 5:00 p.m.
Starbulletin.com publishes articles written by our staff and
selected articles of particular interest to our readers.
Entire contents of this Web site © copyright 2002
Honolulu Star-Bulletin. All rights reserved.

---
SHOPPING GUIDE

Star Markets

Check this week's specials at
Star Market's Oahu locations
Newspaper Ads Online

See our display ads online!
Click on sections of the ads to zoom in for a better look!

---

Star Markets

Check this week's specials at
Star Market's Neighbor Island locations
Classified Ads Online

Our classifieds are online.
Be sure to check the big employment ads, too!

MOVIE LISTINGS
Starbulletin.com featured on:




»Worst schools get first repairs
»Kobayashi wins 5th District
»Floods kill 3 on Maui
»The Family Tree
»Unit is first in, last out
»Charity seeks new house
»Cameras irk Windward drivers
»Ikeda to run for lieutenant gov
»Tree takes slow dive
»Saimin icon Aiko Hamura dies at 91
»Attorney 'Lew' Trask Sterry dies at 90


---


Morning edition news stories,
and late-breaking stories,
posted direct from the newsroom

---


»Pink jubilee
»Elegant dining for opera patrons





»The bare facts
»Try vacationing in Waikiki
»Whale of a Celebration
»The Search For Signs Of Hawaiian Life





»Goo gets 300th win
»Irwin's Hawaii gold mine
»Trap takes care of alumni
»Wahine loaded heading into season
»Kamehameha tied atop ILH
»Mapu joins All-America parade





»Getting away with it (not)
»Want to buy a cruise ship?





»Suspend traffic cameras pending review
»Job disparities widen between sexes
»Letters to the Editor