[News]
[Business]
[Features]
[Sports]
[Editorial]
[Calendars]
[Info]
[Home]
[Nation/World]
[Obituaries]
[Weather]
PALM PILOT PAGE
CLASSIFIED ADS







To March 18, 1996
PAST WEEK:
| M | T | W | T | F | S |



Aloha Worldwide

Join SETI team

2000 Election

Legislature

SAT Scores

Pet Quarantine



Phones, email, subscriptions


Email notifier


>>OUR APOLOGIES: MANY LEFT PAPERLESS
>>SUBSCRIBE TO THE NEW STAR-BULLETIN!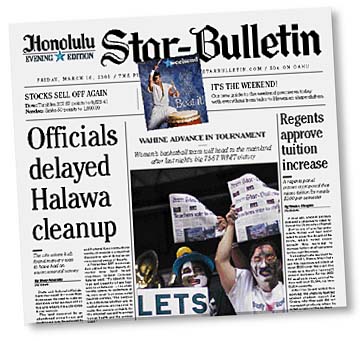 Sign up for our headlines by email list


Advertisement - Click to support our sponsors.

---
Starbulletin.com publishes online editions Monday through Saturday.
New editions normally posted online between 2:00 and 4:00 p.m.
Starbulletin.com publishes articles written by our staff and
selected articles of particular interest to our readers.
Entire contents of this Web site © copyright 2001
Honolulu Star-Bulletin. All rights reserved.

---
Featured on:




Officials delayed Halawa cleanup; Sonarman: Greeneville in hurry; Regents approve tuition hike; Punchbowl congestion coming; Mansho may face more sanctions; chools may face budget ax; Unions hold on to pay deal; Found on TheBus; Fire takes 'everything'; Gambling study urged; Dentists back fluoridation; Copter crash probes lengthy; Maui tax cut sought; Kauai mayor ups budget; Kim budget bigger; SB artist honored; Newswatch; Kokua Line by June Watanabe; Corky's Hawaii; Island Images; Obituaries; Weather




Late evening, breaking stories, early morning stories




Taiko: Power drum song; Chicago at Shell; Green Day, Irish way; Isn't it Romantic?; The Na'auao sound; Boffo buffo; Those sneaky caterpillars; Stuffs; Hawaii by Dave Donnelly; My Kind of Town by Don Chapman; Honolulu Lite by Charles Memminger; Island Mele by John Berger; Stage; Music; Night Clubs; Concerts; Books; Gardening




Wahine romp past Broncos; Rainbows dance today; All ball carriers in running; Sidelines by Kalani Simpson; Hawaii Sumotori; Sports Notebook; Hawaii Beat; Scoreboard; Sports Broadcasts; Bullboard




Home health agency closing; Sia returns to Honolulu; Taking Notice; Business Briefs; The Buzz By Erika Engle; Cents and Sensibility By Guy Steele ; Hawaii Stocks; Live Stock Quotes; Closing Market Report; Dilbert!; Meetings




Strike is symptom of education ills; Two tacks for Fed, Hawaii tax cuts; Editor's Scratchpad By Richard Halloran; Gathering Place By Ray Lovell; Letters to the Editor; Corky Editorial Cartoon




Most recent columns