[News]
[Business]
[Features]
[Sports]
[Editorial]
[Calendars]
[Info]
[Home]
[Nation/World]
[Obituaries]
[Weather]
PALM PILOT PAGE
CLASSIFIED ADS









To March 18, 1996
PAST WEEK:
| M | T | W | T | F | S |


SUBSCRIBE TO THE NEW STAR-BULLETIN!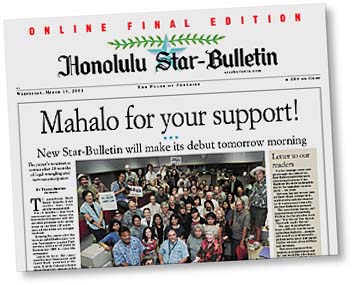 Sign up for our headlines by email list
Dear readers: Our plan is to continue to post the main
Web edition in the afternoon, which is when most of our
home subscribers get their papers.
Breaking stories from the a.m. edition are posted the previous
evening, in our Breaking News section. But features and
exclusive enterprise stories will appear online only in
the main Web edition, in the afternoon.
Mahalo for your support. -- Star-Bulletin Webmasters

Advertisement - Click to support Starbulletin.com sponsor
---
Starbulletin.com publishes online editions Monday through Saturday.
New editions normally posted online between 2:00 and 4:00 p.m.
Starbulletin.com publishes articles written by our staff and
selected articles of particular interest to our readers.
Entire contents of this Web site © copyright 2001
Honolulu Star-Bulletin. All rights reserved.

---
Featured on:




Final edition of 'Old Bulletin'; Ehime Maru lifted out of water; Firefighters get tuberculosis; Teachers: Raise or we walk; Mansho accused of campaign abuse; Fumes close Radford HS; Mercury scare quarantines homes; Maui kayak company sued; Seafaring science teacher; HPD stun-guns considered; Kona burial sites protected; Kauai religion classes complaint; Earth Month 2001; Newswatch; Kokua Line by June Watanabe; Corky's Hawaii; Island Images; Obituaries; Whatever Happened To...; Weather




Dance is all in awesome 'Spirit'; Kauai Fest with Garden Isle treats; Moe Keale in critical care; Electric Kitchen, Hawaii's Kitchen; Stuffs; Hawaii by Dave Donnelly; Honolulu Lite by Charles Memminger; By Request by Betty Shimabukuro; Health Options by Joannie Dobbs & Alan Titchenal; Morsels; Health; Fairs; Scholarships




Mid-season run made 'Bows contenders; Reflecting on the Wahine; Jones goes home; Money talks for Mili; Girls' hoops up for grabs; Keeping Score by Cindy Luis; The Way I See It by Pat Bigold; Hawaii Sumotori; Sports Notebook; Prep Notebook; Hawaii Beat; Scoreboard; Sports Broadcasts; Bullboard




Four Phone Mart stores closing; Business Briefs; Mortgage Rates ; Hawaii Stocks; Live Stock Quotes; Closing Market Report; Dilbert!; Meetings




State was negligent in mercury incident; The Star-Bulletin's change of ownership; Capitol View By Richard Borreca; Letters to the Editor; Corky Editorial Cartoon