Advertisement - Click to support our sponsors.

---

---
Friday, January 5, 2001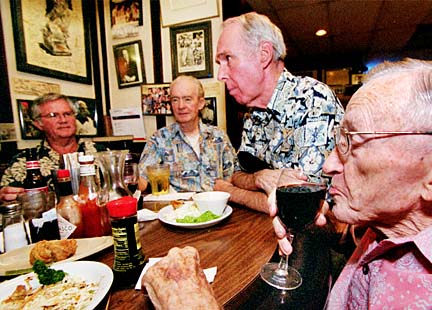 By George F. Lee, Star-Bulletin
Round-table regulars, from left, Don Mackay,
John Judge, Jack Sullivan and Frank Conkey
belly up for pupus and cocktails one last time.
---
Columbia Inn
gives final
last call


Fans lament the closing
of the popular gathering
place and watering hole

---

By Mary Adamski
Star-Bulletin

"You would always find a friend here."

Haunani Ching's comment would do as an epitaph for the Columbia Inn, closing today after 37 years in business at the top of Kapiolani Boulevard.

Ching, who took Kona visitors to lunch yesterday, was one of hundreds of customers who have made a farewell stop at the restaurant and bar since a November announcement that it had been sold to Servco Pacific Inc. -- an automobile, finance and insurance business -- and will close.

"Business has been ironically great," said Terry Oshima, president of Kyotaru USA, the American arm of the Japanese company that bought the restaurant in 1986, during the economic boom that brought Japan buyers for many local businesses.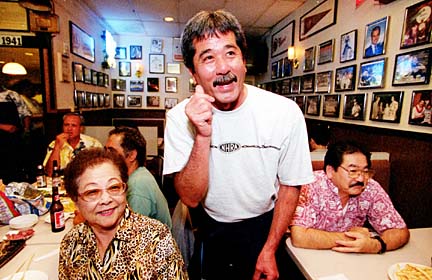 By George F. Lee, Star-Bulletin
Gathering in the Columbia Inn bar for one last time
last night are the surviving members of the Kaneshiro
family, which originally opened the restaurant: Bea
Kaneshiro and sons Norman Kaneshiro
and Gene Kaneshiro.
---
He said that "since the bubble burst, the company divested all its mainland property" at the order of a bankruptcy court. The two remaining Kyotaru restaurants, in Pearl City and Kaimuki, will be sold by the end of the year, he said. About 14 of the 62 Kapiolani employees will transfer to Kaimuki for the interim.

"This type of family restaurant is becoming an anachronism," Oshima said. "It's getting to be either fast food or fine dining, with nothing in between."

Columbia Inn became famous as more than just another comfortable, family-style restaurant in part because it was in the neighborhood of the state and city political center and next door to the two daily newspapers. It was former owner Fred "Tosh" Kaneshiro, natural host and marketing genius, whose interest in his customers' stories made the place a magnet for visiting professional athletes, local entertainers after their late-night gigs, and people seeking a place where something was happening.

'My kids grew up eating here'

Kaneshiro's widow, Bea, and three sons, Eugene, Dennis and Norman, reigned last night at a bar table full of cousins, greeting old-timers with memories to share. Bea Kaneshiro brought a bagful of pupus along. "What can they tell me, don't come back?" she replied when jokingly accused of circumventing the menu.

The late Tosh Kaneshiro and his brother Frank opened the original Columbia Inn in Chinatown in December 1941. They moved the successful restaurant to 645 Kapiolani Blvd. in 1964.

Tosh died of cancer just before the family opened its second eatery in Waimalu in 1984. They sold to Kyotaru in 1986.

"Someone you knew would always be here," said Ching, who remembered late-night meals after lobbying at the Legislature for the Hawaii Hotel Association. "My kids grew up eating here."

Quicktime VR Panoramas


By Blaine Fergerstrom, Starbulletin.com
Columbia Inn meeting room panorama.


By Blaine Fergerstrom, Starbulletin.com
Columbia Inn front counter and cashier.


By Blaine Fergerstrom, Starbulletin.com
Columbia Inn bar with "Roundtable."
These panoramas were photographed Jan. 2, 2001
in Columbia Inn, 645 Kapiolani Blvd., Honolulu,
Hawaii 96813 next door to the Newspaper Bldg.,
near Kapiolani and South streets.
Click on the panorama to see a virtual reality image
which can be panned and zoomed.
Quicktime required

City Council Chairman Jon Yoshimura was another of those having a ritual last meal. "I still remember the first time I ate here" as a Maui student on a field trip to Honolulu. "The most memorable part was eating at the famous Columbia Inn," he said. "I was fascinated by the sports memorabilia. I grew up a Dodgers fan."

James Hall, who frequently holds down a seat at the round table, the open-to-all conversation center in the bar, said: "The question that comes up with everyone is 'Where now?' It's a wonderful talk-story place. You never know from day to day who'll show up." Hall, a researcher for Republican legislators, has been a customer since his 1960s student days at the East-West Center.

"We rarely had trouble," said bartender Clotilde Ferreira, a 14-year employee. "The few times there was a little nonsense, I could cool them down by saying, 'You're going to get me in trouble.'"

But in later years the character of the late-night crowd led Kyotaru to discontinue the 24-hour food service and, eventually, to close at 11 p.m., although the liquor license allows sales until 2 a.m.

Searching for a replacement

The late actor William Conrad, who became a regular while starring in a locally filmed television series, was one of Ferreira's favorites.

"He was a real sweetheart. They'd make super saimin for him even when it wasn't on the menu."

Retired newspaper printer Betty Sills frequented the Columbia Inn before starting work, during breaks and after work since the 1960s. She and daughter Michelle McBride, who works in the Hawaii Newspaper Agency composing room, are also searching for a place to replace their clubhouse.

"I've looked around for the past seven weeks, and there is no such place," she said.

Sills remembered the annual St. Patrick's Day party, featuring green beer and a piano player for sing-along music. "I'll never forget when five bagpipers came in and nearly blew us out."

James Korus, chief engineer at the Waikiki Trade Center, said it has been a pau-hana stop for him since 1962. "It was a place to get together and talk story about the job," he said.

"I enjoy the camaraderie of people you meet. I have sat at every booth and stool. You start to notice the cobwebs on the ceiling; it's that kind of place."

"A lot of hangouts have closed down over the years. It's a real loss," said Korus. "It's part of the history of Hawaii. What a shame to see it go away."

---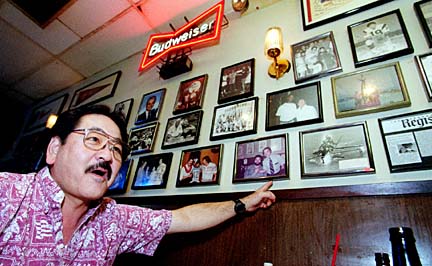 By George F. Lee, Star-Bulletin
Every picture tells a story as Gene Kaneshiro, eldest
son of Columbia Inn founder Tosh Kaneshiro, explains
how the tradition of celebrity photos that graced the
walls of the bar and restaurant came to be.
---
Photos on inn's
wall of history
to be given away

---

By Mary Adamski
Star-Bulletin

Many of the framed photographs amassed on the Columbia Inn's walls, a history of highlights and past customers, will be given away.

"Some we will give to the people who are in them; it only means something to them," said Eugene Kaneshiro, son of the former innkeeper Fred "Tosh" Kaneshiro. The family retained ownership of the photos, sketches and cartoons, which current owner Kyotaru USA kept to preserve the unique ambiance of the place.

"There's some talk about putting a display together for the Hawaii Sports Hall of Fame when it gets a permanent location," he said. "Tosh was an avid Los Angeles Dodgers fan, and he enshrined legendary team owner Walter O'Malley in several shots. There's a record of football, baseball and boxing greats when they got within handshaking distance of Tosh."

But it's not just a monument to the famous or to the regulars. There are the Eagle Scouts Tosh sponsored for years. There are local youngsters in team shots, notably the baseball team from Hakalau on the Big Island.

Drinking with the coach one time, Tosh offered to pay for uniforms if they changed the team's name from Braves to Dodgers. They did. He made good on his offer and got annual team photos.

"People thought you had to be a celebrity to be on the wall. Not so," said Gene Kaneshiro, who can still identify the stevedore, newspaper pressman or public-relations person in many a shot.

In the bar is a framed swatch of cloth that reads "Meet Me at Times Grill." It is from the back of a shirt dating back to the restaurant that occupied 645 Kapiolani Blvd. before Tosh and his brother Frank moved their restaurant from Chinatown in 1964.

Charlie Hamada, who has claimed occupancy of the corner bar stool for 40 years, would flaunt the shirt, Gene Kaneshiro recalled. "My father cut that thing off his back and gave him a Columbia Inn bowling shirt."

Kaneshiro will take home the round table, where his father held court. The regulars made a beeline for the high table at the bar's center, but it was understood that it was open to any who chose to join the talkers there.

"It is the only original piece that came from the Beretania Street restaurant," he said. The Kaneshiros opened the original Columbia Inn on Dec. 18, 1941.

The only artifact that Gene Kaneshiro doubts can be saved is the floor tile marking where football player O.J. Simpson sat in 1969. Then a University of Southern California running back and Heisman Trophy winner, Simpson played in the Hula Bowl that year.

Before the pictures are removed, Gene Kaneshiro will use them as props to tell more of these tales. He and his mother, Bea, and brothers Norman and Dennis will be filmed tomorrow as part of an oral-history project funded by the Japanese Chamber of Commerce. KIKU-TV will chronicle the Columbia Inn story as part of a project recording the stories of Japanese entrepreneurs in Hawaii.

"That's one of the blessings of this whole thing. It won't all just go away," he said.
E-mail to City Desk
---
---
© 2001 Honolulu Star-Bulletin
https://archives.starbulletin.com