---
Tuesday, July 27, 1999
Expert backs
tire-iron gash


The injury to Ireland's head could
have been caused by a tire iron as
Pauline stated in his confession,
a doctor says

By Rod Thompson
Star-Bulletin

HILO -- A gash on Dana Ireland's head could have been produced by a grazing blow from the tip of a tire iron, Honolulu forensic pathologist Kanthi von Guenthner has testified.

The testimony supports statements made to police by suspect Frank Pauline Jr. that he hit Ireland, 23, with a tire iron on Christmas Eve, 1991, intending to kill her.

In several hours of cross-examination, defense attorney Clifford Hunt attempted to undermine von Guenthner's testimony.

Hunt had told jurors an expert said the theory of a blow by a tire iron was "bizarre."

Pauline, 26, is being tried for kidnapping, rape, and murder. Brothers Albert Ian Schweitzer, 27, and Shawn Schweitzer, 23, also accused of the attack, are to be tried later.

Von Guenthner testified that there was no conflict between her opinion and that of another expert, Werner Spitz.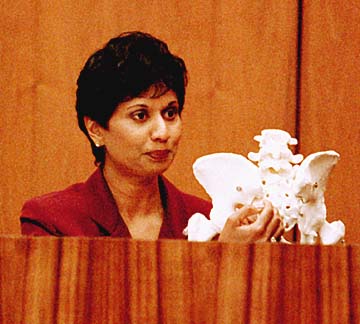 Associated Press
Deputy Medical Examiner Dr. Kanthi von Guenthner, a forensic
pathologist, uses a model of the pelvic region to describe injuries
suffered by Dana Ireland. Von Guenthner said fractures to the
pubic bone were consistent with force directed at the front of
Ireland's body, as opposed to the kind of injuries one would
have from a vehicle striking from behind.
---
Spitz said in a letter to police that a direct blow would not have caused the gash in Ireland's head, von Guenthner said. In his opinion, a glancing blow could have caused it, she said.

Those are also her opinions, she said.

But Hunt chipped away at differences in their statements.

Although Spitz allowed the possibility of gash being produced by a glancing blow, he added, "but I do not believe it was."

Hunt pointed out that von Guenthner told police last year that the gash could have been made by metal from an automobile or Ireland's crumpled bicycle.

She answered that police only asked about those possibilities at the time.

Later when she learned about Pauline's alleged use of a tire iron, she said that was also possible.

Another witness, Alex Franchy testified to seeing a blond girl on a bicycle pass the "shacks" surfing area the afternoon Ireland passed there.

He also said Pauline and Albert and Ian Schweitzer were at the surfing area and left together in Ian Schweitzer's purple Volkswagen after the girl passed by.

Franchy said that Ian Schweitzer repainted the Volkswagen from purple to yellow after that Christmas because of a dent in the car.

He testified Schweitzer told him the dent came from "banging" a dog, but Hunt objected and the testimony was stricken.

Franchy also said he'd been drinking all day and was too drunk to remember much else.

In other testimony, area resident Ritch Trenda described finding Ireland's bicycle.

"We saw that the bike was munched pretty good into the road ... It was wrecked. I mean it was really crunched into the (cinder) road," he said.

Trenda took photos of the bicycle and vehicle tracks.

"It was pretty evident ... the car tracks swerving over to the side of the road to contact the bicycle. Then the bicycle track turns into a really deep track. And then the bicycle track stops and the car tire tracks keep going."

Area resident Denese Fierro testified there were "burnout" marks leading to the bicycle. Her son Damien, also known as Daniel, then 11, now 19, called them "acceleration marks."

Hunt objected that an 11-year-old wouldn't use the word "acceleration," hinting his testimony had been coached. Damien said he might have used the word "burnout" at the time.

Fierro testified she owned a rusty old pickup truck at the time, painted gray with house paint.

Hunt has said a pickup or van hit Ireland, not a Volkswagen "bug" as police say.

Ireland died of multiple traumatic injuries to the body, von Guenthner said.

She had injuries to her brain, internal bleeding in practically her entire head, "road burn" on her back and legs, a broken collarbone, a bite mark on her left breast, fingernail scratches and indentations, bruise marks on her neck apparently from being choked, injuries on her mouth apparently from being punched, bruises outside and inside her vagina, and pelvic bones broken in four places, von Guenthner said.

Hunt tried repeatedly to get her to agree the pelvic bones could have been broken by a blow from behind her. Von Guenthner insisted the blow came from the front.

---

Dana Ireland's mom testifies,
eyes suspect

Louise Ireland, 75, speaks calmly and firmly
about the events leading up to the
death of her daughter

By Rod Thompson
Star-Bulletin

HILO -- From the witness stand, during a moment of silence, Louise Ireland glanced at Frank Pauline Jr., the man accused of murdering her daughter Dana.

She answered a few more questions and looked again at Pauline, longer this time.

And then again and again.

---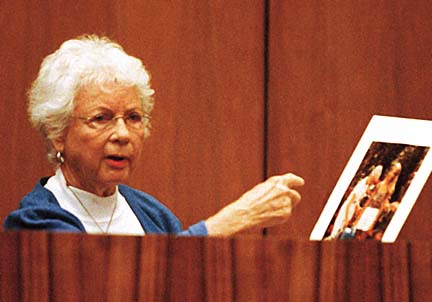 LOUISE IRELAND
MURDER VICTIM DANA IRELAND'S MOTHER
---
After barely more than 10 minutes yesterday, Louise Ireland's testimony ended, there was no cross-examination, and she walked off the witness stand.

Just past the jury, she glanced over her shoulder at Pauline one last time, then walked out.

No expression had crossed her face. No response was visible from Pauline.

Many times in the 71/2 years before the trial, Ireland had said the delays would kill her.

Yesterday, the 75-year-old woman spoke calmly and firmly as she testified about the events that led up to the death of her daughter.

On the afternoon of Dec. 24, 1991, at their rented home in Vacationland subdivision south of Hilo, Louise and her daughters Dana and Sandy had returned from Christmas shopping, Louise said.

Dana had said she planned to go invite her friend Mark Evans to Christmas dinner. "She left before I realized," Louise said.

Late in the afternoon, Evans called to ask if Dana was there. Louise said no.

"It wasn't too long after that that Sandy came running to the door and said, "Is Dana here?' " Louise said.

"I said, "No, why?' And she said something awful has happened."

Sandy described a crumpled bicycle, a shoe, and some hair on the road.

"I said, oh my God, somebody hit her ... I went into orbit."

She, Sandy, Sandy's boyfriend Jim Ingham, and a neighbor went to the hospital.

Later, an ambulance arrived with Dana, Louise said. Ingham ran to her and said, "Dana, we are with you."

"None of the doctors came out too much and I thought, what's going on? One doctor came out and I said, "Is this life-threatening?' and he said yes."

Louise called her husband John who had remained in Vacationland.

"He came down. And she died right after that."

"Dana was a wonderful girl. Excellent," she said.

---



E-mail to City Desk
---
---
© 1999 Honolulu Star-Bulletin
https://archives.starbulletin.com