Advertisement - Click to support our sponsors.

---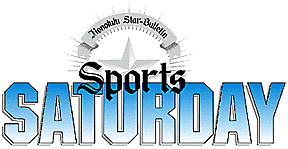 ---
Saturday, December 2, 2000



H A W A I I _P R E P _ S P O R T S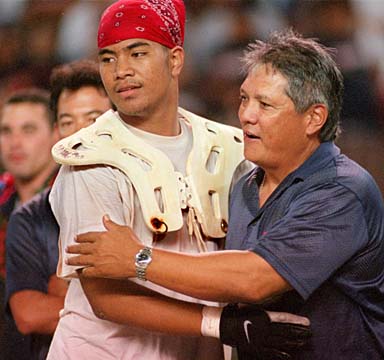 By Dennis Oda, Star-Bulletin
St. Louis coach Call Lee, right, congratulates Kahuku's
Tuika Tufaga after last night's game, won by the Red Raiders.
---
Red Raiders'
lines made a
lasting impression


Kahuku's offensive and
defensive fronts set the
tone in a 26-20 victory

'This is unreal'
St. Louis bounced from top

---

By Glen Higa
Special to the Star-Bulletin

If first impressions are the most important, consider the dents both Kahuku lines put on St. Louis early in last night's 2000 Chevron State Football Championship game.

The first drive of the Red Raiders' 26-20 victory set the tone, as St. Louis running back Pesefea Fiaseu rushed up the middle three times for one yard.

"They did a real good job on penetrating and an awesome job of practicing our plays," Fiaseu said.

The Kahuku offense then ran right at the Crusaders' front, which was missing two all-staters. Mulivai Pula capped an eight-play, 60-yard drive with a 9-yard touchdown run.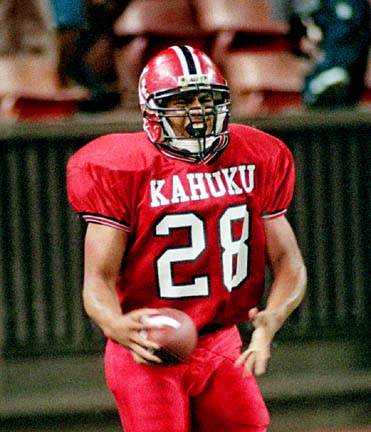 By Dennis Oda, Star-Bulletin
Mulivai Pula lets out a yell after scoring Kahuku's
final touchdown on a 25-yard run that made the
score 26-14 in favor of the Red Raiders.
---
"After the first drive and we scored it gave us a lot of confidence and boosted us throughout the game," Red Raiders quarterback Inoke Funaki said.

Kahuku rushed for 270 yards.

"They know our game so we came out here and played 'madman' and strongest man wins," Kahuku tackle Chris Kemoe'atu said.

The Crusaders weren't surprised, just overpowered.

"We knew what they would try to do (on the line)," St. Louis defensive line coach Sam Downey said. "They just came out to win a championship and they did it."

Kemoe'atu was the key. Kahuku running backs followed their favorite 330-pound blocker who says he "just likes to hit people."

"He was everything for us tonight," Funaki said.

Kemoe'atu -- who played despite a sprained knee -- did more than just open holes for Pula, Funaki and Marcus Salanoa. He recovered two fumbles, including one that gave Kahuku a first down on the Crusader one and led to Salanoa's second touchdown and the lead the Red Raiders would keep.

"I was there at the perfect time. It's called luck," Kemoe'atu said.

Meanwhile, the Kahuku defense made life difficult for St. Louis quarterbacks Kelika Higa and Bobby George. Higa passed for 165 yards and a touchdown but was sacked four times and hurried throughout the game. George wasn't sacked, but completed only five passes for 68 yards.

Kahuku defensive tackle Jonathan Mapu didn't lose respect for the St. Louis quarterback duo.

"They gave us a real challenge," Mapu said. "They're great quarterbacks."

Red Raiders 26, Crusaders 20

| | |
| --- | --- |
| St. Louis (14-1) | 0 7 0 13 -- 20 |
| Kahuku (13-2) | 7 0 7 12 -- 26 |

Scoring Summary

Kah--Mulivai Pula 9 run (Solomon Lee kick)
StL--Pesefea Fiaseu 1 run (Haa Bento kick)
Kah--Robert-Marcus Salanoa 1 run (Solomon Lee kick)
StL--Pesefea Fiaseu 22 run (Haa Bento kick)
Kah--Robert-Marcus Salanoa 1 run (kick failed)
Kah--Mulivai Pula 25 run (run failed)
StL--Frank Rivers 5 pass from Kelika Higa (kick failed)

Team Statistics
St. Louis
Kahuku
First Downs
18
18
Rushes-Yards
24-65
54-270
Passing Yards
233
45
Total Offense
57-298
65-315
Passes (Att-Cmp-Int)
33-18-0
11-5-1
Punt Returns-Yards
0-00
2-15
Kickoff Return-Yards
4-76
4-77
Fumbles-Lost
1-0
3-0
Penalties-Yards
4-47
11-98
Punts (No-Avg.)
4-20.3
1-22.0
3rd Down Conversions
5-12
6-16
4th Down Conversions
1-3
3-5
Time of Possession 19:51
28:09

Rushing--St. Louis: Fiaseu 16-88, Higa 4-(minus 24), Beaver 2-(minus 1), Dickerson 2-2. Kahuku:Salanoa 20-87, Funaki 12-71, Pula 16-112, A.J. Smith 1-1, F. Fonoimoana 1-1, E. Atuaia 2-4, Team 2-(minus 4)
Passing--St. Louis: Higa 13-19-0 165, George 5-14-0 68. Kahuku: Funaki 5-11-1 45.
Receiving--St. Louis: Dickerson 8-130, Fernandez 2-36, Nakasato 3-35, Inferrera 1-15, Mokuahi 2-8, Rivers 2-9. Kahuku: Hafoka 4-42, Napaa 1-3.
Att--14,267

---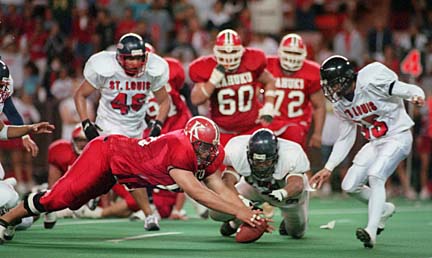 By Dennis Oda, Star-Bulletin
Chris Kemoe'atu of Kahuku, left, beats Donnie Vercher
of St. Louis to the loose ball during the state football
championship game at Aloha Stadium last night.
---
Kahuku bounces
St. Louis from top

---

By Dave Reardon
Star-Bulletin

This time, the ball bounced Kahuku's way.

Three times the Red Raiders fumbled, and three times they recovered -- after a gain of yardage -- in last night's 2000 Chevron State Football Championship final.

One of the plays in particular was huge in Kahuku's 26-20 victory over St. Louis.

Midway through the fourth quarter, Mulivai Pula appeared to be stopped on a fourth down play at the St. Louis 4-yard line, way short of the first down marker at the 1. But he fumbled, and the Red Raiders' Chris Kemoe'atu recovered. After a measurement, Kahuku had a first down. On the next play, Marcus Salanoa scored and the Red Raiders led, 20-14.

"Sometimes the ball bounces a way that makes it hard for you to win," St. Louis coach Cal Lee said. "But it pretty much bounced our way for 14 years.

"Kahuku was the better team tonight."

DE-FENSE: Free safety Aaron Francisco led Kahuku with nine tackles, and linebacker Douglas Hiu made three tackles for losses.

St. Louis linebackers Ikaika Curnan and T.J. Moe were each in on 11 stops.

UNSCATHED NO LONGER: St. Louis had not allowed a score all season in the third quarter before Salanoa followed A.J. Smith's lead block into the end zone with 1:49 left in the period.

The Crusaders' defense allowed just five rushing touchdowns in 14 games this season, one less than it yielded last night to Kahuku.

GOING PUBLIC: Kahuku is the first Oahu Interscholastic Association team to win the either the Prep Bowl or the state championship game since Leilehua beat St. Louis, 10-0, in the 1984 Prep Bowl.

No team other than St. Louis had won the state's final game of the year since Pac-Five beat Waianae in the 1985 Prep Bowl.

St. Louis had a streak of 28 wins against OIA teams snapped.

FROM THE DIRECTOR: Hawaii High School Athletic Association Executive Director Keith Amemiya was pleased with the closeness of the game and the crowd of 14,267.

But he said much still needs to be done to restore competitive balance to Hawaii high school football.

"St. Louis' loss doesn't change the fact that we need to explore alternatives to the current football structure," said Amemiya, among the growing legion of supporters of classification.

HERE AND THERE: This was the last state tournament for HHSAA Information Director Thomas Yoshida. Next week he leaves for a new job with the University of Hawaii Foundation. ... Kahuku went into last night's game ranked No. 20 in the Pacific Region by HighWired Sports, and will undoubtedly move up with its win.

---

Ben Henry and Glen Higa
contributed to this report
E-mail to Sports Editor
---
---
© 2000 Honolulu Star-Bulletin
http://archives.starbulletin.com