Advertisement - Click to support our sponsors.

---

---
Saturday, December 2, 2000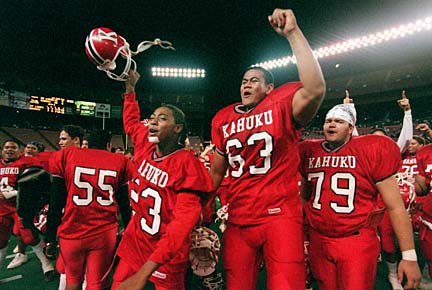 By Dennis Oda, Star-Bulletin
Kahuku players celebrate after beating St. Louis,
26-20, to win the HHSAA title. From left: Isaac
Ambeau (23), Leti Faitala (63) and Legrand Lawerence
(79). "Finally, Kahuku does it," said Raiders defensive
coordinator Byron Beatty. More coverage in Sports.
---

Red Raiders' stunning win
over St. Louis to take the
state title has all Kahuku
beaming with pride

Victory celebration goes on all night

String of championships ended
Red Raiders set the tone
St. Louis bounced from top

---

By Helen Altonn
Star-Bulletin

North Shore residents today continued a night-long celebration of the Kahuku High School Red Raiders' 26-20 state championship victory over the St. Louis Crusaders.

The general sentiment: "It's about time."

The tight-knit community planned a motorcade at 1 p.m. today to show pride in its boys.

"This is a very beautiful celebration," said Taki Falevai, former Kahuku High School coach, partying with the Raiders' coaches and alumni at the school's football field today.

"Now we know how St. Louis felt when they won all the state championships. Now they know how it feels to lose."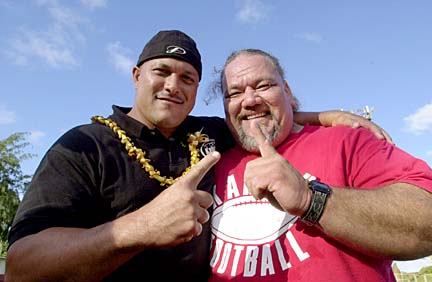 By Ronen Zilberman, Star-Bulletin
Kahuku High School football coaches Louis Santiago Jr.,
defensive back coach, left, and Garth Spurrier, offensive
line coach, hold their fingers up for No. 1 after celebrating
all night at Kahuku High School's football fields.
---
"Kahuku #1" and "Big Red" were among signs along the highway hailing the victory.

Some teachers also will return to school Monday looking a lot different because of it.

Choir director Elizabeth Krammer, for example, lost her shoulder-length hair and gained a Mohawk cut on the field last night.

She pledged to cut her hair if the team won during an assembly to motivate the kids. Other teachers said they would shave all their hair off or shave their beards, said June Kailiponi, school custodian for 13 years.

Buses and cars with supporters, parents and kids formed a parade from the stadium to Kahuku High School last night, yelling and honking horns. Then they partied all night.

"It was like a big wedding," said Aisa Wily, Kahuku graduate.

"There was a real big blowout here," Kailipono said. "Parents were here having a ball with their kids. This place was like a parking lot with cars lined up."

Supporters stopped two buses with the football team on the highway when they reached Kahuku and waved banners. "The boys were hysterical," Kailipono said.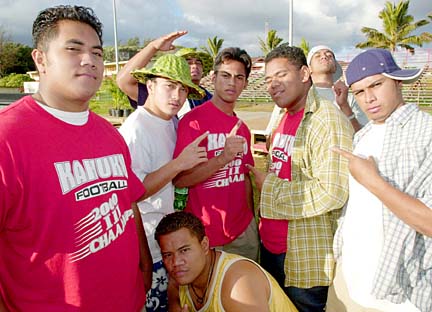 By Ronen Zilberman, Star-Bulletin
Kahuku football players manage to survive a night of
celebration. Kneeling is Helaman Lauaki. From left are
Suli Lautaha, Vai Napaa, Magic Atuaia, Sioape
Lautaha and Lapeti Lauaki.
---
"This was the year of the beast," said Wahanui Elkington, who does service projects for the school. Chris Kemoeatu, who recovered two fumbles, was still at the field this morning with about half a dozen of his teammates.

"It was the best feeling of my sports career," he said of the game.

"It's the first time we pulled it off," said Sioape Lautaha. But he said the team was confident. "A lot of hard work and practice helps."

Garth Spurrier, offensive line coach, and Louis Santiago Jr., defensive back coach, were at the school with former coaches and players savoring the victory.

"It will be a great weekend, and the rest of the year, until the next championship," Spurrier said.

Ray Smith and his wife, Beth, said kids from the school were driving up and down Kamehameha Highway all night cheering, and nobody minded.

"They were thrilled and having a wonderful time," Beth Smith said.

Art Brickwood, who tried unsuccessfully to find a paper at McDonald's, said the win was good for the community.

He said his grandson, George Ornellas of Maui, played three years for St. Louis team. "I don't think he's excited."

A statue in front of Kahuku's gymnasium may stand as a longtime reminder to the community of the football championship.

The warrior, a "Symbol of Kahuku 1991," was draped with leis, a fruit basket and a football-shape balloon.

Says the plaque, "The Spirit of Kahuku symbolizes the nobility, strength and courage of the staff and students of Kahuku High School."

---

Red Raiders end
Crusaders' long string
of post-season
championships, 26-20

---

By Dave Reardon
Star-Bulletin

The Kahuku Red Raiders knew last night's game was about much more than themselves.

They made history with their 26-20 victory over the nationally ranked St. Louis Crusaders in the 2000 Chevron State Football Championship game, and they were well aware of it.

"Us young guys watched our brothers lose," Kahuku quarterback Inoke Funaki said. "I had three brothers who lost in this game. That was a lot of motivation for us."

As 14,267 watched at Aloha Stadium, the Red Raiders ended the Crusaders' 14-year Hawaii high school football dynasty.

"This is unreal," Kahuku linebacker Douglas Hiu said. "No one's achieved this against St. Louis in such a long time."

Technically, Kahuku (13-2) and St. Louis (14-1) now have one state championship apiece. But before last year there was the Prep Bowl -- which the Crusaders won 13 consecutive times, beating the Red Raiders in five of them.

Kahuku's talent has never been questioned. There have been several years when it was considered as good or better than that of St. Louis.

But this was the first time the Red Raiders put it all together in the ultimate game.

The turning point?

"It happened on Wednesday," Kahuku coach Siuaki Livai said. "I told the team, 'If you don't believe you can win, go home.' Half of the teams that play St. Louis don't believe they can win. Last year, I felt a little like that.

"On Wednesday we had a reality check, and we decided that we all believed."

If the Red Raiders needed more of a push, they got it on their bus ride to the stadium yesterday afternoon.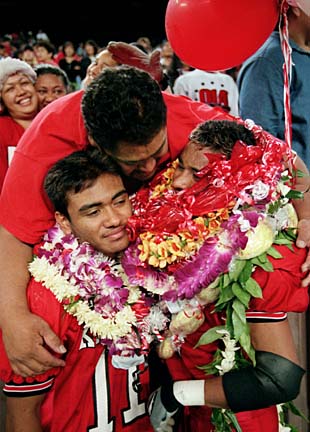 By Dennis Oda, Star-Bulletin
Kahukus' Ferron Fonoimoana (#11) and Kurt Fonoimoana
get a hug from their dad, Kurt Fonoimoana after Kahuku
beat St. Louis 26-20 to win the HHSAA Championships.
Kurt Fonoimoana has another son on the team, Chubby
Fonoimoana.
---
"From Kahuku to Kaaawa, people were standing on the side of the road with signs waving for us," Livai said. "We've got the best community. We had to do it for them." All the motivation in the world won't make up for a faulty game plan, but the Red Raiders' strategy was flawless.

Kahuku's main goals were to stop St. Louis' running game and limit their own mistakes. If they achieved that, the Red Raiders figured the rest would take care of itself.

Although Pesefea Fiaseu rushed for 88 yards and two touchdowns, the Red Raiders never let him get out of control -- as in last year's final, when he ran for 156 yards in a 19-0 St. Louis victory.

Kahuku felt it could run itself, behind a huge offensive line anchored by 6-foot-5, 330-pound Chris Kemoe'atu -- especially since St. Louis was without two star defensive linemen, Lyle Maiava and Lafaele Manupuna.

That was true, as the Red Raiders rolled up 270 rushing yards, with Mulivai Pula getting 112 of them, including TDs of 9 and 25 yards.

Marcus Salanoa also scored two rushing touchdowns of 1 yard each.

"They played ball control and played very good defense," St. Louis coach Cal Lee said. "Gotta give them a lot of credit."

A little luck didn't hurt, either. Three Kahuku fumbles fell into the hands of the Red Raiders -- after gains.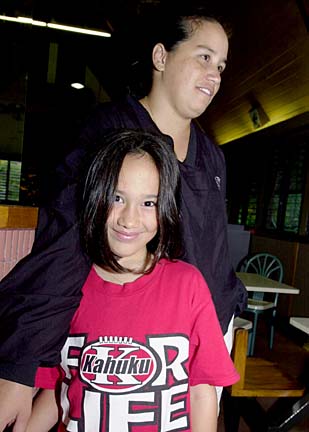 By Ronen Zilberman, Star-Bulletin
"The team worked hard for it," said Abby Beatty, with
daughter Aubrey. She is the wife of Kahuku defensive
coordinator Byron Beatty.
---
Perhaps it was payback for the years when the little things didn't go Kahuku's way, like its 27-26 loss to St. Louis in the 1995 Prep Bowl, due to missed extra points.

"This is for the public schools, for the OIA. It shows you can do it," said Doug Semones, who was the head coach of that Kahuku team.

Until last night, the rap on the Red Raiders was that they would self-destruct in big games with penalties, turnovers and questionable coaching decisions. But other than a botched fake punt, Kahuku was relatively mistake-free.

The Red Raiders were penalized 11 times for 98 yards, but none of the flags proved critical.

"Actually, we made mistakes, but we didn't let it pull us down," said Hiu, who was in on six tackles.

Kahuku led, 26-14, after Pula's score with 1:26 left. St. Louis was back in the game after Frank Rivers' 5-yard touchdown pass from Kelika Higa with 33 seconds left.

But Kahuku's Gideon Perez recovered the onside kick, and an era had ended.

"Hopefully, we can start a new tradition," Funaki said. "But St. Louis will always be tough. They will always be around."

This night belonged to the underdogs, the public schools -- and mostly to the not-so-little little guys from the North Shore, their classmates, their big brothers and their fans.

"It's like a dream come true. It's for all these people," Hiu said, pointing to the thousands of Kahuku supporters in the stands.

"This going be one state holiday. Kahuku beat St. Louis!"
E-mail to City Desk
---
---
© 2000 Honolulu Star-Bulletin
http://archives.starbulletin.com