Advertisement - Click to support our sponsors.

---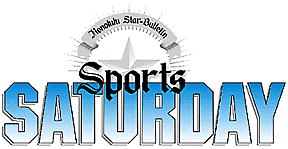 ---
Saturday, September 9, 2000



O I A _ P R E P _ F O O T B A L L
---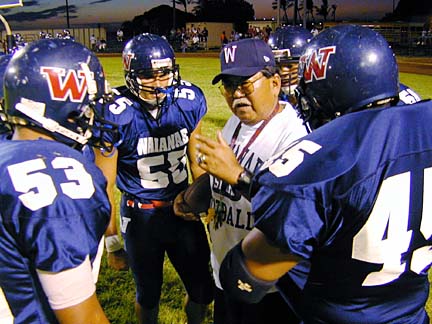 By Craig T. Kojima, Star-Bulletin
Defensive coordinator Larry Ginoza instructs Clifton Kia-Cox,
Issac Kahue and Keaka Kamai during the Seariders'
victory last night at Waianae.
---
Waianae
grounds Farrington


The Seariders step it up on
defense and stop the run-
shoot in 37-13 win

St. Louis wins with backup QB

---

By Dave Reardon
Star-Bulletin

Two months ago Bryson Avilla was learning how to put on his pads. Last night the neophyte defensive lineman helped Waianae seal a 37-13 Oahu Interscholastic Association football victory over Farrington.

About 2,500 at Torii Field in Waianae saw the battle of Red Division contenders.

Peter Sarono rushed for 190 yards and Lono Manners for 111, but the biggest key was the Seariders' defensive pressure, even after two of Waianae's big boys got injured.

"We didn't protect very well, so we had a hard time running our (run-and-shoot) offense," Farrington coach Harold Tanaka said. "The routes were open, we just didn't have time to hit them. If you can't pass protect, this offense won't work."




Yesterday's prep football scores

ILH

Punahou 33, Damien 0
Kamehameha 49, Pac-Five 7
St. Louis 45, Iolani 14

OIA

Kalaheo 28, Kalani 0
Kahuku 19, Kailua 7
Waianae 37, Farrington 13
Radford 27, Waialua 14
McKinley 35, Campbell 14
Moanalua 23, Kaiser 20

KIF

Waimea 37, Kapa'a 0




Avilla recovered a fumble and contributed a huge sack as the No. 3-ranked Seariders (2-0) knocked the No. 9 Governors (1-1) out of the unbeaten ranks -- that is, when they weren't knocking themselves out of the game.

A freak play where Waianae defensive linemen Perry Alafoe (concussion) and Siota Malu (high ankle sprain) collided while trying to tackle Farrington's Warren Gaspar set the stage for Avilla's heroics.

Waianae clung to a 21-13 lead late in the third quarter when Gaspar scrambled 12 yards to the Searider 14. After the play, Alafoe (6-1, 280) and Malu (6-4, 280) both lay on the ground for several minutes, being attended to by trainers.

First Alafoe limped off, then Malu.

Avilla entered, and on the next play recovered a Farrington fumble, stemming a potential game-tying drive.

"It felt good to help out, especially because our guys were hurt," said Avilla, a 6-2, 205-pound junior in his first season of organized football. "I wanted to make the plays for them. You've just got to hustle and get to the ball."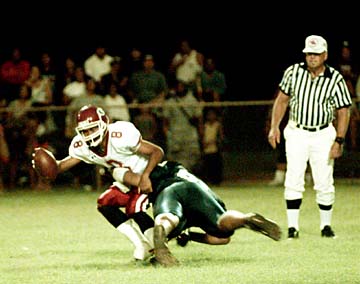 By Craig T. Kojima, Star-Bulletin
Farrinigton quarterback Gilbert Sa is
sacked by Waianae's Perry Alafoe.
---
Avilla wasn't done. With about eight minutes left in the game, he sacked Gaspar at the Farrington 5. Two plays later, the Governors snapped the ball out of their own end zone on a punt attempt. The safety made it 23-13, and Sarono's 45-yard TD run with 2:38 left clinched it.

"He's quick. When we run our 100s, he's always the fastest of the linemen," Waianae coach Danny Matsumoto said of Avilla. "Speed is his plus."

The Governors really hurt the Seariders only once. That was when quarterback Gilbert Sa found receiver Chad Mock a step behind his defender at midfield, and Mock won a footrace to the end zone for a short-lived 7-0 lead.

Of the nine first downs Waianae yielded, three were by pass and one by run. The other five were by penalty, as the Seariders were flagged 15 times for 150 yards.

| | | | | |
| --- | --- | --- | --- | --- |
| Farrington (1-1, 2-1) | 7 | 0 | 6 | 0--13 |
| Waianae (2-0, 3-0) | 6 | 15 | 0 | 16--37 |

Scoring summary

Far--Chad Mock 90 pass from Gilbert Sa (Adrian Villoria kick)
Wai--Lono Manners 1 run (kick failed)
Wai--Manners 1 run (Peter Sarono pass from Brandon Lopes)
Wai--Shawn Bebeau 19 pass from Lopes (Bebeau kick)
Far--Waylon Philpot 25 interception return (run failed)
Wai--safety, ball snapped out of end zone
Wai--Sarono 45 run (Bebeau kick)
Wai--Parris Kawaauahau 39 run (James Woodard kick)

Individual statistics

Rushing--Far: Sa 3-(-11), Michael Rabago 11-35 Warren Gaspar 5-(-15), Paul Laga 3-14, team 1(-8). Waian: Sarono 24-190, Manners 17-111, Kawena Rosario 2-7, Jonah Nunuha 1-(-5), Lopes 2-(-2), Kawaauahau 1-39.

Passing--Far: Sa 4-15-1 for 111 yards, Gaspar 4-10-2 for 13 yards. Waian: Jonah Nunuha 4-10-2 for 61 yards, Lopes 3-10-0 for 32 yards.

Receiving--Far: Bronson Delima 1-(-3), Micah Alexander 4-30, Mock 1-90, Rabago 1-8, Jayrald Mateo 1-(-1). Waian: Sarono 1-18, Bebeau 3-32, Graen Enriquez 2-37, Manners 1-6.

Junior varsity score: Waianae 34, Farrington 6.
E-mail to Sports Editor
---
---
© 2000 Honolulu Star-Bulletin
http://archives.starbulletin.com