---
Wednesday, December 29, 1999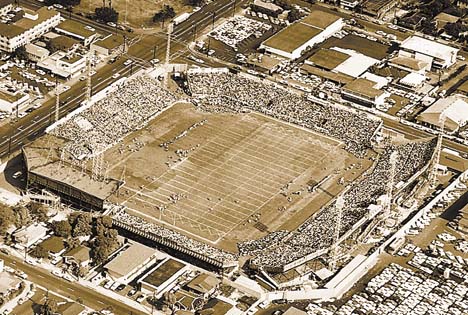 Star-Bulletin file photo
Sellout crowds of 25,000 regularly attended the Interscholastic League
of Honolulu's Thanksgiving Day prep football double-header at the
old Honolulu Stadium in Moiliili. The 50-year-old stadium
was torn down in October 1976.
---
Fond thoughts
of fine old things


The Honolulu Stadium and
the manapua truck are
among our loves lost

Fourth of five parts

By Rod Ohira
Star-Bulletin

Leonard's Bakery, Alex's Drive-In and Sekiya's Restaurant & Delicatessen provided Cheryl Sumida with sweet memories of her childhood days in Kapahulu.

"After delivering newspapers Sunday mornings, I would always go to Leonard's to buy malasadas," said Sumida, 33, a teacher who still lives in Kapahulu.

"Then I'd go to this house that was being built on Charles Street, sit in the bathtub and eat my malasadas. They were so good."

Sumida also remembers Alex's Drive-In, which used to be on Kapahulu Avenue, across the street from Crane Park.

"We'd go there for chocolate shakes," she recalled. "I'd be sitting in the car and my father would always be yelling at us to be careful because he didn't want any spills in the car."

Sumida earned spending money working at Sekiya's while attending Mid-Pacific Institute.

"We always sold a lot of hash balls, tempura and sushi," she said. "And everybody came there for the saimin.

"The only thing I didn't like was that I would go home smelling like tsukemono every time I worked."

Other memories:

Dr. Armand Chong, 38, and Alan Kaneshiro, 35, both fell in love with Honolulu Stadium while watching their brothers play high school football.

"I was in the second grade when my brother, Elroy, was playing for Iolani," said Chong, the son of the late Roy Chong, who was the longtime commissioner of Oahu Interscholastic Association football officials.

"I used to just run around the place, peek into the locker rooms, and you could always find money under the bleachers.

"The (Thanksgiving Day) Turkey games were special.

"Everybody would put dinner on hold to go to the games."

Chong believes the bleacher seating contributed to the cozy and friendly atmosphere at the old stadium.

"You just felt something special, seated on the wooden bleachers," he added. "And everyone respected you, no matter who you were cheering for."

Kaneshiro's brothers, Dean and Gary, played football for McKinley and Iolani, respectively.

"I grew up in McCully so I went a lot to Honolulu Stadium," he said.

"The things I remember best were the sign with the hole in it on the right field fence at Islander games, the football scoreboard clock nobody could read, buying boiled peanuts from the lady outside the stadium and the newspaper football lineups.

"You bought the lineups just to see whose picture was on the cover."

Chong and Kaneshiro never got a chance to play at Honolulu Stadium, which was torn down following the 1975 Hawaii Islander championship baseball season.

Both played high school football at Aloha Stadium but say it wasn't the same.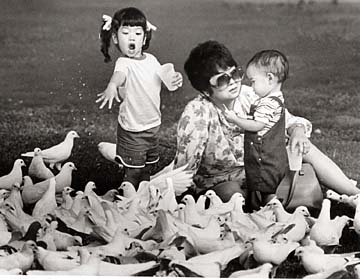 By Dennis Oda, Star-Bulletin
Many island youths have fond memories of feeding pigeons at
Honolulu Zoo, a practice no longer allowed. It's also unlawful
to feed the fish at Hanauma Bay.
---
Zoo was great fun

Jeff Tokunaga, 30, enjoyed visiting Honolulu Zoo with his parents.

"I was about 5, and the neat part was feeding the pigeons," he said. "But I hear that you can't do it anymore."

'Neon' burger was a sight

Marvin Asuncion, 36, says his favorite sound as a child was hearing the music from a truck entering his Kalihi neighborhood.

"When you heard the music of the manapua truck, you dropped everything and ran to it," he said. "I always bought ice cream.

"One of my favorite sights was the neon hamburger sign with moving arms and legs," Asuncion said of the old "Wiki Wiki" burger sign at Market City Shopping Center.

"It looked like it was running. My dad used to take us to Kahala, so I saw it all the time."

Play at Booth Park, Pauoa Stream

Damien Isagawa, 34, says his favorite childhood activity was playing at Booth Park and Pauoa Stream.

"We used to catch crayfish, guppies and sometimes even foot-long (Chinese) catfish," he said. "But I don't remember what we did with the fishes."

'Picnicking' at the drive-in

Blane Oshiro, 28, liked watching movies at the old Kailua Drive-In.

"Our family would pack up food and drinks and go to the drive-in," he said. "It was like having a picnic."

---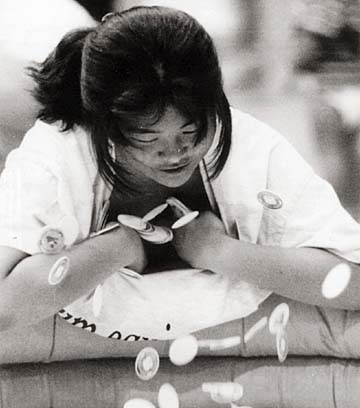 By Craig T. Kojima, Star-Bulletin
Milk covers were a popular children's game that
made a comeback in the Nineties as pogs.
---
Educated, respectful
and filled with faith

By Rod Ohira
Star-Bulletin

This generation clings to old family values and a sense of community

They are a well-educated generation, old enough to remember the Ewa plains before Kapolei, yet young enough to know what pogs are.

Preserving family and religious values is especially important to college students Michelle Pascual, 23, of Waipahu; Julie Alejado, 29, of Ewa Beach; and Tricia Jinbo, 27, of Pearl City.

"I've been taught to respect my elders, especially because of what my grandmother, Marcaria Pascual, did for me," Pascual said.

THROUGH THE YEARS

Family values are still important to members of the well-educated generation now in their 20s -- old enough to remember the Ewa plains before Kapolei, yet young enough to know what pogs are.

"She raised me during my younger years and took me places like Castle Park and on trips. She taught me a lot."

Alejado, the eldest of three children, was home-schooled from her sophomore year in high school.

"I was very sheltered, and my parents didn't let me go out a lot, but we're close," she said.

Alejado wants to preserve close ties to her family just as her parents did with their parents.

"I always used to look forward to going to my grandparents' house in Makakilo once a week for dinner, but we haven't done that much since my grandfather died in 1986, 10 days before Christmas," she said.

"When I have a family, I want to be able to bring them to grandma and grandpa's for dinner, too."

Surviving a serious 1992 car accident gave Jinbo a new perspective on life.

"I believe God let me survive because there's a purpose for me being here," she said. "Religion helped me to be positive and not selfish."

How she encouraged her brother to pray every day is one of Jinbo's favorite memories.

"I used to bury little gifts in the backyard and have him find them," she said. "Then I'd tell him God gave him the gifts and he would get more if he prayed every day."

Other stories:

'There' a closeness' in Hilo

Ian Merritt, 22, likes the small-town atmosphere of Hilo. "There's a closeness in the community," he said. "Everyone looks out for one another. When you go to KTA (supermarket), you'll still know half the people shopping in there.

"My favorite place is the beach, especially Honolii. My family still goes there Saturday mornings. The oldtimers there always tell us about the history of the place. Even if Hilo has gotten bigger, this is the one place that stays the same."

Pogs pay for college

Barry Incong, 28, says the milk caps he collected while growing up in Kula, Maui, helped pay for expenses in college.

"We used to play milk covers every morning before school and after school at Kula Elementary," he said. "A roll of 500 covers from Haleakala Dairy used to cost $5.

"I saved all my covers. The pogs craze hit (in the early 1990s) when I was at UH, and I sold my collection. The money came in handy in college."

Fishing near Kuliouou

Sheldon Lau, 27, and neighborhood friends in Kuliouou caught blue-pincher and white crabs regularly on the nearby peninsula.

"The fun part was eating what you caught," he said. "But now there's hardly any crabs to catch. If you want it, you have to buy it."

'Like an amusement park'

Rita Nozaki, 25, says her big treat as a child was going to a pizza restaurant.

"Going to Chuck E Cheese's was like going to an amusement park," she said. "It was the first place I went to where you could eat pizza, buy tokens and play games."




ABOUT THIS SERIES

The Star-Bulletin interviewed dozens of Hawaii residents, ages 9 to 106, to gather memories about living in the islands. We share their recollections -- a capsule view of life in Hawaii this century. Today: Memories from residents in their 40s and 50s, reflecting on life here during the 1950s and 1960s.



E-mail to City Desk
---
---
© 1999 Honolulu Star-Bulletin
http://archives.starbulletin.com