---
Tuesday, December 28, 1999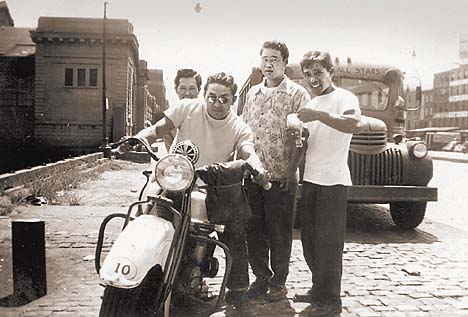 Courtesy of Crispin Mancao
Touring Hawaii baseball players Lefty Higuchi, Jyun Hirota, Larry
Kamishima and Crispin Mancao with a Philadelphia police officer's
motorcycle in 1948. Hawaii played the Harlem Globetrotters in
Philadelphia on Aug. 10, 1948, losing 4-3.
---
Senior league
all-stars recall a
stellar tour


Traveling with the Globetrotters
in 1948 was 'a dream come true'
for the Hawaii baseball players

Second of five parts

By Rod Ohira
Star-Bulletin

An all-star baseball team made up of top senior league players left Hawaii in June 1948 for an 80-game barnstorming tour of the mainland United States with the Harlem Globetrotters.

The Globetrotters, better known as basketball's comical wizards, fielded a touring baseball team after Jackie Robinson broke the major league's color barrier in 1947.

"It was a dream come true," 78-year-old Jun Muramoto said of the tour. "We played a lot of baseball in small cities as well as major league parks.

"The Globetrotters had a good team. Some of their players could have been playing in the major leagues."

The tour was put together by Hawaii promoter Mackay Yanagisawa and the late Abe Saperstein, manager and owner of the Globetrotters.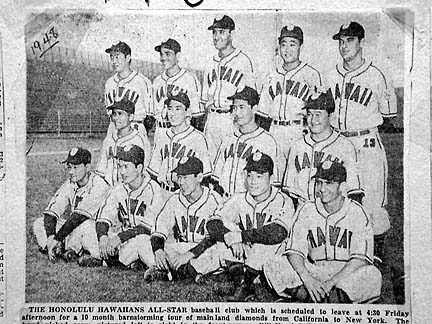 Courtesy of Crispin Mancao
The Hawaii all-star baseball team toured the mainland in 1948,
playing the Harlem Globetrotters. The photo, which appeared in
the Star-Bulletin, was taken by the late Jack Matsumoto.
---
Hawaii's all-star roster included Dick and Harry Kitamura, Crispin Mancao, Jyun Hirota, Ernest "Russian" Cabral, Bill Yasui, Jimmy Wasa, Lefty Higuchi, Clarence Neves, Larry Kamishima, George Rodrigues, Collie Souza, Kats Kojima, Masa Morita and Muramoto.

"Playing at Yankee Stadium and touching the lockers of Babe Ruth and Lou Gehrig was my biggest thrill," said Muramoto, who played against major leaguers in Hawaii during the war.

The team won 44 games and returned to Hawaii in August.

The tour opened doors for Mancao and Dick Kitamura, who played for the Globetrotters the following year.

The post-World War II years provided more recreation time for Hawaii residents.

Fishing for movie fare

Mitsuo Hara, 74, and his friends spent their summers catching o'opu in the Wailoa River in Hilo, not to eat but to earn money for a weekly treat.

O'opu are bottom-dwelling fish from the Gobiidae family, also known as gobies.

"About 10 of us would go fishing every day," Hara said.

"We would drop empty cans into the river and wait for the o'opu to go inside. The river was muddy but we would dive in to bring up the cans.

"We sold o'opu to the fish market for 15 cents a pound.

"At the end of the week, we had enough for the 10-cent entry fee to Royal Theatre and 5 cents for refreshments."

A memorable ulua

Hymie Smith, 74, lived at Hickam Village and enjoyed spear fishing off Sand Island and Kaneohe from 1948-1969.

"I speared a 74-pound ulua once," Smith said.

"On a good day, we'd come home with 200-300 pounds of fish.

"Whatever we caught we ate. There used to be a lot of fish to go around."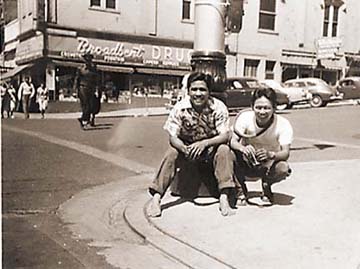 Courtesy of Crispin Mancao
Crispin Mancao sits barefooted with the late Dick Kitamura
in Ogden, Utah, in 1948 while on tour with Hawaii's all-stars.
---
AJA baseball popular

Jimmy Miyasato, 71, is from the Punchbowl area.

"I grew up playing sports and it was a way for me to make friends," said Miyasato, a three-sport high school athlete."At Farrington, I was only one of two Japanese on the football team.

"Playing with different nationalities, I learned to get along."

Miyasato has fond memories of baseball at old Honolulu Stadium in Moiliili.

"It's hard to beat the crowds AJA baseball used to draw," he said. "There were over 7,000 people there for an Oahu championship AJA game between Palama and Waipahu when I was managing Palama."

Campus was a rice patch

Eleanor Nonaka, 70, grew up near Leahi Avenue in Kapahulu.

"Kaimuki High School was a rice patch and it was all bushes where Crane Park is now," she recalled."Life was simpler and safer then, and kids had to use their wits and imagination to have fun. We all knew how to climb trees and pick mangoes and plums to eat."

---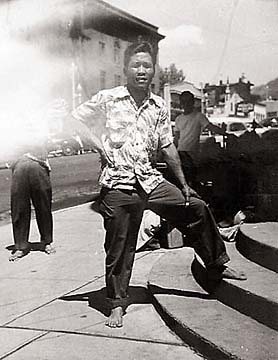 Courtesy of Crispin Mancao
Crispin Mancao, sans shoes, in Ogden, Utah in 1948.
---
Barefoot boys
with 'luau feet'

Clarence Lee and David Yoro grew up with a generation that literally went barefoot in Paradise.

"I went barefoot until the seventh grade," said the 64-year-old Lee, a designer whose childhood was spent in McCully. "We never wore shoes.

"But I had to wear shoes to go to Iolani School."

The experience of finding a shoe that fit was memorable, says Lee.

"I had to buy the widest shoes in the store," he said. "Because we went barefoot, all the kids had toes that were spread out. The toes never touched.

"The bottoms of my feet had calluses all over."

Yoro, 64, is from Waipahu's plantation camp and he not only had to wear shoes but also a long-sleeved shirt and tie to go to school.

"Until I went to St. Louis College in the ninth grade, I had never worn shoes," Yoro said. "My feet were so wide."

Attending St. Louis also provided Yoro with another first-time experience.

"I had never been to Honolulu before that," he said. "When we said 'going downtown' in those days, it was something big.

"I used to catch the bus to school."

And in those days, there were no freeways.

Other stories:

Make it yourself fun

Rodney Toyama, 67, of Seattle grew up in North Kohala on the Big Island playing a game called "piggly wiggly."

"You took a piece of wood and placed one end at an angle in the ground," Toyama said. "We used a broomstick as a bat.

"The object was to strike the wood piece on the ground so it comes up and then hit it with the broomstick."

When told that the game sounded dangerous, Toyama chuckled and said, "Often times, people got hit in the face. But we were Depression babies without toys who had to make up our own games."

Toyama recalls that Opulu Airfield in Kohala was used by the Navy during World War II to train pilots for landings on aircraft carriers.

Toting the payroll

Lloyd Karratti, 66, is from Damon Tract, which was located between Lagoon Drive and Elliot Street.

"When I was 14 years old, my friends and I used to walk from Damon Tract to Kalama Beach in Kailua," Karratti said. "We started walking on a Friday, swam all day Saturday and walked back Sunday."

Karratti also enjoyed accompanying his father on delivery rounds.

"My father worked for the county," he said. "Once a month, he'd pack up a suitcase with money, load up his .45 and go around making payments to employees.

"Our treat was to go to Waikiki. There wasn't much there except the Moana and Royal Hawaiian hotels."

Heartbreaking swap

Harold DeCosta, 67, enjoyed riding his horse "Diamond" as a child growing up in Kailua.

"I used to ride from Kailua to Kaneohe to visit relatives," he said. "There was a trail through the marsh where Enchanted Lake is that I used to ride to go to Waimanalo."

DeCosta says he was broken-hearted when his father traded "Diamond" for five calves.

"My father felt a horse wasn't good for anything except riding and cows were better," he said.




ABOUT THIS REPORT

The Star-Bulletin interviewed dozens of Hawaii residents, ages 9 to 106, to gather memories about living in the islands. We share their recollections -- a capsule view of life in Hawaii this century. Today, memories from residents in their 60s and 70s, reflecting on life here during the 1940s and 1950s.



E-mail to City Desk
---
---
© 1999 Honolulu Star-Bulletin
https://archives.starbulletin.com