---
Wednesday, December 29, 1999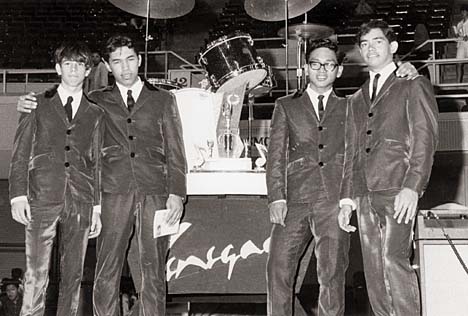 Courtesy of Randy Ahlo
Members of the Renegades, from left, Billy Andrade, Randy Ahlo,
Benny Gonzales and Mervin Ching, are shown after they won the
1965 'Battle of the Bands,' a popular contest among musical groups
from the local high schools. Some of those young musicians went
on to entertain in the nightspots of Waikiki..
---
Music, surfing
changed our times


Isle youths of the '60s
ushered in new sounds and
styles that changed Hawaii

Third of five parts

By Rod Ohira
Star-Bulletin

Hampered by injuries, Randy Ahlo's interest began shifting from football to playing music during his sophomore year in high school.

Ahlo approached his St. Louis classmate, Benny Gonzales, about forming a rock band and they were joined by freshman Billy Andrade, also a St. Louis student, and his friend from Kaimuki High School, drummer Mervin Ching.

Calling themselves the Renegades, they became one of Hawaii's top rock groups by 1965, winning over a half dozen "Battle of the Bands" and "Blastoff" competitions sponsored by radio stations KORL and KPOI, respectively.

They were among the first generation of post-statehood teens who ushered in an era of music and surfing that left a lasting impression on life in Hawaii.




THROUGH THE YEARS

If you have memories of 'Handsome Johnny,' above, and 'Mr. Francis,' 'Curtis the Bull,' and 'Ripper,' then you were a fan of the most popular local television program in the 1960s and '70s. Story here.




The band competitions at the Waikiki Shell and Honolulu International Center, which was renamed Blaisdell Center, were spirited contests, pitting musical groups from different high schools against each other.

The top Honolulu groups included The Spirits, The Moptops, Linda Green & the Tempos, Buzzy & The Frolic Five, The Spidels, and Dimensions.

"It was a big deal then," said Ahlo, 52, who is vice president and general manager of The Plaza Hotel and Honolulu Airport Hotel.

"As for the music, I think the timing was right. It was a period of transition. We were changing from the Ventures-type instrumental music to more vocals, becoming the more typical rock 'n' roll group.

"Our music was influenced by the Beatles and other British groups and, of course, Paul Revere & The Raiders."

Members of the Renegades went on to play music in Waikiki, most notably backing up the late Al Lopaka.

"There was a lot happening then with live entertainment in Waikiki," Ahlo said. "Discos is what made it go away. You only need one guy to spin records, so it was a lot cheaper.

"I was talking to Rudy Aquino (formerly of the Aliis), and he says live entertainment on Maui now is where Honolulu was in the late Sixties and Seventies."

---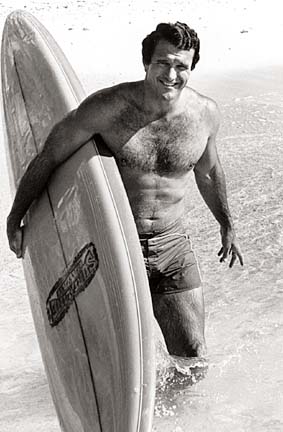 Star-Bulletin file photo
Former world surfing champion Fred Hemmings was at the
forefront of the sport's '60s' surfing explosion.
---
Everybody go surf

Fred Hemmings, 53, was at the forefront of the surfing explosion in the Sixties.

"When I was a young boy, if someone drove by you with surf racks on their car, you either knew them or ran after them to find out who they were," Hemmings said. "Surfing was an insider sport then."

Hemmings, an all-star football center and teammate of Charley Wedemeyer at Punahou School, won numerous local and international titles, including the World Surfing Championship in 1968.

"Surfing is Hawaii's gift to the world," he said. "I think the convergence of many things made surfing explode.

"The essence of the sport is independence, and it is an individual and expressive sport. Combined with the (surf) music and the new mobility of having lighter and more durable boards, it became popular with the baby boomers."

"The Sixties, in my opinion, was a time of cultural revolution in America and certainly Hawaii. Surfing now has an identity that reaches beyond the shoreline and waves. It's become a lifestyle."

Other stories:

25-cent plate lunch

Paul Endo, 55, a banker from Kauai who was raised in Kalihi, enjoyed going to downtown Honolulu on Saturdays.

"The 25-cent spaghetti plate at Kress Store was my favorite thing to eat," Endo said. "They gave you a plate of spaghetti and slice of bread with butter.

"I was about 10 or 11 years old then. Every Saturday we would go to the old Hawaii Theatre to see a movie."

The fishing was easy

Roy Shimonishi, 59, owner of Hungry Lion Coffee Shop, is from Hanapepe, Kauai.

"There was no TV until I was in high school," he said. "So we did other things -- school activities, play sports, swim and fish.

"I remember hundreds of people fishing at Port Allen when the aweoweo (bigeyes) came in. The sea would be red (the color of the fish). All you had to do was throw in the hook and a fish would come up.

"And the Hanapepe River used to have big Samoan crabs, but no more. All those things are gone now."

When Hawaii Kai wasn't there

Abraham Hall, 54, a truck driver from Pauoa, recalls his childhood days in Kuliouou before the development of Hawaii Kai.

"There used to be a big fishpond, right where Hawaii Kai stay now," Hall said. "Where the two bridges (on Kalanianaole Highway adjacent to Maunalua Bay) stay is where the stream from the fishpond came out.

"When there was heavy rain and the fishpond overflowed, the water came over the (old) bridge and on the road. The mullet was everywhere. You just had to pick 'em up.

"When I tell my nephews and nieces about the fishpond, they no can comprehend. All they can see is Hawaii Kai."

You couldn't beat Honda Delicatessen's cone sushi

Cissy Santos, 56, a bill collector, misses the mom-and-pop saimin and plate lunch places in old Palama and Aiea Heights. "You couldn't beat the homemade hamburger steak and curry plates and the saimin," she said. "And Honda Delicatessen (which used to be at the corner of Liliha and Kuakini streets) had the best cone sushi and gobo.

"Now everything is fast foods."

Things that make a family close

Aiea resident Marie (Corpuz) Horikawa, 50, treasures the memories of weekly family picnics at Lydgate Park on Kauai.

"It was nothing fancy -- just mom, dad and the three kids hanging out," Horikawa said. "And no fast food, everything was made at home.

"It made our family close and I always felt safe. I tried to carry on with my own kids. We did family outings when they were little. They're into sports and doing their own thing now."

---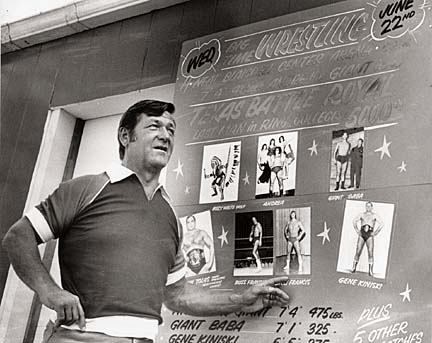 Star-Bulletin file photo
Promoter Ed Francis helped make "Live Big Time Wrestling"
the most popular local television program in the '60s and '70s.
---
Wrestling at the Civic
put fans 'close to
the action'

A popular local TV show also took
matches into isle homes
every Saturday

By Rod Ohira
Star-Bulletin

A generation of Hawaii television viewers in the Sixties and Seventies spent Saturday afternoons watching "Live Big Time Wrestling."

Promoter Ed Francis and Lord "Tallyho" Blears helped make the program the highest rated locally-produced television show in Hawaii.

"There was entertainment value beyond just watching it," said John Alejado, 48, of Pearl City. "Afterwards, we'd go outside and try out some of the moves and get into role playing, imitating the voices."

Curtis "The Bull" Iaukea, "Handsome" Johnny Barend, Leroy "Ripper" Collins, Chief Billy White Wolf, "Gentleman" Jim Hady and "The Missing Link" Pampero Firpo were the promotion's wrestling stars.

Scott Werkmeister, 40, of Kaimuki became a wrestling fan when he was 5 years old.

Werkmeister never missed the 3:30 p.m. Saturday and 10:30 p.m. Friday TV wrestling programs, and attended matches at the old Civic Auditorium on King Street with his grandmother, Matsuko Takesue.

When the Civic was torn down, matches were staged at the Blaisdell Arena.

"The old Civic was 100 times better than Blaisdell," Werkmeister said. "Even if you were in the highest seat, you felt close to the action.

"You couldn't see blood on black-and-white TV. I was in the fourth grade the first time I saw a wrestler bleed. It was a chain match between Billy White Wolf and Curtis Iaukea. I went, wow, this has to be real."

Barend was Alejado's favorite character during the often outrageous television locker room interview segments.

"He wore sunglasses and was, in a sense, an enigma," Alejado said. "He'd really get into his roles.

"Curtis' big splash and the Masked Executioner's claw hold were the best (finishing holds)."

Alejado was strictly a TV wrestling fan, but Werkmeister enjoyed TV and Wednesday cards.

"If they didn't do the TV, I don't think they would have had the big crowds at the Civic," said Werkmeister, who estimates between 2,000 and 3,000 people regularly attended weekly Wednesday night matches at the Civic.

Other stories:

Honesty on the HRT

Mary-Ellen Farias, 41, spent her childhood in Kakaako.

"Remember the old green HRT (Honolulu Rapid Transit) buses? It used to cost (students) 10 cents to ride. The buses had no air conditioning and to open and close the windows you had to push hard up or down.

"One thing about HRT. If you forgot your slippers on the bus, they would still be there the next day when you caught the same bus."

Drive-in movie days

Joella (Takahashi) Hirano, 45, of Pearl City remembers feeling carefree and secure growing up in Haliimaile, Maui.

"My fondest memory was going to the drive-in theater. It was where Maui Community College is now.

"My husband and I used to take our kids to the old Kam Drive-In so they would know what it was like, too."

Mochi and family bonding

Vernon Nishimura, 44, of Mililani was raised in Waianae.

"My family always pounded mochi for New Year and our generation was supposed to take over," Nishimura said. "But it fell down. Fortunately, my wife's side of the family in Haleiwa still pounds.

"To me, pounding mochi is a bonding for families."

Misses the towering pineapple

Karen (Akazawa) Nakashima, 41, of Waikele grew up in Moiliili.

"When my sister and I came home from school, my mother was home because she didn't work," said Nakashima, who is a working mother of two children. "It meant a lot to my sister and I.

"I wish I could stay home for my kids, but both parents have to work now to pay bills."

Nakashima says she misses the Dole Cannery tower with the pineapple on top.

"The only time I saw it was when we had to pick up or take someone to the airport."




ABOUT THIS SERIES

The Star-Bulletin interviewed dozens of Hawaii residents, ages 9 to 106, to gather memories about living in the islands. We share their recollections -- a capsule view of life in Hawaii this century. Today: Memories from residents in their 40s and 50s, reflecting on life here during the 1950s and 1960s.



E-mail to City Desk
---
---
© 1999 Honolulu Star-Bulletin
https://archives.starbulletin.com