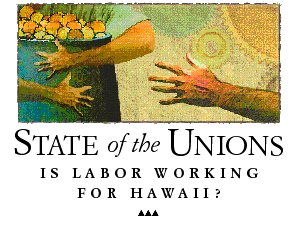 Monday, October 12, 1998
---
To our readers

Series explores tangled web

Many blame powerful labor unions -- particularly those representing public employees -- for Hawaii's budget deficits, poor business environment and weak economy. One national magazine disdainfully refers to us as "the People's Republic of Hawaii."

All parties have their own spin:

Business advocates claim performance-based compensation and tougher administration of public employee union contracts by state managers are critical for government to operate effectively in changing times. They complain that elected officials are afraid to tangle with politically potent unions, stalling essential reform.

Government managers complain that their hands are tied by a complex web of civil service law and one-sided collective bargaining agreements that require union consent for the most minor changes in working conditions.

Union leaders say they're only doing their job of getting the best possible deal for their members. They blame weak state and county administrators for problems in the system.

This week, the Star-Bulletin dissects the issue from all sides to answer the question: Is labor working for Hawaii?

Our series will generate controversy and debate. We look forward to hearing from you. To comment, call our hotline at 545-5867, fax us at 523-8509 or e-mail us at editor@starbulletin.com.

---




Illustrations by David Swann, Star-Bulletin

---

IN TODAY'S PAPER AND
WHAT'S COMING UP
OCT. 12, 1998

Whether compared to employees from the private sector or mainland governments, Hawaii's state and county workers enjoy some of the most generous benefits in the country. Despite the state's eight-year economic slump, those benefits have remained practically untouchable.

OCT. 13, 1998

Hawaii's labor-dominated bureaucratic system values seniority over productivity, job security over job well done. Efforts to get government to work more efficiently often run smack into a mass of rules and regulations.

OCT. 14, 1998

In the face of well-organized labor, local governments can be disorganized and ineffective in essential management functions, such as disciplining errant workers and negotiating contracts. It all begs the question: Who's in charge here?

OCT. 15, 1998

The influence of public employee unions reaches into virtually all aspects of state and county government in Hawaii and even into the judiciary. Significant change rarely happens in Hawaii unless the two leading unions sign off. Does this impede needed reform?
E-mail the Editor
---
---
© 1998 Honolulu Star-Bulletin
https://archives.starbulletin.com