---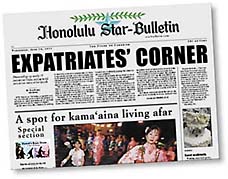 Expatriates' Corner
Voices from across the sea
(New reader submissions added frequently)
---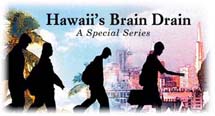 Jan. 24, 2000


State of the State Address
Gov. Cayetano wants expats home
Jun. 1, 1999


Isle returnees bucking trend


Population undergoing transformation
Apr. 16, 1999


Brain Drain has many casualties
Apr. 15, 1999


Stay or go? Brain Drain feedback
Apr. 5, 1999


'Millennium work force' could plug brain drain
Apr. 3, 1999


Expatriates see Hawaii's big picture
Apr. 2, 1999


Web site combats Hawaii 'brain drain'
Mar. 26, 1999


Staying often means sacrifice
Mar. 25, 1999


Homesick islanders build networks
Mar. 24, 1999


Isles lose many of the 'best and brightest'
---

Send feedback on 'Hawaii's Brain Drain'
Please include name, address and phone
number for verification purposes
---
Related Web sites:

MIT Hawaii Club and symposium info



Star-Bulletin Employment Classifieds
Los Angeles Pau Hana
Orange County Pau Hana
Bay Area Pau Hana
Chamber of Commerce of Hawaii in California

---

This page maintained by
webmaster@starbulletin.com


---

Return to starbulletin.com
The online edition of the Honolulu Star-Bulletin is published daily,
Monday through Saturday, with a focus on news of Hawaii.
See todays edition at https://archives.starbulletin.com
---
Contents © copyright 1999 by the Honolulu Star-Bulletin.
All rights reserved.