---
Friday, March 26, 1999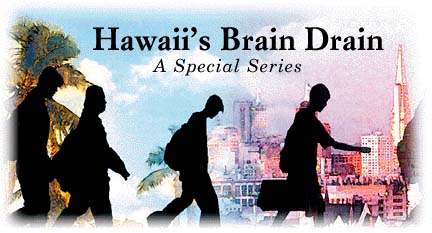 Staying often
means sacrifice


The choice to leave or stay
in Hawaii pits career vs. family,
money vs. love of the land

By Lavonne Leong
Special to the Star-Bulletin

Deciding whether to stay here or leave to pursue better job and educational opportunities on the mainland often comes down to how you define quality of life.

"Quality of life, at least for the people who stay in Hawaii, means family, cultural values, community," said Kippen Chu, who came home after receiving a degree in International Business from the American University of Paris.

"For other people who move to the mainland," Chu said, "quality of life means a big house, a two-car garage with two cars in it."

Chu said Hawaii's young people have grown up "with a very privileged lifestyle" and need a reason to stay home in a sour economy.




Calling
Hawaii
expatriates

Are you from Hawaii, but living somewhere else? Email us at braindrain@starbulletin.com to tell us your views on why you moved away, what might lead you to return and what Hawaii can do to retain its 'best and brightest.'
We'll present a digest of your responses in a later edition.





One reason he sees is to create an environment of true entrepreneurship that means making opportunities rather than waiting for them to come to you. "Industries come because somebody - an innovator, a pioneer - thought of something and said, 'I'm going to do it.' I don't know why there's such a lack of that now."

Nicholas Ordway, a professor at the University of Hawaii School of Business Administration, offered an answer:"Unfortunately, the loud-mouthed innovator who is so essential to change often is not encouraged to stay here."

But some of Hawaii's best and brightest are prepared to pay the paradise tax.

Melissa Kanemasu, a senior at MIT, has seen the lonely side of mainland life.

"I lived in California for 10 years and we didn't have very much family around us," said Kanemasu, "For my parents, I think, taking care of us was harder. But here (in Hawaii) there is always somebody."

These students are making plans to move back, fully aware of the sacrifices involved. Although their talent could mean employment anywhere, they are willing to earn less, to live in smaller houses, even to postpone marriage, buying a house and having children - all to return home.

Chemical Engineering major Scott Lew figured that with the cost of living combined with lower-paying jobs in Hawaii, he will have to take a 50 percent pay cut to live here. But he'll do it. Why? "I grew up in Hawaii," the MIT student said. "I love it."

Kanemasu, a mathematics major, plans to start her career on the mainland, but won't put down too many roots there. "I would hold off settling down if I saw an opportunity to move back here."

Feels a responsibility

Rosie Alegado, a biology major at MIT, is adamant that anyone she married would have to want to live in Hawaii. Alegado feels a responsibility toward her home: "Although it's my own life, I really care what my family thinks.

"It's kind of like, "We sent you off to college. We invested in you. You should come back and invest in Hawaii, and try and change it. Don't just give up because there aren't opportunities.' "

Scott Lew said the dilemma is worst for graduates of technical schools such as MIT. "High-tech jobs are hard to come by in Hawaii's tourism-based economy."

Kanemasu said events like the yearly symposia for Hawaii's students on the East Coast, begun in 1995, draw Hawaii students home by keeping them plugged in to the difficult issues affecting the state. Past symposia have focused on sovereignty and the brain drain.

"I think the symposia make people think about issues they wouldn't normally think about," she said. "It opens your eyes to different opportunities, ways to get back to Hawaii, what's going on there."

This year's symposium focuses on diversifying Hawaii's economy.

Some of Hawaii's students are so determined to return home that they choose majors, and ultimately careers, they think will fit in with the state's economy.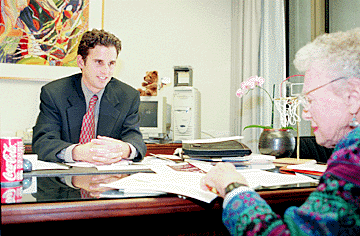 By Kathryn Bender, Star-Bulletin
UH politics professor Ira Rohter praises state Rep. Brian Schatz,
above, as one of those who stay in Hawaii though
better pay and jobs exist elsewhere.
---
UH associate professor of political science Ira Rohter warned that this type of sacrifice may be the most harmful brain drain of all: "The brain drain isn't only about people leaving. It isn't as though every smart person wants to leave. But people who stay are turning down their passion. They will take a lesser job to stay. They aren't participating in moving the society forward."

Alegado agreed. "When you're choosing your (college) major based not on what you enjoy or what you're good at but what will get you back home (that) isn't really conducive to helping Hawaii," she said. "That's not diversifying Hawaii, it's making it more narrow. And the narrower we get, the less doors are open."

Hawaii transplants on the mainland stress that they are a skilled work force for Hawaii to tap into - but that they want to feel that their efforts will be welcomed.

"Hawaii's leaders should explicitly recognize (the brain drain) and ask students and workers on the mainland what prevents them from returning to Hawaii, and taking action," said David Hijirida, now a strategic management consultant in New York. "There are a lot of smart people with tremendous talent who are willing to return to Hawaii provided they find a stimulating environment."

Scott Lew, a senior at MIT, has high hopes for his own future in Hawaii, but stressed the long road ahead.

"If Hawaii is to have any sort of future," said Lew, "it would require people to come back and try to forward the economy in a direction other than tourism. Once it gets going, once you have your initial companies and start building them up, you'll find lots of people who do want to come back and who will help Hawaii."

Vanguard of the future

Ira Rohter singled out Brian Schatz, at 26 one of Hawaii's youngest state representatives, as the vanguard of just such a future.

"Brian made a conscious decision to come back to Hawaii, despite being advised by many people not to," said Rohter. "There are a number of people like (Schatz) who have decided to stick with Hawaii, bear the burden of economic struggle, often working in jobs which are way below what they're capable of."

Schatz offered his own encouragement. "We need more young people who are creating opportunities - businesses and community organizations and projects that are interesting and that create value. It's good for the state, but it's also the best and most inspiring way to be a professional."

Many of Hawaii's leading lights have also been America's. Lois-Ann Yamanaka has put Hawaii on the literary map for her Hawaii-based books, written in pidgin. Yamanaka, who spent the last semester as a visiting writer for UH-Manoa, is delighted that her students are so eager to explore their own literary territory.

"The students are actually in a good place," said Yamanaka. "We always felt that the shores that surrounded our islands limited us. We felt that people would not receive us outside of our own region. But from where (the students) are at now, there are so many possibilities, and so many reasons to do things in pidgin."

Actor commutes from Hawaii

Actor Jason Scott Lee is another successful Hawaii resident who chooses to stay, commuting to the mainland when duty calls.

"I don't think (living in Hawaii) has limited my career," said the longtime Pearl City resident, who agrees that Hawaii may be on the verge of a cultural renaissance.

A revitalized Hawaii, said Randall Roth, UH professor of law, will require "a lot of us to stick our heads out of our foxholes. Leadership is not easily found in a 'go along to get along' environment like ours."

Brian Schatz also issues a challenge to Hawaii's younger generation to lead: "This city is whatever this generation chooses to make it. If we choose to vacate - then that's what's going to happen. If we choose to stay and create the future we want, that's our prerogative too. You can't improve the situation in Hawaii from San Francisco."

---

Can hi-tech help Hawaii?

The Internet and improved telecommunications are revolutionizing the way the world does business. Will they help Hawaii's economy?

It will take more than that, said Nicholas Ordway, of UH's School of Business Administration, but technology will help.

"Distance is not as important as it used to be, so it's a cop-out to say that just because we're isolated geographically, we shouldn't prosper," Ordway said. "We can prosper, but to do that we have to harness business education and government toward the goal of making innovation part of our culture and part of our lifestyle."

Eleanor Len of UH Career Services said ease of communication can push people farther away. "With the Internet, e-mail, and telephones, it's so much cheaper to communicate. It's not like the umbilical cord is so stretched."

The state would have to make some changes to be as technology-friendly as it envisions itself, added Len. "The convention center is empty. Nobody wants to come because the infrastructure isn't there. Hawaii hotels don't have the technology that business people need."

However, the Internet may be one way of linking mainland islanders waiting in the wings for Hawaii jobs that will challenge them, and companies that are looking for skilled or specialist Hawaii workers.

"I've noticed surfing the Web that there's a Technology Development Council in Hawaii, but right now it's still in the early stages," said Scott Lew, an MIT student. "When I left for college four years ago, because I hadn't heard of any of these companies, I thought there weren't any jobs for me."

- Lavonne Leong




How to reduce the brain drain

Thomas Wong, 46, senior financial manager, Stanford University: "How about creating a state tax-free enterprise zone that would encourage risk-taking? This would also require a 'right-to-work' employment structure that isn't hampered by labor union restrictions. There would be short-term displacement of some workers and economic segments, with the expectation that the brain drain would be reversed and a new economy would start to develop."

David Hijirida, 26, international strategic management consultant: "Hawaii should develop a strategic approach to wean itself off tourism and develop environmentally friendly industries. In this age of telecommunications, geography and distance matter less and less for the exchange of information. There is no reason why Hawaii could not become a mecca of software development, for example."

Nicholas Ordway, professor of Financial Economics and Institutions, UH-Manoa: "We need to create an environment that encourages innovation and entrepreneurship. One of the culprits in not creating that kind of change is the university. The College of Business is around 1,200 students. On the mainland, a college of this size would have more like 10,000 students. The university doesn't promote business. Almost none of the people we train, except at the MBA level, are given entrepreneurial training. We could be part of the solution, but we aren't yet."



E-mail to City Desk
---
---
© 1999 Honolulu Star-Bulletin
https://archives.starbulletin.com