Obama's rental home in Kailua is legal, city says
»
Visit with grandpa short but sweet
Kailua has been at the center of a constant, bitter community debate over vacation rentals. Some homeowners say they constitute a legitimate business contributing to Honolulu's tourism. Others say too many people are cashing in by illegally renting their homes.
Obama sightings
Have you gotten a photo or video of Sen. Obama while he is out and about during his vacation? Share it with our newspaper and online readers by sending it to obamaphoto@starbulletin.com.
So when U.S. Sen. Barack Obama moved into a Kailua beachfront rental last week for a vacation with family and friends, the first thought for many was excitement. The second was whether the presumptive Democratic presidential nominee would get swept into Honolulu's long-standing debate over illegal vacation units.
As it turns out, Obama's beachfront rental is legal, according to the city.
Obama's rental is "a typical, albeit luxurious, single-family home in a residential zoning district," said David Tanoue, deputy director for the city Department of Planning and Permitting, which oversees rental units.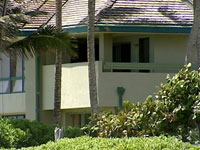 Barack rented a Kailua beachfront house from a couple that donated money to his campaign and the democratic party but the Obama campaign says that it's a coincidence.
"This particular residence has never been cited by the DPP for illegal transient vacation unit rentals," Tanoue said.
According to Obama's campaign, the Hawaii-born senator paid for the 10-bedroom, 1-acre compound using his personal funds at "market" value to rent the home for a week for his family and friends. The property is valued at $8 million.
The campaign declined to provide the amount Obama paid, though rentals of that size in that area could go for thousands of dollars a night.
The owner of Obama's weeklong rental is a California investor, Jill Higgins, who has contributed nearly $30,000 to political parties and the Democratic National Committee since 2000. Higgins contributed $2,300 to Obama's campaign since last year, federal campaign records show.
But campaign officials say Obama did not know Higgins and booked the rental through a Hawaii-based rental company.
Higgins, a general partner of Lakeside Enterprises, a private investment company based in Burbank, Calif., could not be reached for comment this week. She is listed on the board of trustees on the Natural Resources Defense Council, a environmental action organization, along with actors Leonardo DiCaprio and Robert Redford.
The city has not determined a way to solve the issue of vacation rentals and bed-and-breakfasts operating illegally. Homeowners can rent their units to people only once a month unless they have a "nonconforming use certificate" by the city that allows them to rent out their homes under an old law.
Earlier this year, the City Council was considering several measures that would allow additional permitting of bed-and-breakfasts and tightening regulations of vacation rentals. That was met with much public outcry.
"It's difficult to enforce," Tanoue said. "People are on vacation. It's hard to catch them in the day because they're usually at the beach. We've been successful and unsuccessful at enforcing the law."