Obama comes home
Visit with grandpa short but sweet
Shave ice follows golf and a stop at the Pali
»
Obama's rental home in Kailua is legal, city says
STORY SUMMARY »
Shave ice after a visit to the Pali Lookout sounds like typical tourist fare. And that is just what occupied Barack Obama yesterday afternoon as he continued his isle vacation.
The presumptive Democratic presidential nominee also took in 18 holes of golf at Luana Hills Country Club and visited the grave of his grandfather at Punchbowl.
Obama was part of a group of 20, including 12 children, when he descended on Island Snow Hawaii in Kailua. He urged the kids to get the keiki-size shave ice.
"It is right before dinner," he said. "I don't want to get in trouble."
Daughter Malia, noticing that the keiki size was recommended for kids 8 and under, informed him, "I'm 10, Daddy."
For his part, Obama went for "guava orange, Lanikai lime and choo-choo cherry."
---
FULL STORY »
On Oahu on vacation, U.S. Sen. Barack Obama visited the grave site of his maternal grandfather yesterday after a long round of golf.
Obama sightings
Have you gotten a photo or video of Sen. Obama while he is out and about during his vacation? Share it with our newspaper and online readers by sending it to obamaphoto@starbulletin.com.
Obama, traveling with an entourage of family and friends numbering about 20 total, including 12 children, also took time to visit the Pali Lookout and get shave ice. The entourage did not include his wife, Michelle.
After a nearly seven-hour round of golf earlier in the day, Obama left his Kailua rental house around 3:30 p.m. en route to the National Memorial Cemetery of the Pacific at Punchbowl, where his grandfather Stanley Dunham, a World War II veteran, is buried.
Obama credits the Dunhams with raising him as a youth in Honolulu. He still returns to visit his grandmother Madelyn Dunham, who is 85 and lives in the same apartment in the Punahou area near downtown.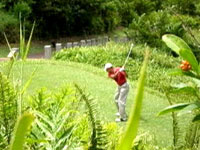 Obama and friends enjoyed the golf course at Luana Hills for nearly 7 hours which made some Luana Hills employees happy.
The motorcade arrived at the cemetery around 4 p.m.
"Let's go see your great-grandpa," Obama told his daughters, Malia, 10, and Sasha, 7, before they set out for the grave site. Obama carried a flower lei and was joined by his brother-in-law, Conrad Ng, and one of his nieces at the grave site, which was out of view from the pool media. Conrad Ng is married to Obama's half sister, Maya Soetoro-Ng. They live in Honolulu.
They spent about five minutes at the site, then the entire group visited the Honolulu Memorial monument at the cemetery.
The motorcade left the cemetery at about 4:45 p.m. and headed back toward the Windward side of the island.
On the way, the group stopped at the Pali Lookout, where surprised tourists gathered to snap photos and tried to get a glimpse of the presumptive presidential nominee.
"Nice to see you," he told one group that yelled encouragement.
The motorcade left the lookout at 4:50 p.m. and headed to Kailua.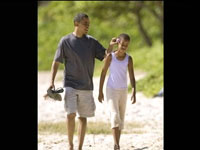 ABC commentator Cokie Roberts says that Hawaii looks too foreign of a location for Barack to be vacationing and some lawmakers think he should be campaigning to get Hawaii votes.
"Who wants to get shave ice?" Obama asked to the delight of the children.
At Island Snow Hawaii in Kailua Beach Center, the senator kept calm as he attempted to take shave ice orders for 12 children.
"You guys know what you want?" Obama asked as the children screamed back at him.
He urged them to get the keiki serving. "It is right before dinner," he said. "I don't want to get in trouble."
Daughter Malia, noticing that the keiki size was recommended for kids 8 and under, informed him, "I'm 10, Daddy."
After finishing the ordering for the group, Obama asked for a cone with "guava orange, Lanikai lime and choo-choo cherry."
Obama entered the store when there was no line, but as word spread of his appearance, a crowd of about 50 people gathered, snapping pictures with digital cameras and cell phones and giving him a round of applause as he exited.
Obama and his wife Michelle had dinner at the Indigo Eurasian Cuisine restaurant in downtown Honolulu last night with friends and family that included his sister Maya Soetoro-Ng and her husband Conrad Ng.
Yesterday morning, Obama played golf at Luana Hills Country Club, a privately owned course in Maunawili on the Windward side. It was the second round of golf for Obama, who arrived in Hawaii on Friday for a weeklong vacation. Obama played 18 holes Saturday at Olomana.
His playing partners yesterday included longtime friends Marty Nesbitt and Eric Whitaker, who have been with him throughout his vacation.
A crowd of about a dozen people gathered at the 18th hole as Obama finished his round. The group completed the 6,000-yard course in six hours and 45 minutes.
This morning Obama went to Hanauma Bay with his daughters.