Most Oahu commuters go it alone, poll indicates
Since she was a student at the University of Hawaii at Manoa, Christine Chaplain has used forms of transportation other than her car to get where she needs to go.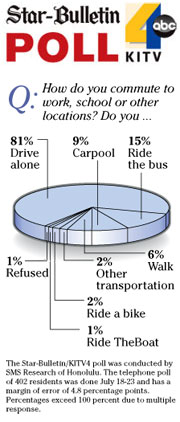 That routine has not changed in the two years that she has been working downtown as a cartographer and urban planner.
"I enjoy riding my bike," says Chaplain, 30, who lives in Palolo Valley. "It's faster than driving or the bus."
The same is true for Audrey Barker, 31, who has been commuting by bike from Waikiki to downtown for about five years.
"I love it," she says. "I ride through Ala Moana Beach Park, and it's relaxing and fun."
Chaplain and Barker are in the minority.
A new poll conducted for the Star-Bulletin and KITV shows the majority of Honolulu residents still commute in cars, and usually alone.
When asked, "How do you commute to work, school or other locations?" 81 percent of those surveyed said they drive alone.
While figures show ridership on TheBus has increased in recent months, especially as the cost of gasoline has risen into record territory, only 15 percent of those polled said they commute by bus.
Nine percent said they carpooled, while 6 percent were walkers, 2 percent biked and 1 percent said they took TheBoat.
Some respondents said they took more than a single mode of transportation -- such as a combination of driving and taking the bus -- while the rest said they took another form of transportation or refused to answer the question.
The telephone poll of 402 residents was conducted July 18 to Wednesday by SMS Research of Honolulu and has a margin of error of 4.8 percentage points.
Eric Williamson of Kapolei, who commutes alone to work, said he "would definitely use rail. I look forward to it. It's a great idea," he said.
Earl Johnson, a Salt Lake resident who commutes to town, also looks forward to a rail system. "Yeah, of course I would use it. It's definitely gonna save (gas) money ... but it's not gonna be done until 2017. A lot of people are gonna be dead before then."
Many who have already gotten out of their cars say they have enjoyed the switch.
Michele Harman, a UH-Manoa research assistant and student who also works as a server at Eastside Grill, typically walks or bikes to get back and forth from her Makiki apartment.
"When I'm walking or riding, I'm less stressed," says Harman, 35. "I have time to think about my day or whatever, rather than constantly watching traffic lights, crazy drivers, et cetera.
"It's somewhat meditational. Plus, I spend very little on gas."
Bill Waring, who works at a downtown architecture firm, got out of his car seven months ago. Now he walks to work. He and his family moved downtown, closer to work and Hawaii Pacific University, where he is pursuing a master's degree.
"We are a two-car family considering going down to one," says Waring, 51.
Melissa Iwamoto, a state worker who commutes from Makiki to downtown, has been riding her bike to work for about five months now.
Aside from helping the environment, she also has shaved a half-hour from the time it used to take riding the bus.
"It is quick and a great way to wake up in the morning," she says, "and I always get at least a little exercise into my day."
Star-Bulletin reporter Bali Fergusson contributed to this report.