STAR-BULLETIN/KITV4 RAIL TRANSIT POLL
Majority backs mayor on transit
Men and those living in Mufi Hannemann's Aiea-Pearl City district offer the most support
STORY SUMMARY » | READ THE FULL STORY
Mayor Mufi Hannemann receives good marks for his handling of the city's transit plans, according to a new poll.
Tonight on KITV4 News
» At 5 p.m.: Which of the proposed solutions to Oahu's traffic problems has the most support?

» At 6 p.m.: Is the current proposed route for the rail system the best one?
The survey, taken for the Honolulu Star-Bulletin and KITV by SMS Research, shows that 60 percent of the residents on Oahu approve of Hannemann's performance in guiding the transit plan.
The poll, which has a margin of error of 4.8 percentage points, shows that Hannemann's performance rates excellent or good with 35 percent of Oahu and fair or average with another 27 percent of the residents. The survey was taken of both voters and those not registered to vote.
Hannemann's transit approval rating also does not appear to be determined by location, as those along the transit route and those away from the route both approve of his performance.
RICHARD BORRECA
FULL STORY »
Most Oahu residents approve of how Mayor Mufi Hannemann is conducting the city's planned $4 billion rail transit system.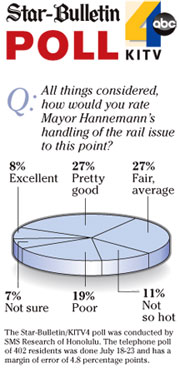 A Star-Bulletin/KITV poll shows that 35 percent of those surveyed give Hannemann high marks, and another 27 percent say he has been doing fair or average.
In comparison, 30 percent rate his performance as either "not so hot" or poor.
The system has been controversial because it included a 12.5 percent increase in the general excise tax for Oahu residents, going to 4.5 percent from 4 percent.
Also, there have been disagreements about the technology to use and the route.
The survey was taken by SMS Research of 402 Oahu residents from July 18 to Wednesday. It has a margin of error of plus or minus 4.8 percentage points.
Hannemann's strongest support comes from men. When asked to rate his handling of the rail transit issue so far, 11 percent of men rated his performance as excellent, compared with 6 percent of women who shared that opinion. People who said they were Hawaiian or part Hawaiian and those older than 55 also rated Hannemann highly.
The strongest areas of support for Hannemann's handling of the rail issue are in the Aiea-Pearl City area, a neighborhood that Hannemann represented when he was on the City Council and one of the areas plagued with some of the worst traffic tie-ups.
Hannemann said he "likes the numbers."
"It is hovering along a 60 percent approval rating. ... There are always 20 percent who don't approve of what I am doing, but that's fine.
"A leader has to make decisions, and when you make decisions, some people like it and some don't," Hannemann said Friday during an interview in his office.
City Councilman Ann Kobayashi, who announced last week that she will run against Hannemann this year, said the mayor's leadership style will be an issue in the campaign, more than just his rating on transit.
"It comes down to his leadership style compared to mine. I'm for working to bring people together," Kobayashi said.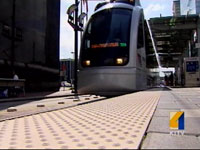 A new KITV-Honolulu Star Bulletin poll shows more than twice as many Oahu residents support building a rail transit system.
Hannemann argues that it is not an effective campaign to use the transit question against him because the more voters understand the plan, the more converts he will win.
As reported yesterday, the Star-Bulletin/KITV poll found that 60 percent of the respondents wanted the city to continue with its rail development plan, while 24 percent wanted it stopped, and the remainder either were not sure or refused to answer.
"I am finding more people from East Honolulu and from the Windward side (two areas that have not strongly supported rail) who are starting to get behind rail," Hannemann said. "They are seeing that this is about the entire island eventually being connected."
Another Hannemann mayoral opponent and a critic of his rail plans, University of Hawaii civil engineering professor Panos Prevedouros, said the poll results show the "incumbent's dwindling popularity."
"Only 35 percent thought he's doing a pretty good-to-excellent job at it.
"Given that the rail's installation budget is roughly three times that of the city's entire annual budget ... I believe my decision to run was necessary ... and will lead me to victory," Prevedouros said.