3- to 4-ton boulder smashes home
Nobody injured as Palolo home is hit by big rock for second time in three years
STORY SUMMARY »
A 3- to 4-ton boulder crashed through a back bedroom of a home on 10th Avenue in Palolo yesterday afternoon while residents were in another part of the house, a Honolulu Fire Department spokesman said.
It is the second time a boulder has hit the home at 2035-A 10th Ave. Another boulder, estimated at 400 to 500 pounds, hit two bedrooms of the home in March 2005.
Police cordoned off about a dozen homes yesterday on 10th Avenue with yellow tape and warned residents other boulders could come down and that if they chose to remain, they would be staying there at their own risk.
---
FULL STORY »
Police cordoned off about a dozen homes and apartments on 10th Avenue in Palolo last night after a 3- to 4-ton boulder smashed through the back wall of a bedroom of a home -- for the second time in three years.
Police told residents other boulders could come down and warned them that if they decided to stay, it would be at their own risk.
Neighbors said the home at 2035-A 10th Ave. is rented by college students, and at least two people were home at 5 p.m., when the boulder came down. No one was in the room, and there were no injuries. The students were not home at about 7 last night.
"We were in the house sleeping, and I just heard this big boom and then I heard glass breaking," said Tavia Gould, who lives just below the house that the boulder hit. There are four wooden homes on the property, which has a common driveway.
On March 7, 2005, a 400- to 500-pound boulder went through two bedrooms of the same four-bedroom home and came to rest in a closet. Two roommates were home at the time but were not in the bedrooms.
Gould said she and her husband were still planning on spending the night at their rented home, despite the police warnings and the yellow police tape across their driveway.
"It's just scary," she said, "but I don't know how they can stop it. It's just nature."
Jacob Lee, who has lived in the home next door to the property since 1946, said he and his wife were also staying put overnight.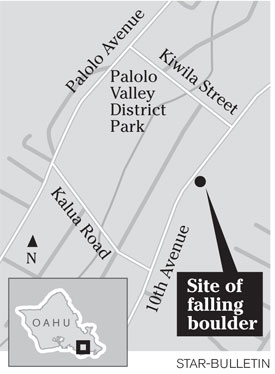 "The police said I have a choice. They suggested I leave, but I said, 'No, I'm going to stay,'" Lee said.
Rocks have come down occasionally from the hills above his eastern Palolo Valley home, Lee said, adding that there is still a large boulder in his back yard from a previous incident.
"If it's going to happen, it's going to happen," Lee said.
But next-door neighbor Dario Vielma is taking no chances. He returned home at about 7:30 p.m. and said he was getting a tent from his house and going camping last night with his wife, Gail, and mother-in-law.
He was not sure what he would do tonight. "We'll take it one day at a time, I guess."
Honolulu Fire Department spokesman Capt. Earle Kealoha said a private landowner owns the land above the homes where the boulder likely came from. He said since it is private land, the landowner is responsible for the boulder, and there is not much more the city can do.
Shattered glass louvers and two gaping holes in the bedroom were visible from the back of the house last night. The boulder, about 4 feet in diameter, went through the floor next to a bed and came to rest under the house, which is on posts.
Above the home, it appeared that the boulder knocked down a small tree, and another loose rock was apparently being held up by the base of the tree.