Repair shops can relax
It's a good thing Dino Botelho's tire shop doesn't rely on drivers going over potholes to stay open.
Last week, he would have had one customer.
Pothole Problems
» To report a pothole:
State highways: 536-7852 (PUKA)
City streets: 768-7777

» To file a claim for damage:
State: 831-6714
City: 523-4115
Upcoming Projects
State repaving projects scheduled for the rest of 2007
» H-1 freeway airport viaduct
» H-2 freeway Mililani and Ka Uka interchanges
» Ala Moana Boulevard
» Likelike Highway (Kaneohe* side of Wilson Tunnels)
A year after heavy rain dotted Oahu roads with cavernous potholes, car repair companies say the stream of angry drivers coming in for alignment, sliced tires and busted rims has slowed.
"I had one that come in today, which is the first one I've seen in a while. There are still some out there. It's just not as bad as it used to be," Botelho, owner of D.J.'s Tire Service and Repair Inc. in Waipahu, said Wednesday. "But it doesn't affect us because we are so busy with everything else."
City and state officials say dry weather helped them fill more potholes since a 43-day deluge of rain between February and April last year turned shallow cracks in the asphalt into dangerous traps.
For example, this past March, just 1.54 inches of rain fell at Aloha Tower, where 16.27 inches were recorded during the same month last year, according to the National Weather Service.
"If you have a crack in the road and no rain, nothing happens," said Larry Leopardi, chief of the city Road Maintenance Division. "Rain makes the material spongy and creates the pothole."
In fiscal year 2005-06, the city spent $210,654 to cover 55,192 potholes, up from 48,406 patches done in the previous year. As of February, with four months left in the current fiscal year, crews had fixed 50,437 potholes at a cost of $161,437, according to the city.
But repaving of city roads was not as aggressive in 2006.
The city spent $25.2 million to resurface 72 lane-miles of roads last year, down from 158 lane-miles in 2005. A lane-mile is the equivalent of a 10-foot-wide lane for a distance of a mile.
The city said repaving halted last year because of a liquid-asphalt shortage caused when Chevron Hawaii suddenly stopped producing the material. Crews could still work on potholes using an instant road repair mix, Leopardi said.
Driving has been smoother for David Fisher, a Hawaii Kai resident who takes his Jeep all over Oahu to clean windows at homes and businesses.
"It definitely is a huge difference since our rains last March," the 43-year-old said while getting some gas. "You gotta dodge them here and there, but it's not that bad."
Repairs for pothole damage have gone down by 30 percent at Lex Brodie's Tire Co., also in Waipahu, said manager Louis Ilac. At Shell in Waialae, business has also dropped, said owner Alan Nakamura. "It is not as bad as before," he said.
Robert Stubbs, vice chairman of the Liliha Neighborhood Board, has avoided damage to his car despite some "big holes" he has seen.
"I was driving through School Street through Kalihi. It's pretty bad there," he said.
And hitting a pothole can be pricey.
Botelho of D.J.'s Tire Service said the customer who came to his shop Wednesday with a cracked rim could pay about $400.
Last year, motorists who hit potholes filed a record 383 claims for reimbursement, costing the city $63,939.96. This year, the city has spent $177 to settle two of 44 claims.
Calls to the state pothole hot line -- which reached as many as 30* a day during the March rain last year -- have gone down to about 10, said Scott Ishikawa, spokesman for the Department of Transportation.
The department, which budgets about $300,000 each year for pothole repair, expects to fill in 30,000 holes this year. The state, however, is focusing on repaving, which Ishikawa said can protect surfaces between seven and 10 years.
"The mistake all these years was waiting until it got so bad that you have to repair everything," he said, noting the DOT has spent a little more than $100 million to repave Oahu roads since 2004.
"It's the equivalent of painting a new coat of water sealant in your patio deck," Ishikawa said, adding, "That's why I think the pothole complaints have gone down. The state went into repaving mode."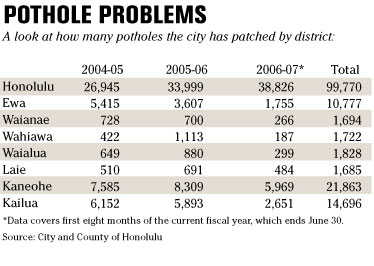 CORRECTION
Tuesday, May 1, 2007
» The state's pothole hot line received as many as 30 calls a day during heavy rain in March of last year. A story on Page A3 in yesterday's morning edition incorrectly said the hot line received as many as 75 calls a day. Also, Likelike Highway on the Kaneohe side of the Wilson Tunnels will be repaved this year. A graphic with the story incorrectly said the lanes on the Kalihi side of the tunnels would be repaved.