A HERO REMEMBERED
Family, friends praise deputy slain in robbery
Daniel Browne-Sanchez dies trying to save others from a gunman
Bail was set at $1 million for John Koa Lorenzo Jr., who was charged late last night with murder in the shooting death of state Deputy Sheriff Daniel Browne-Sanchez.
Lorenzo, 32, had been at the Queen's Medical Center since his initial arrest following the shooting at the Osake Sushi Bar and Lounge on Kapiolani Boulevard just after 3 a.m. Saturday.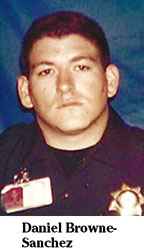 He was released from Queen's at about 11:35 p.m. yesterday and arrested on a warrant charging him with one count of second-degree murder, first-degree robbery, two counts of kidnapping, second-degree attempted murder, first-degree attempted murder and multiple firearm violations, including being a felon in possession of a firearm. Lorenzo has several prior convictions, including five felony drug convictions from the mid-1990s.
Police said Lorenzo shot Browne-Sanchez three times as the deputy sheriff tried to subdue him during a robbery attempt.
The actions of Browne-Sanchez to subdue an armed robber did not surprise his family and friends, who said he would always go out of his way to help and protect others.
"It seemed he was always concerned about other people's safety over himself, and he would do anything to help out somebody and see that they were put out of harm's (way)," said Deputy Sheriff Andre Jackson yesterday during an emotional news conference.
Friends and family members wept as they remembered Browne-Sanchez, 27, a five-year deputy with the state Sheriff Division who had been working part time at the lounge for the past six months as a bar back, assisting bartenders.
"He had many dreams, many aspirations," said his mother, Robina Browne of Hilo, as her friend Linda Deehr held her hand to comfort her. "He wanted to go further."
"He always wanted to help people, wanted to defend people, and he wanted to do more in criminology and perhaps become a federal agent and work in Washington," Browne said.
His slaying is the first involving a deputy sheriff in Hawaii, said Iwalani White, interim director of the Department of Public Safety.
According to a court document, at about 3:10 a.m. Saturday, Lorenzo entered the Osake Sushi Bar at 1700 Kapiolani Blvd. wearing a red ski mask and armed with a semiautomatic handgun and a silencer as employees were closing up.
Lorenzo ordered two cooks into the lounge while holding the gun to the back of the head of one of the cooks, the document said. About eight to 10 people were in the lounge when Lorenzo pointed the gun at them and fired three to four rounds into the roof and wall while ordering them to get down, the document said. One of the people in the lounge said Lorenzo yelled, "I want the money," according to the document.
One employee told police that he was slow in getting down and Lorenzo pointed the gun directly at his head and fired. The shot missed but the employee said he could hear the bullet as it passed his head, according to the document.
Lorenzo fired a shot at the feet of Browne-Sanchez, who then rushed the gunman. Lorenzo then shot Browne-Sanchez in the arm, neck and center chest before Browne-Sanchez tackled him, the document said.
Other employees then jumped on Lorenzo and held him down until police arrived, police said.
Browne-Sanchez was taken to the Queen's Medical Center in critical condition. He underwent hours of surgery before he died at 5:40 p.m. Saturday. The medical examiner's office said he died of a gunshot wound to the chest.
Lorenzo was arrested and taken to Queen's for treatment. Police said he was wearing a bullet-proof vest and that the gun he used was reported stolen in the 1970s.
"The people of the Department of Public Safety are deeply saddened and shocked at the untimely death of one of our own, Deputy Sheriff Daniel Browne-Sanchez," White said.
"Deputy Sanchez was known for his kindness and willingness to help others. He was respected and admired by his colleagues and loved by his many friends and family," she added.
Nearly 100 people arrived at Queen's Saturday to pray, support and, finally, to say goodbye to Browne-Sanchez, White said.
Browne-Sanchez's colleagues described him as one of the youngest, brightest and most fearless deputies with the Sheriff Division.
He received top honors while attending sniper training at the Government Training Institute in Boise, Idaho, for the state sheriff's rapid-reaction force. While in training, he was taught to shoot and move toward gunfire.
"He was the best sniper that we had in the department," said Deputy Sheriff Charles Among.
Both Browne-Sanchez and Among worked at Aloha Airlines as ramp servicemen before they decided to join the sheriff's department. "We were in the same class," Among said, his eyes filled with tears.
"He was always a nice guy, fair guy. Always there to help people out when they're down," said Sgt. Mike DeCenzo, his supervisor.
Colleagues at the news conference wore black bands across their badges in honor of Browne-Sanchez.
Browne-Sanchez was born in Washington and grew up in Central America before moving to Honolulu when he was 10 years old. He graduated from Mid-Pacific Institute and attended UH-Hilo for a few years. He had a gift for music and language, his mother said, adding that he spoke Spanish and a bit of Japanese. In his earlier years he played the tenor saxophone and, later, the electric guitar.
Browne wept as she described how much she will miss listening to her only son talk about his dreams.
"I'll miss him finding fulfillment in a marriage relationship ... those kinds of things that young people have a right to have," she said.
CORRECTION
Tuesday, February 13, 2007
» State Deputy Sheriff Charles Among said of his colleague Daniel Browne-Sanchez, who was gunned down while trying to subdue an armed robber early Saturday, "He was always a nice guy, fair guy, always there to help people out when they're down." The quote was incorrectly attributed to Browne-Sanchez's supervisor Sgt. Mike DeCenzo in a story on Page A1 yesterday.