Ewa students welcome $27M Keoneula campus
It had to be a special occasion when about 500 schoolchildren from Ewa Beach were allowed to have ice cream by 9 a.m. on an instruction day and then promised a side of cake to go with their spaghetti at lunch.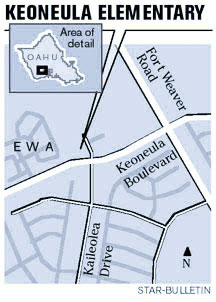 In a short ceremony early yesterday morning, students, faculty and staff from Keoneula Elementary School celebrated the opening of their $27 million campus at 91-970 Kaileolea Drive. Since July the K-6 students from Keoneula had been taking classes at Ewa Beach Elementary while they waited for completion of the 41 classrooms on 12 acres of land off Fort Weaver Road, next to the Ocean Pointe subdivision.
"Don't they smell new?" Mamo Carreira, superintendent for the Campbell-Kapolei-Waianae complex area, asked the students as they gathered at the 400-seat cafeteria for a blessing and ukulele performance from Kupuna Arline Eaton.
"You must promise to be smart students, to do your homework ... and take care of the whole campus," she told the kids, who quietly nodded in agreement.
The campus has an administration building, a student services center and library as well as a separate faculty center for each of the school's three classroom buildings. Each classroom, all of which are air-conditioned, includes 28 student desks, a teacher area and sink. A breakout room is provided between every two classrooms to hold 12 computer stations.
Enrollment at the school, which is designed to hold up to 966 students under a year-round, multitrack schedule, is expected to reach about 600 by fall, said Principal Eileen Hirota. Under the current regular schedule, the school can handle 725 students. Keoneula, or "red sand," has also adopted a looping concept that keeps students with the same teachers for two-year periods.
Developer Haseko Hawaii Inc. donated the land for the campus. The design was done by Architects Hawaii, while Albert C. Kobayashi Inc. was selected as the general contractor.
Haseko had originally set aside six acres for the school, but the Department of Education later asked for double the area, said Haseko's Sharene Sito Tam. The developer also reserved some space for a Seagull School set to open later this month, and 18 acres for a future city district park that should be ready by year's end.
Before Keoneula the last public schools built on Oahu were Nanaikapono Elementary in Nanakuli Valley and Mililani Ike Elementary,* both of which opened in 2004, said Greg Knudsen, spokesman for the department. He said new schools will be needed along the Ewa Plain as long as a housing development continues.
The department is hoping to add a middle school in the Campbell-Kapolei area by 2009. Ewa Makai Middle would have room for 1,050 students in a regular configuration or 1,400 students with a multitrack schedule.
CORRECTION
Tuesday, January 16, 2007
» The state Department of Education opened Mililani 'Ike Elementary School in 2004. A story on Page A1 Saturday incorrectly said the state opened Mililani Mauka Elementary School.