Tsunami watch surges Hawaii fears
An earthquake off Japan leaves the state on alert for three hours before word that no destructive wave is expected
Hawaii was under a tsunami watch for three hours last night after an estimated 8.2-magnitude earthquake struck east of the Kuril Islands off Japan.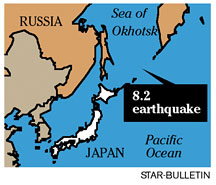 The Pacific Tsunami Warning Center canceled the watch about 9:30 p.m. after determining that even if a tsunami reached Hawaii shores, it would be too small to be significant.
"We don't expect much, maybe waves of a foot or two," said warning center geophysicist Barry Hirshorn. "We don't expect a destructive tsunami. There is no threat of damage in Hawaii."
However, center officials said they were concerned about unusual wave action, currents and tides. They warned that people should remain off the beaches for a few hours after midnight and be aware of ocean conditions.
"In any coastal area people should exercise some caution," said Victor Sardina, a geophysicist at the center. "It's not going to be what we call a damaging effect. But if waves are even a foot high, if you're in the wrong place, that can cause damage. I think people should be very careful."
From midnight to 3 a.m. today, Civil Defense volunteers and police planned to be out on Leeward and North Shore beaches, from Kahuku to Ko Olina, to warn people to stay out of the water and to go to higher ground if the water rises.
City officials were concerned about homeless people living on Leeward Coast beaches and were making shelters at Nanakuli and Waianae Intermediate schools available if needed.
Any tsunami to reach the state was expected to arrive at about 12:23 a.m. today at Nawiliwili Harbor on Kauai, 12:41 a.m. in Honolulu and 12:58 a.m. in Hilo.
The center's cancellation notice said danger to boats and coastal structures could continue for several hours due to rapid currents.
If the watch had been elevated to a warning, it would have prompted evacuations from inundation zones. A tsunami watch means that residents of coastal areas should prepare for possible evacuations.
The National Weather Service's Honolulu office inadvertently issued a tsunami warning sometime between 7 and 7:30 p.m., but the warning was retracted shortly afterward.
"Corrective action was taken immediately once the error was realized," said weather service meteorologist Henry Lau. The watch was issued soon after the earthquake occurred at about 2:23 p.m. Saturday (6:23 p.m. today Hawaii time) off the Kuril Islands.
County Civil Defense officials in Honolulu, Kauai, Maui and the Big Island opened separate emergency operations centers after a tsunami watch was issued Friday night. The state opened its own center in Diamond Head.*
Japan's Meteorological Agency said that a 4-inch wave hit Nemuro in northeastern Japan after the powerful earthquake in the Pacific Ocean. Other coastal areas reported "slight" waves of 4 inches or less. But a 16-inch swell hit the tiny island of Chichi-jima island, the highest waves triggered by the earthquake, the Japanese agency said.
There were no immediate reports of injuries or damage from the quake or subsequent waves.
Hawaii civil defense officials said local emergency responders were notified of the tsunami watch but not deployed since a warning was not issued.
In Hilo, applause erupted in the Civil Defense control center when Big Island Mayor Harry Kim told a roomful of officials that the center had called off the watch.
Kim warned about 50 officials from county agencies such as police, fire, and public works that not all danger was past. "We may see some strong sea level changes," he said. "If you see people, tell them to stay away from the water's edge," he said.
Yesterday's earthquake was almost identical in magnitude and location as the Nov. 15 earthquake that sent surges to Hawaii's north shore harbors, said state Adjutant General Robert Lee.
But the major difference was that the Nov. 15 quake was 21 miles deep while yesterday's was only 6.4 miles deep.
"So that's why they put us on a watch," Lee said, noting that shallower earthquakes cause more wave action.
Thankfully, the quake was far from Hawaii so there is a lot of instrumentation for measuring and providing adequate warning, he said.
Normally, warnings or cancellations are made three hours before the expected arrival of the tsunami.
"We just got excited, but I thought everything worked well," said Lee, who monitored the situation from the state Civil Defense headquarters in Diamond Head.
In Waikiki, the watch came and went with little notice among tourists, but hotel managers kept abreast of the situation in the event a warning was activated.
"I am enjoying myself until I see a tsunami," said Joe Cohen, a Florida Gators football player here for the Hula Bowl.
"I wasn't too worried about it," said Cohen, who noted he had a 10th-floor hotel room.
Hotel executives were not so blasé.
"The security and hotel managers are in close contact with Civil Defense," said Candice Kraughto, regional communications manager for the Sheraton Waikiki. "We're also monitoring the information that goes out to our guests."
Tsunami waves -- generated by earthquakes -- are often barely noticeable in the ocean but can rise to great heights once they arrive at shore.
---
Star-Bulletin reporters Nelson Daranciang, Leila Fujimori, Diana Leone and Robert Shikina, and the Associated Press contributed to this report.
CORRECTION
Tuesday, January 16, 2007
» County Civil Defense officials in Honolulu, Kauai, Maui and the Big Island opened separate emergency operations centers after a tsunami watch was issued Friday night. The state opened its own center in Diamond Head. A story on Page A1 Saturday incorrectly said the state opened centers in each county.