HIGH SCHOOL FOOTBALL
Kahuku kicks it
A successful extra point try brings the Red Raiders the title
For 11 games, the Saint Louis Crusaders understood perfection better than all the rest.
The Kahuku Red Raiders became the exception, coming through with the perfect last play once again. Richard Torres' 14-yard touchdown pass to Jordan Kapu with 23 seconds left lifted No. 2-ranked Kahuku to an amazing 7-6 victory over top-seeded, previously-unbeaten Saint Louis last night at Aloha Stadium for the Division I First Hawaiian Bank/HHSAA state championship.
"I'm so proud of him," coach Reggie Torres said of his son, Richard. "This is vindication, redemption, whatever you want to call it. Being a coach's son comes with a lot of criticism."
A raucous crowd of 18,870 saw the defending champion Red Raiders cap an 11-2 season with their fifth state crown.
"This shows everything our head coach instilled in us. We played with heart," nose guard Kaniela Tuipulotu said. He helped the Red Raider defense limit Saint Louis to just 145 total yards. "After last week's win, people were saying it was destiny for us to win the championship."
Saint Louis finished 11-1, mindful of missed opportunities, but never complaining about a season-ending injury to starting quarterback Micah Mamiya in last week's semifinals.
"It's a tough way to lose. You've gotta make all the plays when you get a chance. Offensively, defensively, special teams, we didn't get the job done," coach Delbert Tengan said. "We had a nice opportunity, but they busted that long run. Hat's off to Kahuku."
RED RAIDERS EDGE CRUSADERS
TO WIN DIVISION I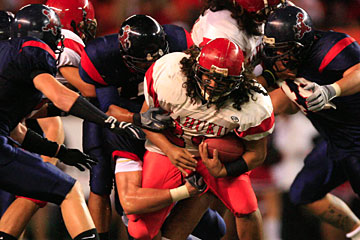 That long run, a 62-yard scamper by Lehi Aumua, didn't lead to an immediate touchdown, but changed the battle for field position. After a Saint Louis punt, Kahuku's winning drive began with 2:26 left on its 49-yard line. Aided by a Saint Louis penalty for having too many players on the field, Kahuku converted a crucial fourth and 1 and got the first down at the Crusaders' 12-yard line.
Three plays later, on third and 12, Torres rolled left and hit Jordan Kapu in the corner for a 14-yard touchdown pass.
"When he caught it, I was thanking the man upstairs," the senior said of the play, called 'backside post corner.' "Hat's off to Kapu. He ran a perfect route."
After a Crusader time out, Kaika Sasaoka, who had missed an earlier field-goal try badly, drilled the PAT to give Kahuku the lead.
Saint Louis' ensuing possession went backward; the game ended on Alema Tachibana's sack of Tamatoa DeMello.
Saint Louis was seeking its first state title since 2002. The Crusaders lost to Kahuku 27-26 in '03 and hadn't been back in the finals until yesterday.
As expected, the first half was a series of defensive stops and hard hits. Saint Louis racked up nine first downs, but failed to get over the goal line.
Kahuku had excellent field position to start drives in the first half, but came up empty. A 25-yard punt return by Justin Kaka gave his team first down at the Saint Louis 27-yard line, but Kahuku got no deeper than the 14. A penalty and a sack by Crusaders defensive end Solomona Aigamaua pushed Kahuku back, and the Red Raiders punted.
Early in the second quarter, Manu-Olevao came up with a 27-yard punt return that gave Kahuku a start at the Saint Louis 46-yard line. The Red Raiders drove to the Crusaders 4-yard line, but on fourth and 2, Torres' option pitch to Aumua was off target, and Christopher Kamaka recovered for Saint Louis at the 2-yard line.
Kahuku did not threaten again for the rest of the half. The Crusaders' best scoring opportunity came on the ensuing series, when the they drove to the Kahuku 17-yard line. However, an illegal block pushed Saint Louis backward, and Kenton Chun's 45-yard field-goal attempt was short and wide left with 31 seconds to go in the half.
The game remained scoreless until the final quarter. Keani Nishigaya wasn't a big source of yardage, but his 9-yard scoring run up the middle capped a seven-play, 52-yard drive. The go-ahead march was set up by a key stop by Jordan Alencastre and Christopher Kamaka on a fourth-and-1 run by Nai Fotu at midfield.
Saint Louis led 6-0 with 6:52 remaining in the game.
---
DIVISION I CHAMPIONSHIP
Kahuku 7, Saint Louis 6
| | | | | | | |
| --- | --- | --- | --- | --- | --- | --- |
| Saint Louis (11-1) | 0 | 0 | 0 | 6 | -- | 6 |
| Kahuku (11-2) | 0 | 0 | 0 | 7 | -- | 7 |
StL--Keani Nishigaya 9 run (kick failed).
Kah--Jordan Kapu 13 pass from Richard Torres (Kaika Sasaoka kick).
RUSHING--Kahuku: Torres 20-108, Lehi Aumua 12-100, Junior Mataafa 10-43, Neal Lokotui 5-24, Blane Beatty 3-8, Ian Fujinaga 2-7, Nai Fotu 1-(-1). Saint Louis: Nishigaya 4-21, Lene Auelua 7-10, Shane Ahlo 3-10, Tamatoa DeMello 10-6, Austin Wakinekona 3-(-1).
PASSING--Kahuku: Torres 2-6-0-20. Saint Louis: DeMello 8-19-0-99.
RECEIVING--Kahuku: Kapu 2-20. Saint Louis: Ricksson Pacarro 5-58, Kuli'a Aiona 1-18, Chase Alcott 1-14, Shane Ahlo 1-9.
CORRECTION
Tuesday, December 5, 2006
» Kahuku High School football player Blaine Beatty was pictured in a photo on Page A1 Saturday. A photo caption incorrectly identified the player as Darryl Manuwai.